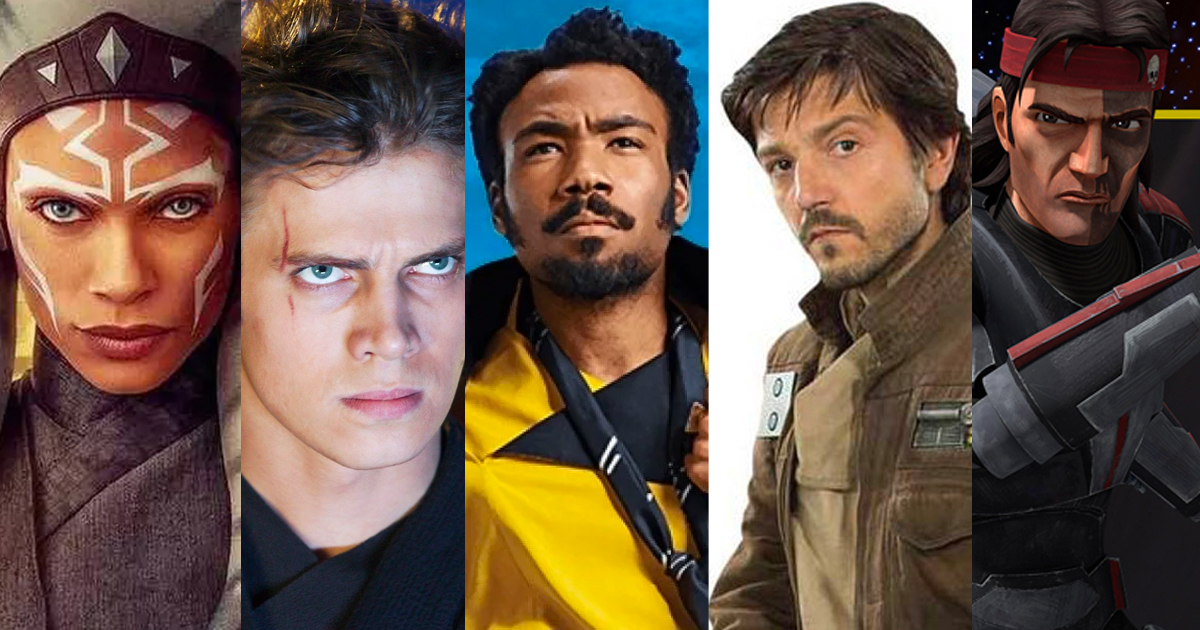 During the Disney Investor Day presentation,  Kareem Daniel, Disney's new distribution chief, stated that there are ten Star Wars series, ten Marvel series, and fifteen Disney and Pixar Animation series in development for Disney+. Lucasfilm president Kathleen Kennedy also highlighted two feature Star Wars films: Star Wars: Rogue Squadron from director Patty Jenkins, and an untitled film in development from Thor: Ragnarok director Taika Waititi.
Little information was provided about the films, but here is what we know about the new series:
• Two The Mandalorian spin-offs: Ahsoka, starring Rosario Dawson, and The Rangers of the New Republic , both from from Jon Favreau and Dave Filoni. The three shows will crossover  in climactic story event.
• Andor, a Rogue One prequel series focusing on Diego Luna's Cassian Andor, which is set to debut on 2022.
• Hayden Christensen will be reprising his role as Darth Vader in Obi-Wan Kenobi, starring Ewan McGregor. The series is set to go into production in March 2021.
.• Lando, a limited run series about Lando Calrissian from Dear White People creator Justin Simien. There's no word if it will be live-action or animated, or if it will feature Billy Dee Williams, Donald Glover or someone new.
• " A female-focused mystery-thriller series called The Acolyte, which will be set in the  final days of the High Republic era, from Russian Doll creator Leslye Headland.
• An animated follow up series to  Star Wars: The Clone Wars called Star Wars: The Bad Batch.
• An anthology collection of short anime films set in the Star Wars universe called Star Wars: Visions, which is set to debut in 2021.
• An R2-D2 and C-3PO  adventure series called A Droid Story, an animated series from Lucasfilm Animation. The duo previously starred in an short-lived 1985 Saturday Morning cartoon called Star Wars: Droids.
Hayden Christensen returns as Darth Vader, joining Ewan McGregor in OBI-WAN KENOBI. The Original Series begins 10 years after the dramatic events of Revenge of the Sith, and is coming to #DisneyPlus. pic.twitter.com/9WR2npRUkk

— Star Wars (@starwars) December 10, 2020
A sneak peek at Star Wars: The Bad Batch, an all-new animated Original Series from Lucasfilm Animation, coming soon to #DisneyPlus pic.twitter.com/V0jQc4XNIe

— Star Wars (@starwars) December 10, 2020
"Everything I did, I did for the Rebellion." Andor, an Original Series set in the Star Wars universe, is streaming in 2022 on #DisneyPlus. pic.twitter.com/q2IT2qzEeR

— Star Wars (@starwars) December 10, 2020
Ahsoka, a new Original Series, starring @RosarioDawson and set within the timeline of #TheMandalorian is coming to #DisneyPlus. pic.twitter.com/SH78By0Id3

— The Mandalorian (@themandalorian) December 10, 2020
Star Wars: Visions, an Original Series of animated short films, celebrates the @StarWars galaxy through the lens of the world's best Japanese anime creators. Coming in 2021 to @DisneyPlus. pic.twitter.com/lmCZGSHEhY

— Star Wars (@starwars) December 10, 2020
Leslye Headland brings a new @StarWars series to @DisneyPlus with The Acolyte. "The Acolyte" is a mystery-thriller that will take viewers into a galaxy of shadowy secrets and emerging dark-side powers in the final days of the High Republic era.

— Star Wars (@starwars) December 10, 2020
The galaxy's favorite scoundrel, Lando Calrissian, will return in Lando, a brand-new event series for @DisneyPlus. Justin Simien (@JSim07) is in the early stages of developing the project.

— Star Wars (@starwars) December 10, 2020
Lucasfilm Animation is teaming up with Lucasfilm's visual effects team, Industrial Light & Magic, to develop a special @StarWars adventure film for @DisneyPlus, A Droid Story. This epic journey will introduce us to a new hero guided by R2-D2 and C-3PO.

— Star Wars (@starwars) December 10, 2020