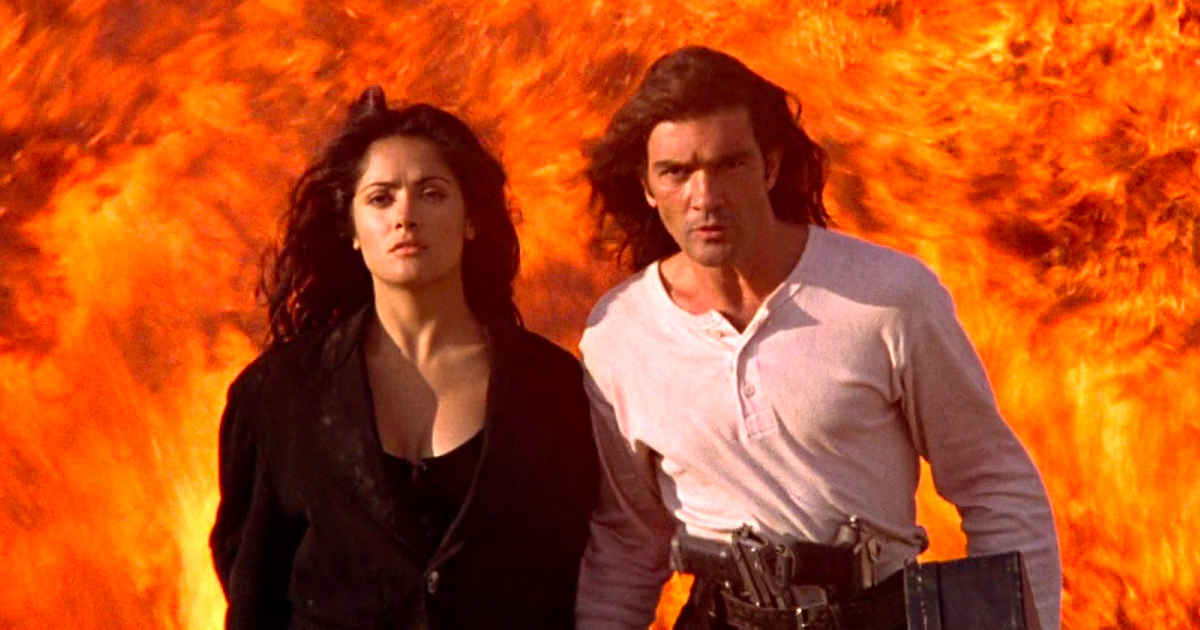 On August 25, 1995, Columbia Pictures released Desperado, Robert Rodriguez's shoot'em up Mexican Western that catapulted stars Antonio Banderas and Salma Hayek into A-list status and cemented Rodriguez as one of the most innovative filmmakers in Hollywood. Now, twenty-five years later, we'll take a look back at the film and its impact on the careers of those who made it.  
We can't talk about Desperado without first discussing Rodriguez's first feature film, El Mariachi. Set in a small Mexican town, El Mariachi tells the story of a nameless musician (Carlos Gallardo) who is mistaken for a ruthless criminal known for carrying a weapons-filled guitar case. The mariachi must hide from a ruthless gang who is hell-bent on killing him. Rodriguez famously made El Mariachi for just over $7,000 (though Columbia would eventually spend considerably more to market and distribute it), and it proved he could produce a film that was kinetic, engaging, stylish and most importantly, profitable. El Mariachi would go on to earn $2 million worldwide and put Rodriguez on the radar of filmgoers and studio execs.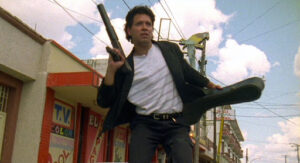 Four years after the release of El Mariachi, Rodriguez gave us its sequel, Desperado. Stepping in for El Mariachi star Gallardo, who would stay on to produce and have a small cameo, was Antonio Banderas. Banderas had previously spent the 1980s starring in Spanish films and television series before making a mark in the US in the early 1990s with roles in The Mambo Kings, Philadelphia and My Interview with a Vampire. Desperado would be his first American starring role, and it was immediately clear that he had what it took to be a Hollywood leading man. Co-starring with Banderas was Salma Hayek, who was cast after only a few years of film and television roles in her home country of Mexico. 
Desperado is a revenge tale, with El Mariachi searching for Bucho (Joaquim de Almeida), the man who is responsible for the killing of the love of his life and the maiming of his hand (which occurs in the climax of El Mariachi- we see this sequence in a flashback dream, with Banderas now filling in for Gallardo). In his mission, El Mariachi ends up falling for a local bookstore owner (Hayek) who is caught up in Bucho's Columbian gang war. Desperado is full of style, swagger and grit, with enough punctuations of humor to know that it does not take itself too seriously. Rodriguez's style can best be described as John Woo meets Sergei Leone, with a level on gunplay violence that borders on cartoonish, but in the best possible way. Desperado also features small roles from 90s indie film staple Steve Buscemi, Rodriguez's fellow filmmaker friend Quentin Tarantino, comedian Cheech Marin and all-around bad-ass Danny Trejo. 
Desperado received mixed reviews upon its release, with its thin plot often cited as a detriment (revenge films aren't traditionally plot-heavy), though Rodriguez's style as a filmmaker was universally praised. Once again, Rodriguez proved he could turn a profit, with Desperado earning $25.4 million on a $7 million budget. 
Nearly a decade after Desperado was released, Rodriguez made the third film in his El Mariachi Trilogy, Once Upon a Time in Mexico. The film boasted a considerably larger cast, with Johnny Depp, Mickey Rourke, Willem Defoe, Eva Mendes and Enrique Iglesias joining Banderas and Hayek. Danny Trejo and Cheech Marin would both return as well, though they portrayed different characters this time around. Though the film was a sequel to Desperado and featured the return of Banderas as El Mariachi, the real star of the film was Depp, whose casting was quite fortuitous for Rodriguez. While the actor had an impressive two-decade career prior to Once Upon a Time in Mexico, he would skyrocket to one of the best-known actors in the world after the release of Pirates of the Caribbean: Curse of the Black Pearl, which was released just a few short months prior to Once Upon a Time in Mexico. 
While Desperado is often noted for its rather simplistic storytelling, Once Upon a Time in Mexico leans into the plot a bit more, with El Mariachi being recruited by a morally ambiguous CIA agent (Depp) to stop a plot against the president by a drug kingpin (Dafoe). Though the film meanders a bit in its story, Rodriguez's dynamic style is still on display here and he manages to successfully finish out his Sergio Leone-inspired series quite nicely (though a spin-off with Depp would have been gladly welcomed). 
As previously mentioned, Desperado put Antonio Banderas and Salma Hayek on the map. Banderas would go on the star in such films as Assassins, Evita, The Mask of Zorro, Shrek 2, Puss in Boots and Rodriguez's Spy Kids franchise, and Hayek would find success in films such as Wild Wild West, Fools Rush In, Frida and the Grown Ups films. Both actors went on to earn multiple awards and nominations for their work, including Oscar nods for each. Banderas was nominated for an Academy Award for 2013's Pain and Glory, and Hayek received a nomination for 2002's Frida.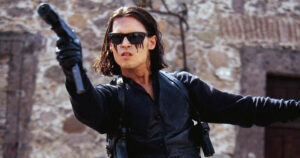 The Mexican Trilogy, as it's called, helped showcase Rodriguez as a true auteur filmmaker and provided him with the reputation as a "one-man film crew." You can see his films with a "Shot, chopped and scored by Robert Rodriguez" credit, as he often handles cinematography, editing and scoring duties in addition to directing. He was also one of the pioneers in mainstream digital filmmaking, with Once Upon a Time in Mexico being the first big-budget film to shoot in high definition digital. He would go on to creatively utilize the technology in various other films, such as Spy Kids 3D: Game Over and Sin City. 
Rodriguez would team up with Tarantino several other times throughout their careers. Following Desperado, Rodriguez directed From Dusk Till Dawn, which Tarantino wrote and co-starred, and they split directing duties on the 2007 double-feature film Grindhouse. They would also go on to direct scenes in each other's films, with Rodriguez directing Tarantino's scene in Pulp Fiction and Tarantino directing a scene in Sin City (which was done for the sole purpose of Rodriguez trying to convince Tarantino to shoot on digital). Rodriguez also composed the score for Tarantino's Kill Bill: Vol II. 
As of late, Rodriguez has been busy producing series for the El Rey television network, which he created in 2013. He also collaborated with James Cameron on the big-budget sci-fi film Atilla: Battle Angel, directed Red 11, a sci-fi horror film loosely based on his book Rebel Without a Crew: Or How a 23-Year-Old Filmmaker with $7,000 Became a Hollywood Player and has even directed music videos for Demi Lovato, Lady Gaga and Ariana Grande. Rodriguez has also been busy playing in the Star Wars universe, directing an upcoming Season Two episode of The Mandalorian for Disney +. 
Robert Rodriguez has proven to be one of the most dynamic and innovative directors working in Hollywood, and Desperado was the gateway to his unique style for many filmgoers. After twenty-five years, Desperado is still a blast to watch.