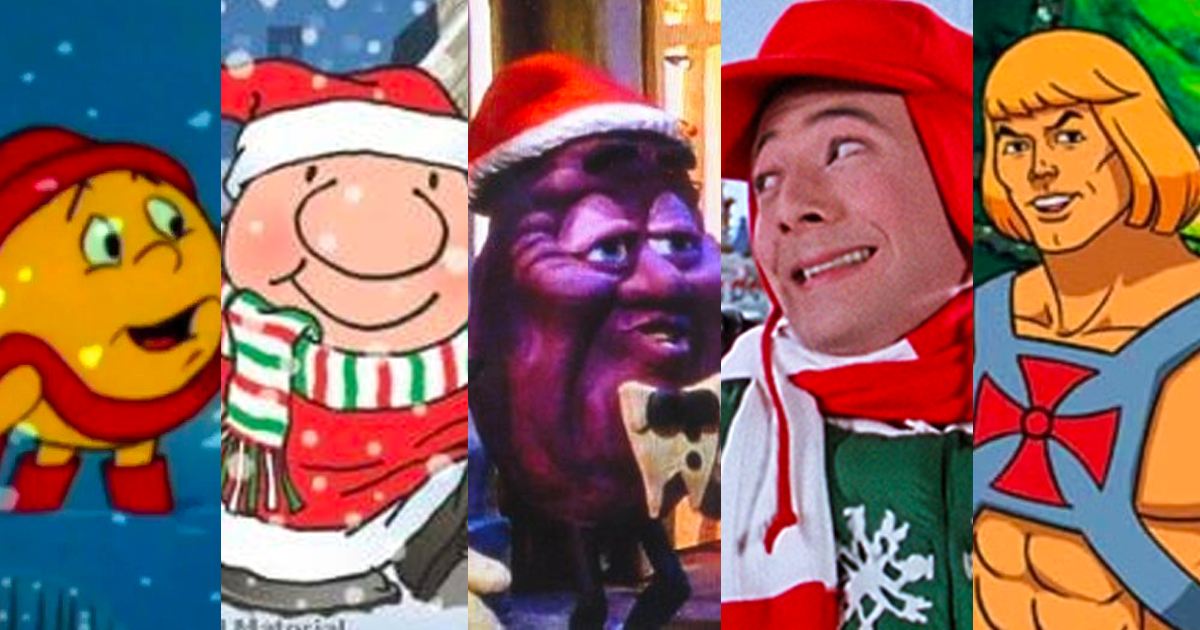 Christmas specials have been a staple of television programming for decades, going back to the days of The Honeymooners and I Love Lucy. Christmas specials aimed especially at children and families amped in the 1960s, with classics like Rankin Bass's Rudolph the Red Nose Reindeer and A Year Without Santa Clause, as well as animated specials like Frosty the Snowman and How the Grinch Stole Christmas. 
The popularity of those specials in the 1970s lead to an influx of specials produced in the 1980s. We've gathered some of our favorite Christmas-themed TV specials from the era and ranked them based primarily on quality, though we admit nostalgia may have played a part in this list. 

12. Christmas Comes to Pac Land (1982)
Admittedly, Christmas Comes to Pac Land is not a terribly good Christmas special, but it's a great example of the type of Saturday morning cartoon-inspired Christmas specials seen in the 80s. Based on the animated series, which was based on the wildling popular video game, the special has Santa spiraling out of control and crashing his sleigh after a conflict with the ghosts of Pac Land. Naturally, Pac-Man and his family and friends work together to fix his sleigh and save Christmas
WATCH BELOW


11. He-Man & She-Ra: A Christmas Special (1985)
Like Christmas Comes to Pac Land, He-Man & She-Ra: A Christmas Special, isn't a terribly good special, but when you're a ten-year-old obsessed with He-Man, the is the childhood equivalent of It's a Wonderful Life. In the cross-over event, Orko accidentally travels to Earth at Christmas time, where he encounters two children and brings them back to Eternia. Naturally, the two bands of hers eventually have to do battle with Skeleton and the Evil Horde. 'Tis the season! 
WATCH BELOW



10. The Christmas Raccoons (1980)
The first of four Raccoons specials before the animated series in 1985, this Canadian holiday offering was syndicated in the U.S. In it, Bert, Melissa, and Ralph Raccoon have their home stolen when Dan The Ranger mistakenly cuts down their home for a Christmas tree. Eventually, they discover that a mysterious lumber baron, Cyril Sneer, is the mastermind behind the deforestation of the Evergreen Forest.
WATCH BELOW


9. A Garfield Christmas Special (1987)
Based on the popular TV series Garfield and Friends, A Garfield Christmas Special finds the OG grumpy cat celebrating a traditional holiday at the family farm with his owner Jon's parents, sibling Doc-Boy, feisty grandma, and of course, the dimwitted dog, Odie. Jon Davis's Garfield was one of the biggest comic strips in the country at the time and had become a cultural icon, so a Christmas special was inevitable. 
WATCH BELOW



8. Christmas at Pee-wee's Playhouse (1988)
An absurd celebration of Christmas (and Hanukkah) at everyone's anthropomorphic furniture-filled playhouse. The special boasts appearances from celebrities like Annette Funicello, Frankie Avalon, Grace Jones, K.D. lang, Dinah Shore, Little Richard, Cher, Magic Johnson, Zsa Zsa Gabor, Whoopi Goldberg, Joan Rivers, Charo, and even Oprah freaking Winfrey. 
WATCH BELOW
7. Simpsons Christmas Special (1989)
Actually titled Simpsons Roasting on an Open Fire, the Simpsons Christmas Special is notable as being the pilot episode of The Simpsons, which in addition to being the longest-running American animated series in television history, the longest-running American sitcom, and the longest-running American scripted primetime television series, it has gone on to win dozens of awards, including 35 Primetime Emmy Awards, 34 Annie Awards, and 2 Peabody Awards. The plot of The Tracy Ullman Show spin-off has Marge spending all the family's Christmas present money getting Bart's tattoo removed, prompting Homer to get a job as Santa, though he ends up betting all his wages on a dog race. 
WATCH BELOW

6. Raggedy Ann & Andy in The Great Santa Claus Caper (1978)
This one is a bit of a cheat because it premiered in 1978, but it ran every Christmas throughout the early 80s.  Raggedy Ann and Andy, and their dog Arthur, travel with Santa's reindeer Comet to the North Pole to save Christmas from Alexander Graham Wolf, who has taken over and is encasing all the toys in a plastic-like substance with his Gloopstick machine that will prevent children from ruining their toys. The special was directed by legendary animator Chuck Jones, and featured the voices of Daws Butler, June Foray, and Les Tremayne, with a music score by Dean Elliott, with whom Jones worked almost exclusively in his post-Warner Bros career. 
WATCH BELOW



5. Will Vinton's Claymation Christmas (1987)
Will Vinton's Claymation Christmas features characters from the great claymation director Will Vinton, including the wildly popular California Raisons, singing Christmas carols in a series of vignettes. While this special looked to capitalize on the popularity of Vinton's work, it was yet another showcase for his incredibly talented studio. 
WATCH BELOW



4. The Christmas Toy (1986)
This television film was produced by The Jim Henson Company and featured Jim Henson's Muppets, including Rugby the Tiger (performed by Dave Goelz) who remembers how he was the Christmas Toy last year and thinks he is going to be unwrapped again this year. Instead, he finds himself jealous of the new toy underneath the Christmas Tree. If this story sounds familiar, it's because it's nearly identical to the plot of Toy Story, which would steal the story nine years later. 
WATCH BELOW



3. Mickey's Christmas Carol (1983)
Disney's take on the Charles Dickens classic remains one of the Crown Jewels in the studio's long animation history. A straight-up retelling of the story has Mickey Mouse in a supporting role as Bob Cratchet and Scrooge McDuck as, well, Ebenezer Scrooge. The special, which ran yearly on television, was technically a short film, running in theaters before Disney's The Rescuers, earning an Academy Award nomination for Best Animated Short. 
WATCH BELOW
2. Ziggy's Gift (1982)
In this special based on the long-running comic strip by Tom Wilson, Ziggy gets a job to be a street Santa on Christmas Eve from a crooked boss, but the magic of the season allows the lovable loser to do more good than anyone expects. Directed by Academy Award-winning director Richard Williams (Who Framed Roger Rabbit, A Christmas Carol ), Ziggy's Gift won the 1983 Emmy Award for Outstanding Animated Program. It's an absolute charmer.
WATCH BELOW



1. A Muppet Family Christmas (1987)
You can have your Avengers: Endgame. THIS is the mother of all crossovers. This special features nearly every character from The Muppet Show, Sesame Street, Fraggle Rock, and even the live-action Muppet Babies (and even features a cameo from Jim Henson himself). When Fozzie Bear's mother decides to take a trip to Malibu, she is surprised when Fozzie, Kermit, Robin, Gonzo, and the rest of the Muppet Show cast decide to spend Christmas at her house. Meanwhile, Miss Piggy becomes trapped in a harsh snowstorm and tries to make it to the festivities in time for Christmas. Later, the Sesame Street cast, Big Bird, Bert, Ernie, and the Count, and the Fraggle Rock gang  join them for a Christmas extravaganza. The special is a must-watch.  
WATCH BELOW