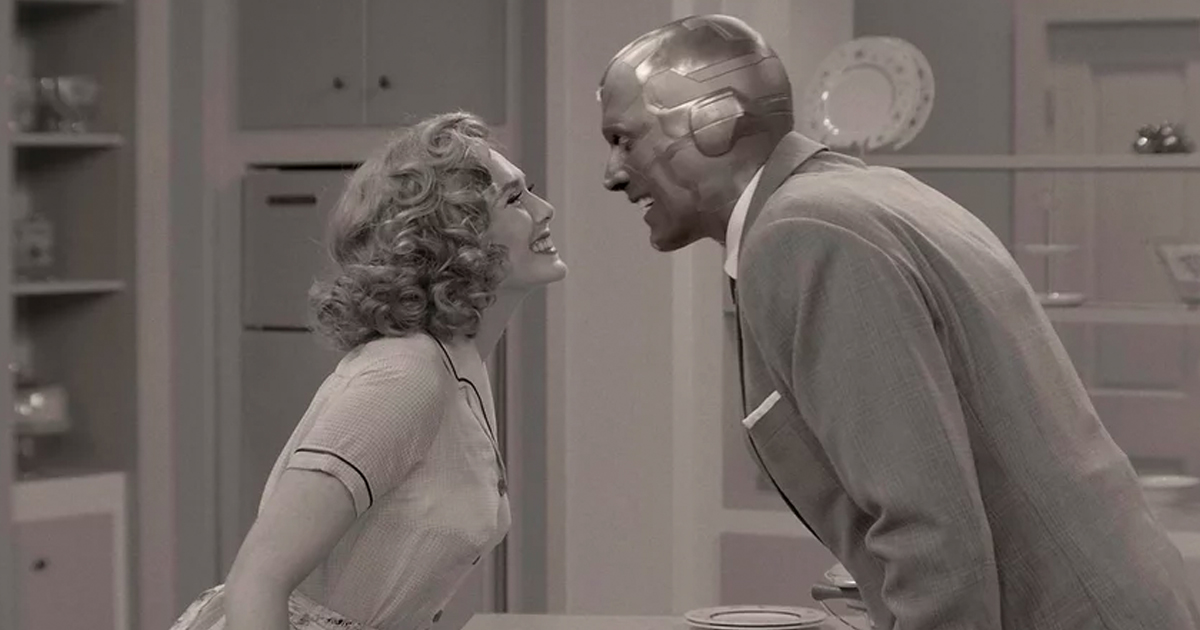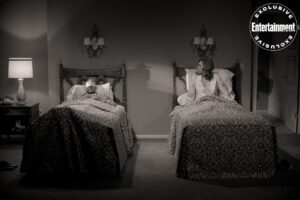 In a cover story in the new issue of Entertainment Weekly, it was revealed that the first episode of the upcoming Disney+ series WandaVision was shot like a traditional sitcom, including being shot in black and white and with a studio audience. The series follows Wanda "Scarlet Witch" Maximoff (Elizabeth Olsen) and Vision (Paul Bettany) living the ideal suburban life in the town of Westview, trying to conceal their powers. But as they begin to enter new decades and encounter television tropes, they begin to suspect things are not as they seem.
Disney tasked Marvel with developing projects for its then upcoming platform, Disney+. Unlike other Marvel series, like Netflix's Daredevil, Luke Cage, and Jessica Jones, and ABC's Agents of S.H.I.E.L.D. and Agent Carter, the Disney+ shows would be miniseries that would act as direct extensions 0f the MCU, as opposed to ongoing series that were in the peripheral of the MCU.  The notion of spinning the MCU off into this surreal television universe may seem like an odd choice, but Marvel President Kevin Feige was excited about it. "It really energized everyone creatively at the studio, the notion that we could play in a new medium and throw the rules out the window in terms of structure and format," said Fiege. "I would get ready for the day and watch some old sitcom because I couldn't take the news anymore," he stated. "Getting ready to go to set over the last few years, I kept thinking of how influential these programs were on our society and on myself, and how certainly I was using it as an escape from reality where things could be tied up in a nice bow in 30 minutes."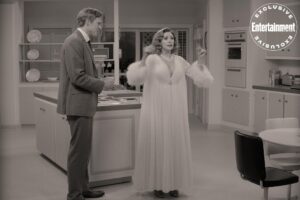 Olson talks about joining the project to explore the character a bit more than the films allowed for. "I already felt like I had ownership of her because Marvel always encourages you to be part of the process," Olsen says. "But even more so now, I feel I have a really strong sense of ownership. If anyone wanted to ask me a question about the future or just a question about what she would think, I feel like this time has provided that."
According to Fiege, WandaVision will tie directly into 2022's Doctor Strange in the Multiverse of Madness, with Olson's Scarlet Witch playing a significant role.   However, Fiege stated that you don't have tro track with the MCU to enjoy the series."If you haven't seen any of them and just want to step into this weird thing because you love The Dick Van Dyke Show, it's going to work," Feige says. "But if you've been tracking the 23 movies we've made and following along the stories into Phase 4, there'll be a wealth of rewards waiting for you as it all unfolds."
WandaVision premiers in December on Disney+.