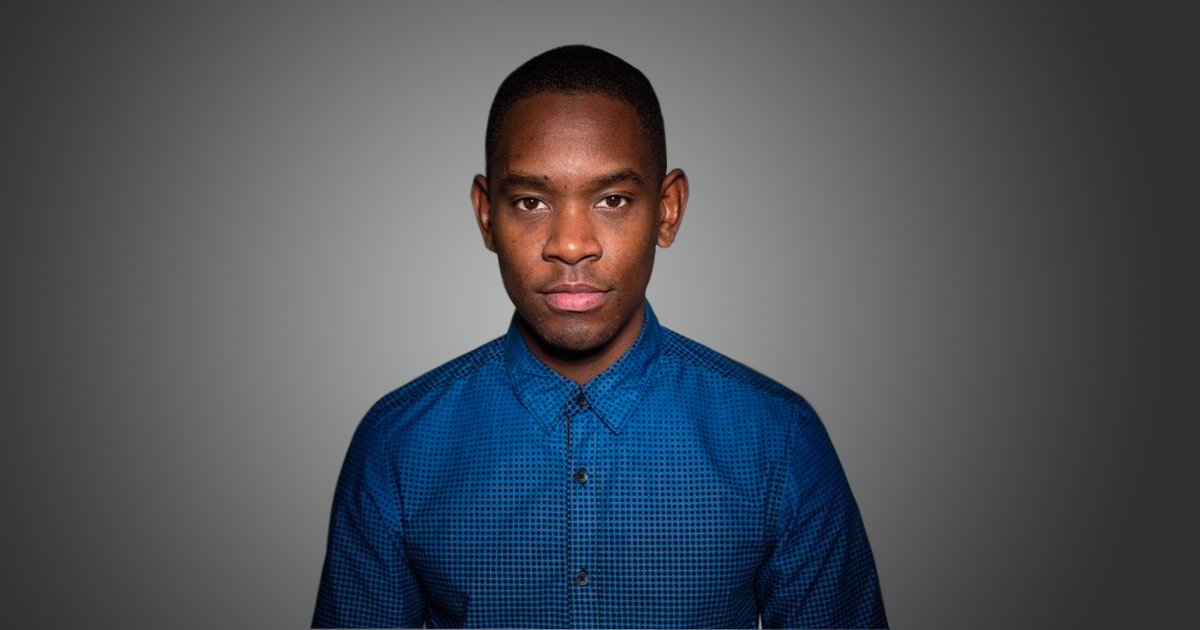 We speak to Aml Ameen, one of the stars of the new science-fiction thriller, Parallel
Aml Ameen is a British actor best known for his roles as Alby in The Maze Runner, Capheus in the first season of the Netflix series Sense8, and as Dennis "D" Campbell in the Idris Elba directed film, Yardie. Starting tomorrow, you can see him in the new science-fiction thriller, Parallel. Ameen plays Devon, an entrepreneur who, along with his friends (played by Georgia King, Mark O'Brien and Martin Wallström) discovers a mirror that leads to the multiverse. With information from other universes at their fingertips, Devon tries to keep his friends in check as they attempt to take advantage of their discovery.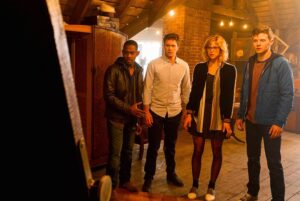 Ameen was brought into the project when he caught the eye of director Isaac Ezban. "Isaac was a big fan of mine," says Ameen. "Well, a fan, at least. A big fan may be overstating it. He liked my work in The Maze Runner, so he asked me to join the cast." Originally, the character of Devon was a bit more one dimensional, but Ameen and Ezban worked together to flesh him out. "I think Isaac liked what he had seen in my previous work, and I think he liked one of the characters, so I think that's why he thought I was suited for this," says Ameen. "In the original script, Devon was the heart and the defender of what was right, and I think that's fairly one-note, so we set out to change that." 
While Devon is still seen as the moral compass of the film, he's not without his own agenda. "He's a man of secrets," says Ameen. "He has a past that he holds very close to himself. He wants to do the right thing but because he has a past, he has to deal with its consequences. Devon has secrets and a past that is no one else is privy to, which brings a dangerous element to him. There's a fascinating darkness. His morality comes from experience, which is often the way in life. After you get a few scratches and scars, you think, 'Maybe we shouldn't do that.' That's where I think it comes from."
Ameen will soon be making his feature directorial debut with the film A Night Worth Living, and he feels that has been able to learn from fellow first-time director Ezban. "I've worked with a few first-time directors, like Idris on Yardie," says Ameen. "Working with Isaac reminded me of [The Maze Runner] director West Ball in regard to his enthusiasm and how that affects the casting crew. He has an infectious enthusiasm for the story and for life and even this particular genre. It's an energy that's felt by everyone around him. That's what I took away from Isaac. from mostly. That and to have a conviction for how you want your story to be told."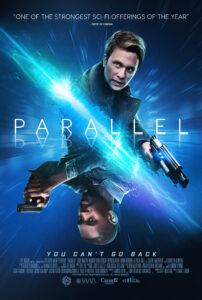 Parallel is not Ameen's first science fiction film and he's hoping it won't be his last. "I'd love to do a big science fiction/fantasy roll and live in that space for a while,' he says. "When I arrived on the set of the film I'm directing in London, I played the Indiana Jones soundtrack, and I love what it did for my cast and crew. Going forward, I just have to find the right fit for me. I look at Indiana Jones or Back to the Future and they have these characters that have intelligence but at the same time have the element of danger, and the films have these and cool effects. That's what I'd love to achieve. If it doesn't come to me, I will create it for sure. Science fiction is a world that I want to live in."  
While Parallel is science-fiction, it does have elements of horror, though that's not a genre Ameen is particularly drawn to. "I love genre film, although horror's not probably one of my favorites be honest," says Ameen. "I'm a scaredy-cat when it comes down to it, so I've never been drawn to horror. I'm drawn to breaking the monotony of everyday life and how much possible in the universe. Those things are fascinating to me. A dream world like Inception is fascinating, or something that talks about where the energy goes when we leave and where did it come from in the first place. I'm very fascinated by what those possibilities are and what imagination can conceive."
Ameen is also not necessarily interested in exploring the multiverse, but rather traversing through time. "I would go to a Bob Marley concert," he says. "I actually want to know about the great mysteries of life. I will know about the land before time. I want to go back to the original inception of the human species. I want to know how we got to where we are. Most of the history that we learn in school is 1000 years old it's nothing. Our history is hundreds of thousands of years old. If you go to my Twitter you'll see that I'm known as a futurist. I'm interested in history, the past, the future."
Parallel is available on VOD on December 11, 2020.