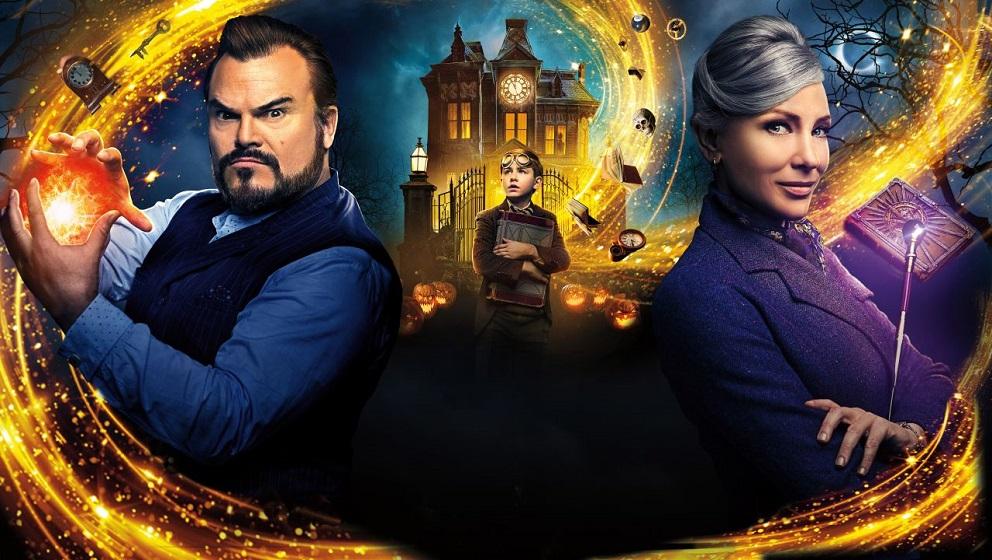 The House with a Clock in its Walls is based on the 1973 children's book by John Bellairs, and is the first in a twelve part series. While, there's no word on whether or not any of the book's sequels will make it to the big screen, Eli Roth's adaption is a solid stand-alone film.
The film tells the story of Lewis (played by Owen Vaccaro), a young orphan who is sent to live with his crazy uncle (none other than Jack Black) in Michigan. What begins as a fish out of water tale transforms into a beautiful coming of age story where black swans find their bevy, and Lewis finds a family.
The Cast
With the headliners of Jack Black and Cate Blanchett, it's to be expected that this film will have knock out characters. Blanchett plays the impeccable Florence Zimmerman, a witch that manages to keep Jack Black's Uncle Jonathon in line. As always, she is flawless and offers her lines with a dry humor that just adds to the intelligent writing. Her banter with Jonathon was some of my favorite moments in the film.
The break out star, for me, in this film was Owen Vaccaro who had the heavy burden of playing young Lewis. Starting out as a terrified little boy, broken from the death of his family, he grows into a clever and brave young man, and it is an incredible transformation to watch. He is both sweet and adorable and quirky and hilarious. He manages to hold his own against seasoned veterans such as Black and Blanchett, and does so with ease. The heart of the story rested on his shoulders and he did a brilliant job at carrying it.
The only weak link in the chain when it came to the cast was Jack Black. I'll be honest, saying I'm not his #1 fan but I can appreciate his style and humor when it's necessary. When said humor was necessary to this story, I enjoyed it, but more often than not, it felt forced, out of place, and cheapened the film as a whole (seriously, why do we need potty humor?). Black did a great job of playing the crazy uncle who also happens to be a warlock (a boy witch), but there were moments that seemed beyond his abilities. There were somber and heartbreaking moments that revealed Black's weakness when it came to drama. Which is a shame, because Blanchett and Vaccaro did such a great job… it's a shame, but not unexpected.
Special shout outs go to Kyle MacLachlan of Twin Peaks fame, and a cameo by Eli Roth, director and horror movie extraordinaire!
The Story
Usually, a film with the tragic rating of PG can come off as boring, pointless, or simply not well thought out. Luckily, that is not the case for House. The story of Lewis and Uncle Jonathon defeating the evil of Kyle MacLachlan's warlock, Izzard, is unique and entertaining for children and adults, alike. It's perfect for fans of Alice in Wonderland, Matilda, and Charlie and the Chocolate Factory. There is a whimsy to it that is both charming and unnerving at times.
I have not read the book yet, so I can't judge how well it was adapted. However, the story (being over 40 years old) is one that I've never seen before. A band of broken and hurting misfits, coming together in a makeshift family to thwart the powers of darkness. It has the classic theme of the underdog saving the day, but the details surrounding it are so unique and touching, I was thankful for the breath of fresh air.
The Scares
The film is directed by one of today's elite horror filmmakers, Eli Roth. Roth is known for his gore-fest, rated-R films, Cabin Fever and Hostile, so to see him take a step back and direct a "family friendly" film was both unnerving and impressive. The story, itself, can be dark and haunting at times (it is, after all, about defeating an evil warlock before he destroys mankind), but this film definitely came off as the type of children's horror movie I'd expect from Roth.
There are some frightening elements that can even make adults jump, which makes it a perfect film to watch to get you in the Halloween mood. There were plenty of little jump scares, creepy dolls, and monsters to keep viewers on the edge of their seats, but also just enough humor to keep things calm for younger audiences.
If you're looking for a scary movie to see before Halloween but think that the upcoming sequel of Halloween might be too intense for you, give The House with a Clock in its Walls a try. It will make you laugh, make you cry, scare you, and warm your heart.
Amanda Woomer-Limpert  is a contributor to The Geekiverse. She is a former Disney Cast Member slightly obsessed with cats, beards, Star Wars, and all things Disney.