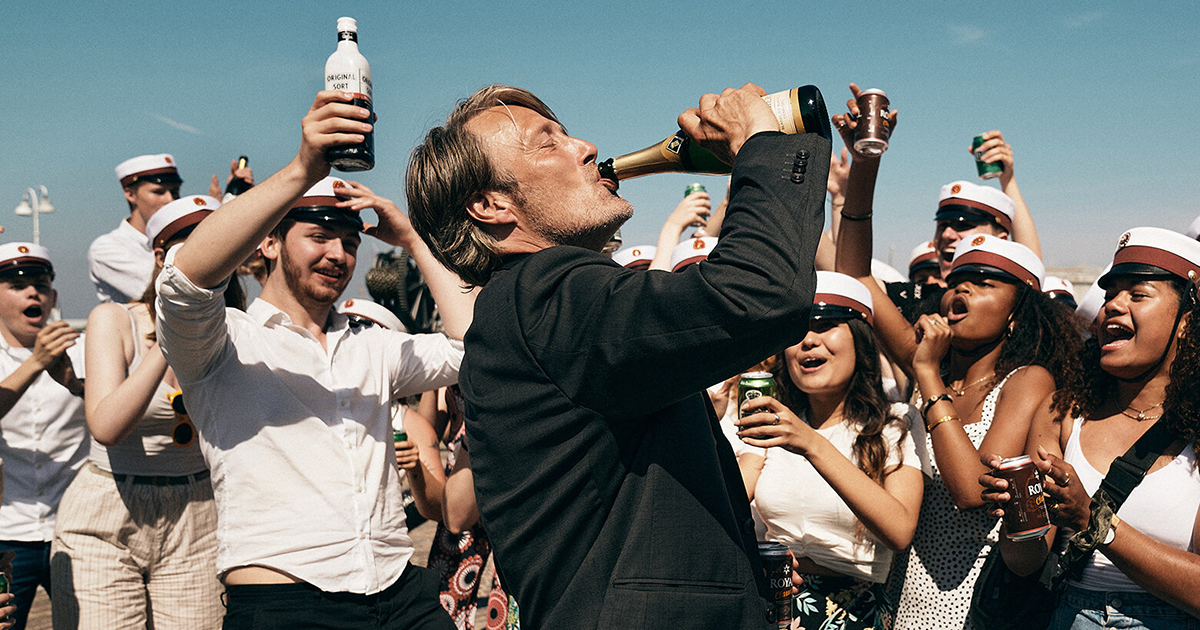 "What is Youth? A dream." This question is proposed and answered in the opening of Another Round, Thomas Vinterberg's Danish drama-comedy. As the film plays out the opening quote echoed through my head; the answer often skewing to take on various meanings that ranged from inspiring to haunting – like a drunken memory, where one's reality rests may not be that easy to pinpoint.
Many of us have found the answer in the moments following the consumption of an alcoholic beverage (or two). A couple of drinks often let us take our guard down, uncorking the full power of the human spirit. At those times, we seem to run on all cylinders, casting inhibitions aside. A mini euphoria provides the courage needed to hit the dance floor, transforming us into the karaoke king or the funniest man in the room, and can even allow us to speak to that person across the room who has had our eye all evening. Every thought is clearer and more poetic, more inspired. We temporarily become the person we aim to be, even if those around us do not share the opinion.
Another Round explores the idea of this temporary infusion of vigor and even takes it a few steps further. Early in the film, Martin (Mads Mikkelsen) asks his wife, "Am I boring?" Her response is not what someone battling with self-confidence issues wants to hear. It is anything but a rebuke of the thought. He is a schoolteacher whose lust for life has faded. He wears it on his sullen, sunken face. His personal life is a hollow shell of itself – the passion that once drove it replaced by familiarity and indifference. Even the ability to teach his students is stuck on endless autopilot.
When Martin meets up with his friends and fellow high school teachers, Tom (Thomas Bo Larsen), Nikolaj (Magnus Millang), and Peter (Lars Ranthe) to celebrate Nikolaj's 40th birthday, it is evident that all have hit the malaise of middle age. During the dinner, they discuss psychiatrist Finn Skårderud's theory that having a blood alcohol level of 0.05 is ideal for humans. Reaching it makes us more creative and relaxed. Since humans do not reach those levels naturally the men make a pact to experiment with the theory, sneaking drinks during the day, at work, and just about everywhere else to maintain that level. The goal: a perpetual buzz that will return the spark of enthusiasm they had as younger men. It is a crazy theory.
And, it works… exceptionally. Like a magic elixir restoring previously inaccessible powers, the men are quickly transformed into the more youthful and lively version of themselves they thought they had lost. It is wonderful to watch as these middle-agers unleash their inner youth. There is a new spring in their step seen in the way they socialize, their improved family, revived libido, bold new teaching approaches, and inspired coaching on the soccer field. The vivaciousness has been there all along only obscured by routine and responsibility. The alcohol clears the way for a catharsis in liquid form.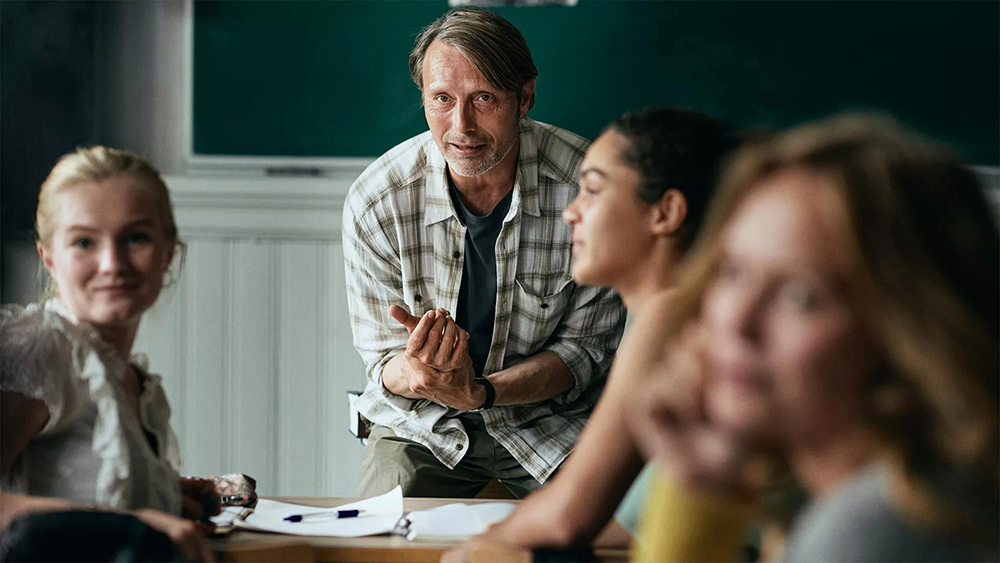 The film (originally titled Druk) follows their tipsy escapades as they act more like the freewheeling students they teach than the adults in the room. Most people who crossed paths with these men in real life would probably be turned off if they were not having so much fun watching their raucous antics. They walk the fine line between carefree and irresponsible as they reach varying measures of intoxication. But, like most alcohol binges there are consequences. The high is wondrous but tailing close behind as the "magic" fades is the unfortunate hangover. The guys decide since the experiment is working so well, why not increase the level of alcohol. It is here when the less glamorous side of drinking crosses over into darker territory – blackouts, bed-wetting, and freshly damaged relationships soon follow.
Luckily, Vinterberg (The Hunt) largely avoids the traps of films that cover similar subject matter by not being too preachy (or farcical) nor does he ignore the corrosive dangers of alcohol. Instead, he pours a cocktail consisting of just the right mix of exhilaration and caution. Essentially, he delivers a nonjudgmental gaze at the guys-who-are-too-old-to-be-at-the-bar recapturing the essence of their youth. Is that something to admire or commiserate? When all is said and done, audiences will probably be divided. The uncertainty about where we feel the message ultimately lands is the ideal reaction for this type of film.
While the film does hit a few too familiar beats the cast ensures it always stays much closer to top-shelf liquor. (Mads) Mikkelsen though is a premium brand. His performance begins quiet, reserved and meditative then skillfully expands from there. During the birthday dinner scene alone there are subtle variances in his expression that reveal a hopeless man who, through alcohol, rediscovers himself.
His demeanor transforms in the most nuanced and realistic way; his eyes start to glimmer, his characteristically stoic face begins to show glimpses of a smirk that eventually radiates into a full-on infectious smile, his body evolves from a defeated slouch to energetic roughhousing and literal dancing. This is not the exaggerated drunken act you may be used to, it is full of delicateness. Mads connects on the small swings and the big ones, playing off the other exemplary performances of his trio of castmates.
One unforgettable and deceivingly complex scene encapsulates so many of the film's themes; it could be a short film. It explodes off the screen with unimaginable energy as Mads deftly dances to the song "What a Life" by Scarlet Pleasure. It is intoxicating, but, the display of exuberant vitality is also infused with a contradictory sadness. It delivers a shot of haunting gravitas to this exploration of the human condition. Some may see the film as a jubilant celebration while others a cautionary tale. Either way, this memorable cinematic cocktail starts smooth but watch out for the burn as it goes down. Cheers!
Another Round is available for purchase or rental on most digital services.
Quick Scan
Mads Mikkelsen serves up a memorable cinematic cocktail that starts smooth, just watch out for the burn as it goes down.