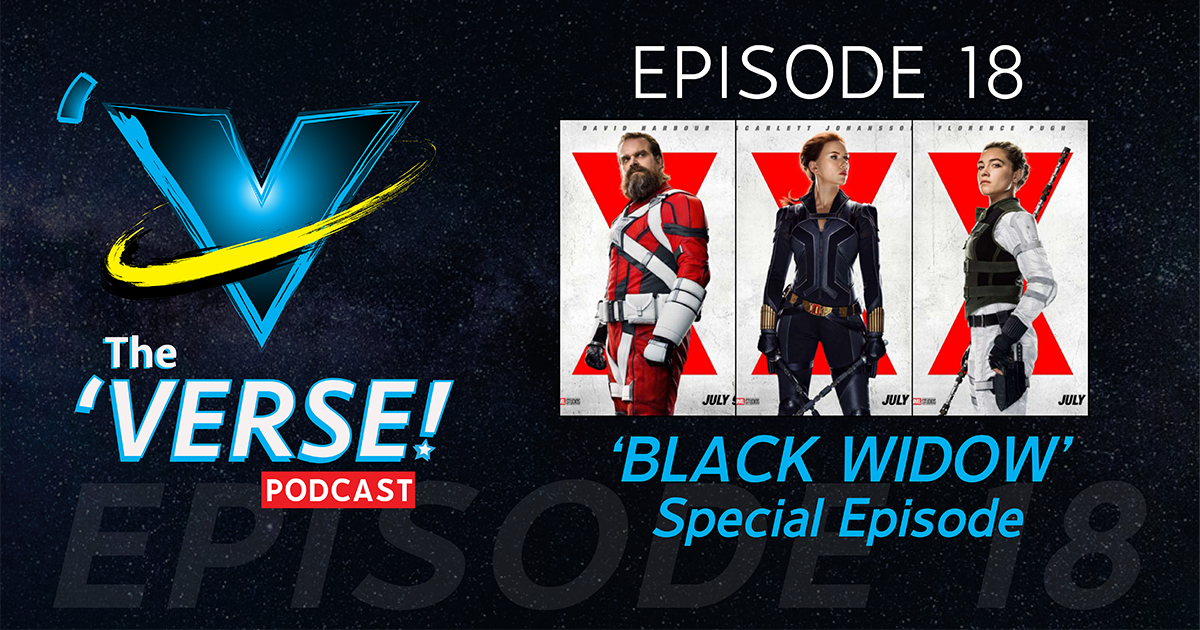 The 'Verse! – the podcast where we visit different corners of the cinematic universes from Marvel, Star Wars, DC, and beyond!  
This week we're doing something we've never done in the past. Before you get too excited, no we're not doing a live recording of all of our reactions to the Lord of the Rings trilogy (at least not this week). Instead, we are dedicating a whole episode of the 'Verse! To Marvel Studios' long-awaited release of Black Widow. You'd think we'd survive a whole pandemic or something the amount of time it took for this film to hit theaters and honestly it was totally…… whoops it looks like you're going to have to listen to the episode to find out!
Since this is a different format than what The 'Verse! Squad has done in the past we should warn you that there will be no The 'Verse! News this week nor any 'Verse! Transmissions. We know this is very disturbing news but we promise Kronsworth will be back with his dirty napkins to read next week. Meanwhile, the Squad has come up with some pretty clever ways to explain the plotline of Black Widow including some spitfire rhymes and even a few tear-jerking haikus WATCH OUT Lin Manuel Miranda, The 'Verse! Squad has a mean musical brewing- P.S. our producer is forcing us to record a musical episode SEND HEL… whoops we mean send helicopters just like that super-awesome action sequence in Black Widow…whew!
Anyways, we're giving you a full breakdown of Marvel's latest feature including both a spoiler-free and spoiler-filled recap. Don't worry though, Norm the Spoiler Storm made sure to include a pretty obvious warning as to when you're treading into spoiler territory. The Squad also made sure to share their top 3 FAVORITE scenes, 1 least favorite scene, and the TOP 3 all-stars of the film. Scar Jo had a pretty killer ensemble at her side- no like literally they were all trained killers, but that didn't stop her from bringing the Avenger back to the big screen and sharing some pretty important messages with the audience. NOTE: Sex trafficking is very very bad.
In the meantime, as you await The 'Verse! News for next week, check out our coverage of Marvel's Loki where we break down every episode of the Disney+ series including a double feature of the last two episodes. Oh, and if that sounds like a little too much Marvel for you, definitely make sure to go listen to Episode 16 of The 'Verse! where we uncover Emilia's Blindspot of Star Wars Episode V: The Empire Strikes Back! There may even be a post-credit scene that will leave you laughing for days.
Subscribe to us at these wonderful podcast locations and others:
Catch you next time in The 'Verse!