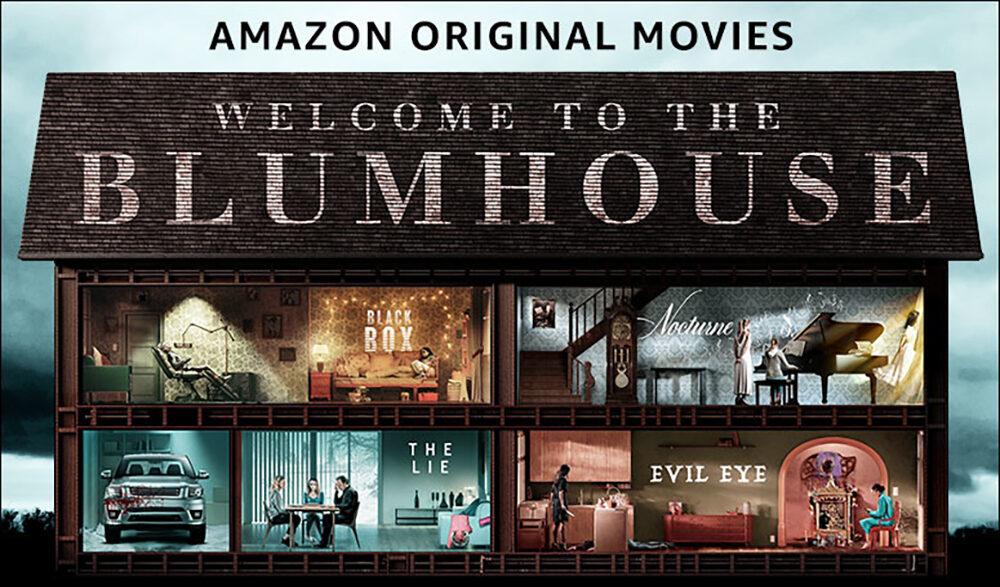 It was a thrill to be invited to the premieres of Nocturne & Black Box, two feature horror films from Welcome to the Blumhouse's four-film anthology series premiering on Amazon Prime Video. I jumped at the chance. If you've read my previous article, you'll know that I may not love all the films that Blumhouse cranks out, but I respect their game and acknowledge that I am square in the middle of their target audience: a confessed horror junky who will devour Grade D thrills as voraciously as Grade A scares. I am also intrigued by Hollywood's efforts to organize and pull off a film premiere in the age of Covid.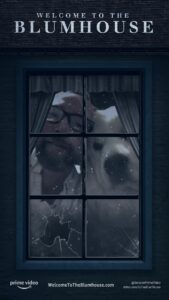 The streaming services have been missing out on really great opportunities to engage critics and tastemakers online in order to build buzz for their new releases. Only so many of us can make it to film premieres and walk the red carpet. I have to admit, this desire became apparent when I relocated from living in NYC & LA to Portland, Oregon five years ago and realized how rarely anymore I attended film premieres and A-list film events. It starts with an email from Blumhouse's publicist. That's not entirely accurate. It starts with my colleagues at ScreenRadar acknowledging that I am a pathetic horror junky and they should really throw me a bone every now and again and allow me to review some movies (I am not a very consistent reviewer). Then the publicist sends me the invitation that involves a schedule of the virtual premiere: doors open at 6 pm and screening begins at 6:30 pm; a description of the after-party: a live-action mystery, live DJ's, tarot card readings & more; and a link with an individual passcode for viewing the film.
Always the punctual professional, I was online a few minutes after the virtual "doors opened."  I was greeted with behind the scenes stills from the movie, some decent pop music that complimented the experience, and a chat room filled with excited and curious film reviewers from all over the world who seemed as confused and giddy as me. It was a sleek interface. I clicked my camera phone on the barcode at the bottom of the screen and after uploading my pic of choice, was sent back this lovely photo. One of the best advantages of virtual premieres is I can attend with my best bud Watson, a 130 lbs Pyrenees. One of the downsides is that the streaming service is not optimized for every browser. My auto settings are set to Safari (because I am lazy and never changed it), so when I clicked on the link in the email it opened up automatically. The chat function was not working, even after refreshing and restarting the browser. Thankfully, when I tried in chrome it worked fine and still accepted my individual passcode.
Jason Blum introduced both films from his kitchen at home (most of us are used to this level of informality during these zoom days) and he kept it short and to the point. For Black Box, I ignored the chattering critics on the side and clicked on "full screen". The streaming quality was as good as most streaming services; twice I had to refresh the browser because the image froze in the middle of the movie but it did not detract from the overall experience.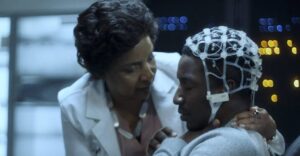 As for the film Black Box, I had mixed feelings. I enjoyed the performances and really liked the concept: the ability to retain one's personality by copying brainwaves onto a hard-drive. If discovered at a festival I would have talked it up to my friends; it had shades of Jacob's Ladder and Eternal Sunshine of the Spotless Mind. I'd consider it more of a thriller than a horror film, although there are a couple of "scary" moments that become overused and lost their unsettling effect. The dialogue was filled with a ton of unnecessary exposition that pulled me out of the movie at times and I felt for the actors who were forced to deliver some really clunky lines. The limited special effects were executed decently and expanded the production value. The twist in the third act that I was hoping for felt earned and saved the movie for me. I also felt like it would have been way more impactful if the run time was 60 minutes.
In fact, I felt the same about Nocturne. The production design, lighting, and sound design of Nocturne were really sharp. The use of color and slow-motion seemed inspired by Gasper Noe in the best way. I enjoyed the cast. Diversity in both films elevated the principle and supporting players. The story; an ambitious teenage musician who makes a deal with the devil to be a star, also was more of a thriller than a horror movie – but I happen to love thrillers. I just don't think the story or arch of the character demanded 90 minutes. I have not watched the other two films Evil Eye or The Lie but I suspect Blumhouse could have created an hour-long anthology series like Black Mirror and potentially reached a larger audience.  I'd give both movies 3 out of 5 stars – would have bumped it up to 3.5 if they were shorter.
For Nocturne I decided to watch the movie with the chatroom open and I am so glad I did. The running commentary, jokes, and enthusiasm from my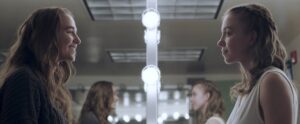 fellow critics made the experience so much more fun. It actually felt like I was watching with friends, even though I only knew one other reviewer. Genre films lend themselves to a communal, expressive audience. I personally love when an audience member calls out to the screen "don't go down the stairs, girl!" because they are overcome with emotion. The chat room had a similar feel.
I stuck around for the after-party. The format played into Welcome To The Blumhouse branding, with the DJ in the "basement" and interactive stories that the audience clicks on throughout the house. The setup is that we are a detective who has to solve the disappearance of a missing girl. As we pop into different rooms, real live actors make drinks, read tarot cards, and escape from saw-like traps. We communicate in the chatbox with the actors. Each floor is themed after one of the anthology movies and loosely tie into their stories. That aspect was a little unnecessary and overcomplicated an already dense mystery that we had an hour to solve. The goal is to question the actors to reveal the code to the attic.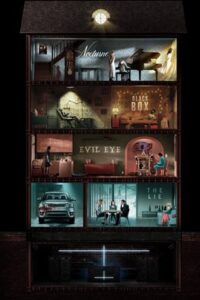 It was like playing an escape room with Statler and Waldorf from The Muppets. Any decent suggestions were quickly followed by an ironic comment or an instruction for an actor to "do it, walk on broken glass in your bare-feet." In one scenario, an actor has to pulla scorpion out of a jar to get a clue and the audience was encouraging her to "eat it!" After bouncing around from room to room, I finally got my bearings and realized what the game was about. By that time, I was already overwhelmed and a little bored so I quit. Which is a shame, because the presentation was really clever. Interacting with the actors real-time was pretty wild. The production design of the rooms looked great and it was an extremely unique experience. If there were fewer of us film critics and a little more hand-holding at the top to understand the game, it would have been very engaging.
In all, I am very encouraged by Blumhouse's efforts at a film premiere and excited to see what else they have in store. They raised the bar on what's possible and I commend them for it. I hope other film companies follow suit and make the online, interactive experience a part of their marketing efforts even after we kick Covid's butt.
Be sure to check out all four Welcome to Blumhouse films exclusively on Amazon Prime.