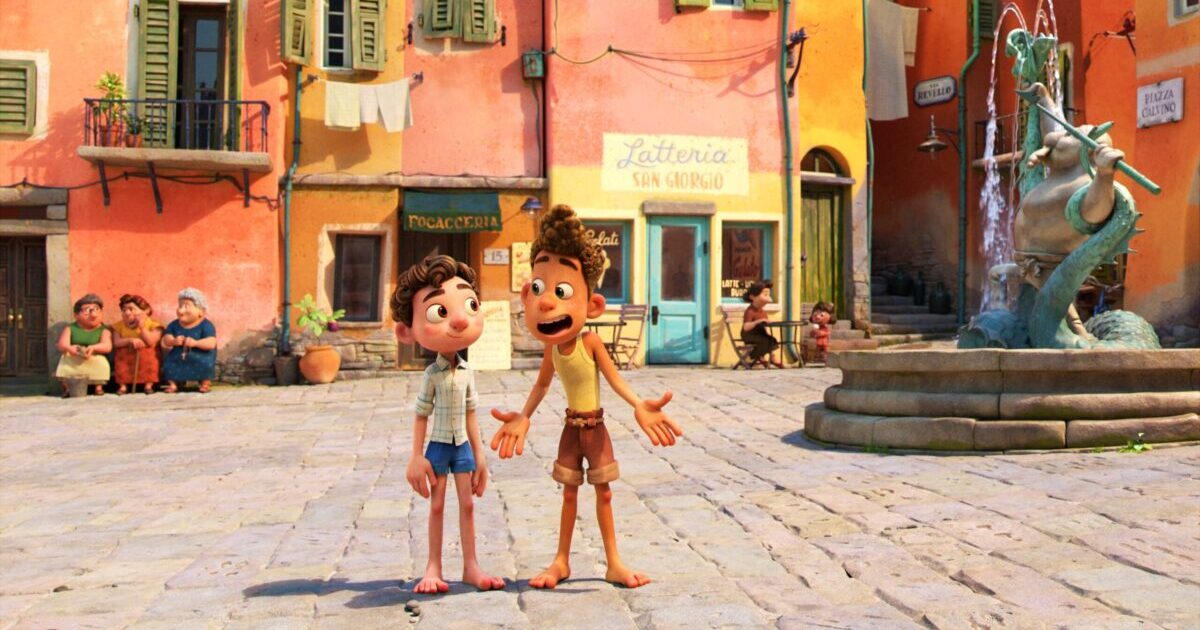 Do you remember being a kid? For some of us that is more of a challenge than others – the sands of time pass and we often grow further disconnected from the endless joy and exuberance for life, only to be replaced with deadlines, zoom calls, and budget meetings. Luca, the latest film from Pixar, removes some of the fog of time to deliver a charming tale of friendship. It captures a magical time of our lives and lets us revisit the wonders of childhood.
The film tells the story of, you guessed it, Luca (Jacob Tremblay), a timid young sea monster just finding his way in the world. Luca's family life is probably not unlike many of our own. He has caring, slightly-overprotective parents who want to want him to avoid the dangers of the world above the surface – a mysterious place full or curiosities and new experiences. The more his parents demand he avoids the surface, the more he is drawn to it, especially after becoming friends with Alberto (Jack Dylan Grazer) – that friend who always pushes the boundaries. The two hit it off and are inseparable.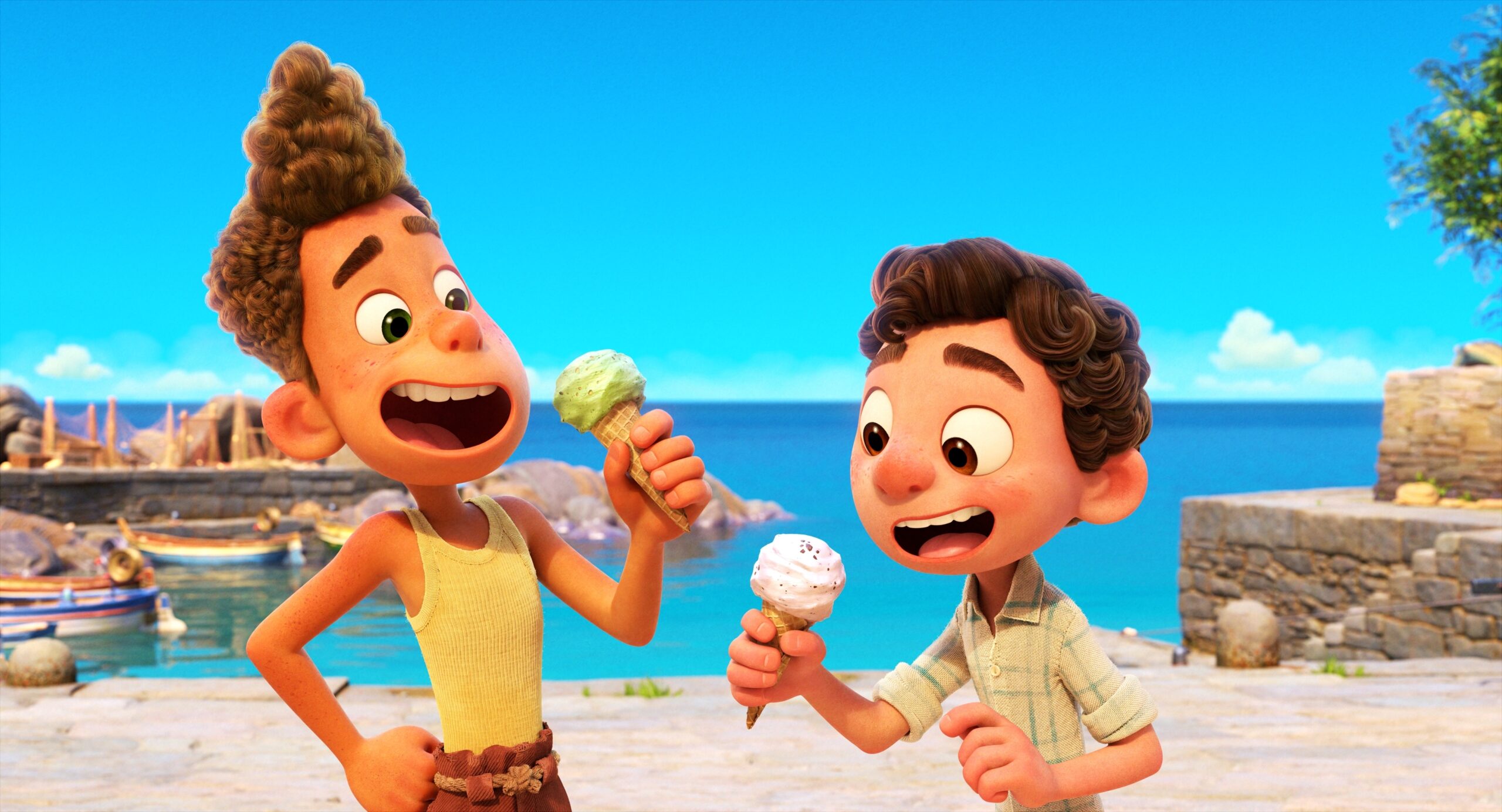 Sure these monsters look different than us, but their similarities outweigh their differences. Unfortunately, the people of the beautiful little Italian shore town of Pontorosso do not see them that way. For them, the underwater creatures are something to be feared that carry with them horrific tall tales of unsightly encounters. They're treated like real monsters and need to be hunted down. Luckily for Luca and Alberto, as long as they are dry they transform into standard human form, their underwater identities undetectable to the eye. That is, unless they get wet. During their visit to the town they acquire a new friend Guilia (Emma Berman) who does not know their true identities. She does share their dream of winning Pontorosso Cup Race with the grand prize of the much sought after Vespa – the thing that dreams are made of kid.
The film serves as an escape to the days of youth. It is a reminder that we were once kids who had nothing better to do besides letting days waste away – sharing time together, lots of laugh, making new memories and dreaming of what's to come next. If that sounds magical – then you'll enjoy the ride. An innocence and sweetness exists throughout 'Luca' that grabs you and doesn't yield. Watching the trio of friends is full of silly and gleeful carefree childhood moments. Dan Romer's score only heightens the breeziness of the moments. Even as it explores some familiar friendship tropes they are quickly forgotten as we are treated to wonderful racing set piece that is about as much fun as I can remember having with a Pixar film in a long time.
The character design has an almost coloring book feel to it – bright and colorful, with less defined features than seen in previous Pixar entries – closer to Aardman Animation (Wallace and Gromit, Shaun the Sheep). Honestly, at first it did not click with me, but as the film carried on, I really started to appreciate the style. Like so much of the film it has a childlike innocence to it – as if drawn and told through their eyes.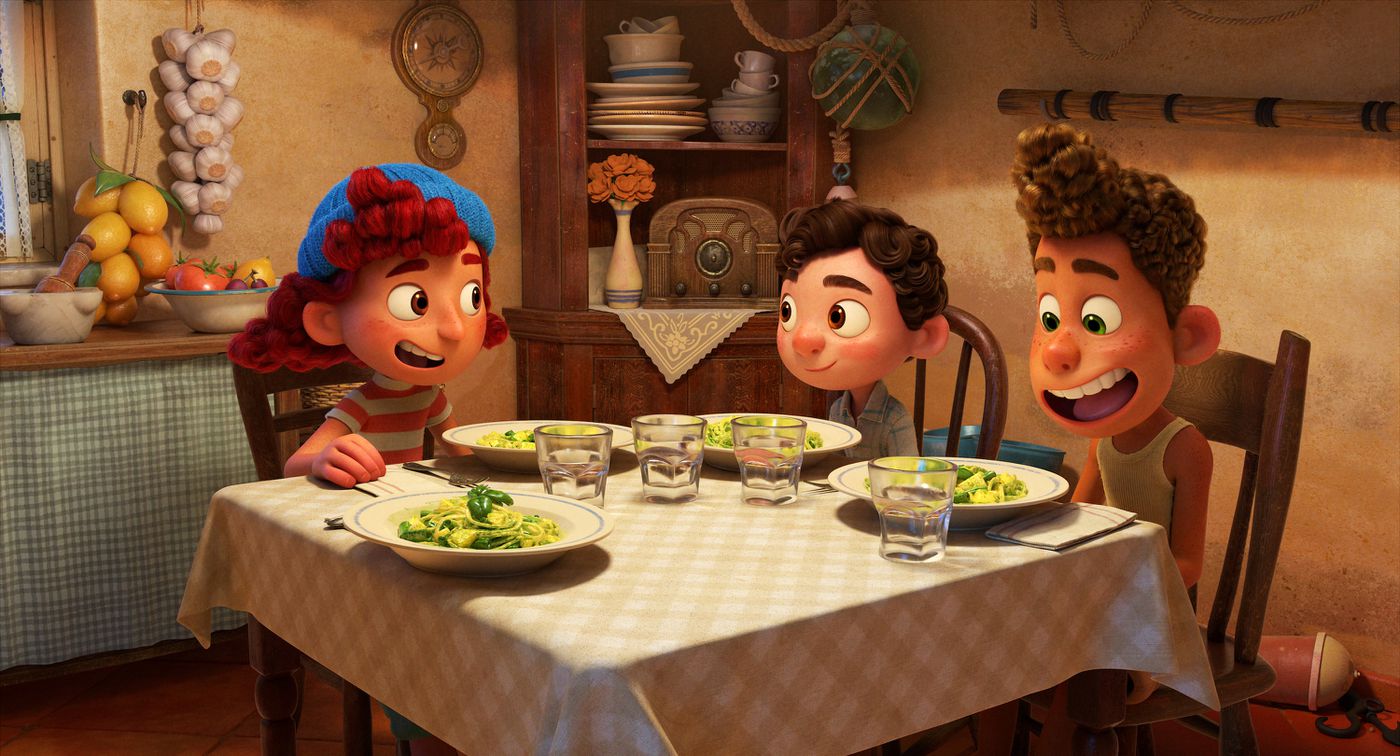 Once above water we are treated to an Italian summer as the majority of the film takes place in the picturesque Italian town. It is a canvas of endless textures, rich hues, beautiful architecture, gorgeous cobblestone streets, colorful gelato and mouthwatering dishes. And then there's music. A soundtrack of bouncy Italian tunes will transport you across the pond to a small cafe sipping espresso. Even though Pontorosso is a fictional town, this is about as good of a travelogue promo for a trip to Italy as you can ask for – especially after being quarantined for these last nine years. While the underwater world is visually pleasing, Pontorosso is simply striking. It's a delightful escape.
In the lead role is Tremblay – a gifted actor at the ripe old age of ten has a string of great performance behind, his performance here is no exception. The film balances on his chemistry with Grazer and the pair deliver. Their scenes together are easy-going, sincere and often filled with awe. Maya Rudolph and Jim Gaffigan as Luca's parents add some laughs but a little underused – you can never have enough Gaffigan.
Director's Enrico Casarosa approach is never heavy handed – adults and children a like will grasp the messages without feeling like we are taking int something "important." The themes of acceptance, inclusion and diversity are delivered with a sweetness that is palatable not cloying. That's partially why this film is so charming and ultimately more effective. By being more accessible it will probably lead to numerous rewatches unlike the heavier Pixar films of late. It has a timeless appeal.
You walk away from Luca feeling good, as if you took a time machine back to your youth where the most important thing in your life was spending time with your friends. But there's really much more too it, messages that may just sink in even the most stubborn of minds. Maybe Luca is part of the solution – even if . I will let you know after I watch it a few more times.
Luca premieres exclusively on Disney+ Premier Access on June 18th.
Quick Scan
Luca is a like a a time machine back to the carefree days of your youth where the most important thing in your life was spending time with your friends.