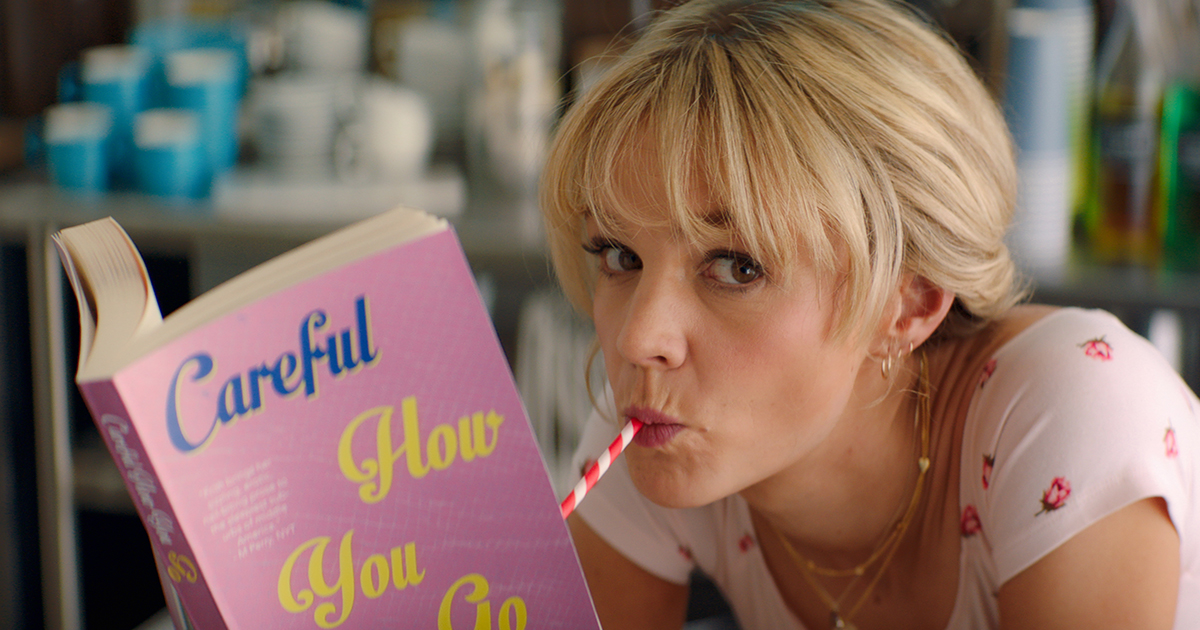 Disclaimer: As someone who refuses to spoil a film and often tiptoes around the moments that most affected me, made me laugh, cry, etc. I live by a code (some would call annoying) that we should all experience each film as untainted as possible. I am going to try to walk that line here. Quite simply, Promising Young Woman blew me away. It is provocative, stunning, and needs to be seen. If you trust my opinions on film, do yourself a favor – stop reading now and hunt down the film.  (In theaters on December 25th – or in the safety of your home on Digital and VOD at a later date). You can come back to read more later, I promise.

A shot early in Promising Young Woman gripped me and made me sit up at attention. I was in for something special. Framed as a particularly vulnerable moment for Cassandra "Cassie" Thomas (Carey Mulligan), the young woman in peril quickly turns the tables. She does so not through the use of a weapon or a physical attack of any sort.
It happens more subtly, with a glance. Cassandra peers into the camera, breaking the fourth wall. More accurately, it is much more than a glance, it full-on eye contact. Her fixed gaze obliterates the fourth wall to pieces transcending through the camera lens and right through our screen to acknowledge our presence. We are in her world now. The direct glare serves as a warning as to almost to say, "I see you." It's is a bit unsettling, shocking, and at the same time exultant. It's incredible and just the tip of this iceberg.
Cassandra is a thirty-year-old woman who has dropped out of med school.  On the surface, her life looks like one of an underachiever, working as a coffee shop worker and living at home with her parents (Clancy Brown and Jennifer Coolidge). But, instead of healing others through medicine, her focus has now shifted to trying to heal herself through vengeance. She is on a calculated mission to hold all men who show their true colors accountable for their aggressions against women. She is a cotton-candy-colored guardian angel with razorblade wings determined to cure the world of toxic masculinity one enabler at a time.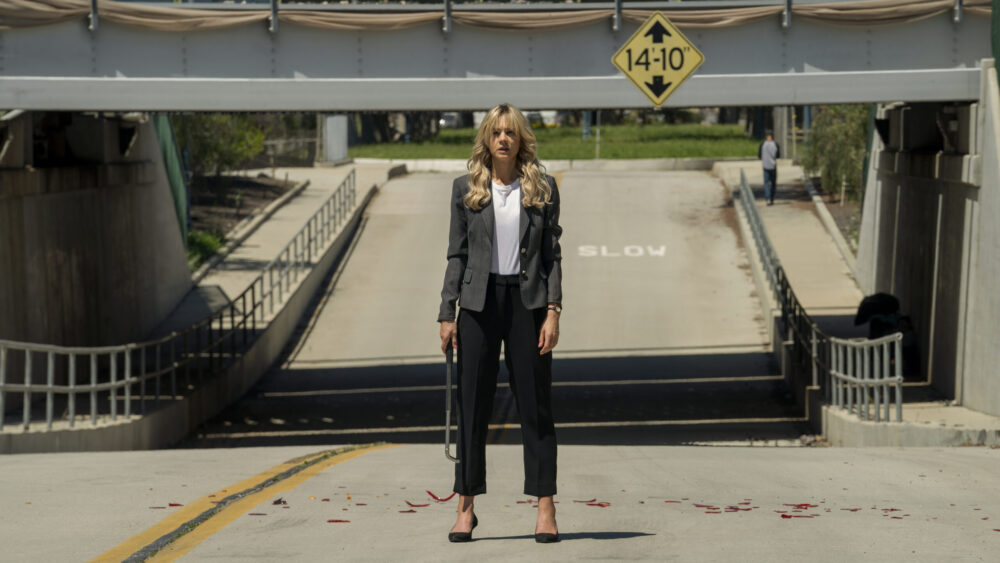 Director Emerald Fennell paints a masterpiece – an intense #metoo fable that stealthily disarms you before unapologetically dissecting the issues with scalpel precision. She dips into an array of genres and tones like an artist blending pigments to create something completely original. A generous portion of dark comedy, some family drama, even a touch of romantic comedy, and several more genres are at play. It would seem they should not work together and yet she does so seamlessly and purposefully. The film is intentioned to keep you off balance from start to finish, using your own weight to intensify the power of its punches. Moments that seem could feel familiar are surprisingly nuanced.  Nothing is approached with broad strokes, instead, she expertly dabbles in every color on the palette with just enough restraint.
Like her character, Cassie, Fennell leaves nothing to chance. Every stylized moment on screen, from the shot design to the hair and makeup to the music, is a calculated choice that further adds to the overall impact of the film and the messages it conveys. What amazes me is  the"ease" in which she accomplishes her goals, never wasting a frame while avoiding weighing down the film in pretentiousness. It fearlessly tackles heavy subjects and somehow remains relatively breezy, light, and thrilling at the same time. Her juxtaposition of pastel-colored environments and bubblegum pop music like Charli XCX's catchy, harmless tune "Boys," (easily the most guileful soundtracks of the year) is her secret weapon. Like a siren, she pulls us in then strips away the facade of harmlessness to reveal the menacing reality of just how dark can be. All this from a first-time filmmaker. Incredible.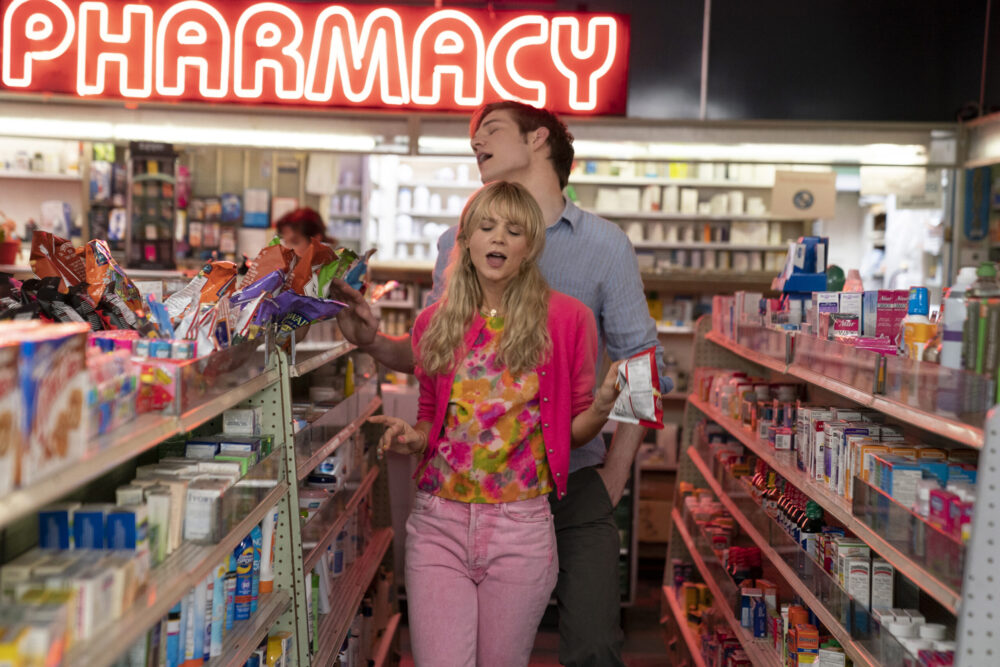 Mulligan is mesmerizing as Cassie, she disappears into the complex and faceted role, making it all appear effortless. Frankly, it is not only one of the best performances of the year it is one of the best of the decade. She breathes life into every aspect of the character; a nuanced transformation that begins with her outer appearance and then seeps into every cell of her being. Her expressive eyes, manipulative body language, and the impassioned delivery of each line will extract every emotion out of you.
The role requires a chameleon act as she shifts colors constantly from one situation to the next. Mulligan does not miss a beat to deliver an intelligent,  and intense character. For those not familiar with her work, this role will be an eyeopener to the sheer talent of Mulligan. A departure from much of her previous work, she may finally get the deserved recognition for well over a decade of delivering consistently amazing performances.
Fennell's screenplay is as impressive as her direction. It is as deceptive as a beehive – innocuous from the outside, while inside it is swarming with aggressiveness tinged with beauty. That is the genius of Fennell's writing. She packs in so much you don't even notice; never putting a character or a moment to waste. On the surface, this may seem to some like just be another vengeful woman film.  Honestly, for the most part, you can be view that way, but, the film is much more layered than that. Repeat viewings reveal the subtleties of Fennell's craft, each of which increased my appreciation while never diminishing the film's impact.
The film takes viewers on quite an uncompromising ride making it easy to focus on the film's bigger moments. Don't get me wrong. They work with all the precision of a surgeon's blade.  Equally as absorbing were the less imposing, understated moments. For example, there is a scene when Cassandra kicks a garbage can and it is simply kind of heartbreaking. It is a crack in the armor that reveals so much about the very protective character and without a word of dialogue. Each interaction, be it with her parents, her boss (a spirited Laverne Cox), or a guy she meets at the nightclub, exposes a little bit more about who Cassie is – equal parts damaged, beautiful, strong.
The ensemble is perfectly cast from top to bottom. Each delivers affecting performances that continue to keep you transfixed without a pause. Cristopher Mintz-Plasse, Max Greenfield, Sam Richardson, Alfred Molina, and Connie Britton are just some of the recognizable faces that fill the film's canvas each with their own meaningful hues. There's no excess to be found. Standouts Bo Burnham as Cassie's boyfriend Ryan and Alison Brie as an old classmate help flesh out the tale beyond the expected scope. But, this is Carey's film from start to finish – she owns every frame she is in.

This film deserves to be a frontrunner for Best Picture, Direction, Original Screenplay, and Lead Actress for Mulligan. It also unexpectedly deserves to be a serious contender in the running for much more. The Anthony Willis score perfectly complements the faultless soundtrack. Together they serve almost as their own character, squeezing even more impact out of each scene. Daniel Curet and Angie Wells's hair and makeup work not only looks stunning they provide insight into Cassie's psyche. And, Michael Perry's production design paired with cinematographer Benjamin Kracun's lens expose even more layers ever so stylishly add to the narrative.
As the closing credits roll, if you can catch your breath, it is obvious Fennell has delivered a tour de force. The film grabs your emotions and takes them on a provocative, cathartic ride. Weeks after watching it continues to reverberate through my brain and I don't think it will ever vacate it completely.
Promising Young Woman is powerful and bold.  A unique experience that will shake you. Fennell cleverly crafts the film from the ground up with a skillfulness of a seasoned filmmaker. As a result, it hits on all cylinders. The film is so layered it demands to be dissected and discussed. Unfortunately, some will simply dismiss it. Anyone who watches this compelling thriller will be affected to some degree. Never underestimate the power of a promising young woman.
I hope this review does the film justice. If you missed my point – this is simply the best (and my favorite) film of the year. See it.
Promising Young Woman is now available on all major digital platforms.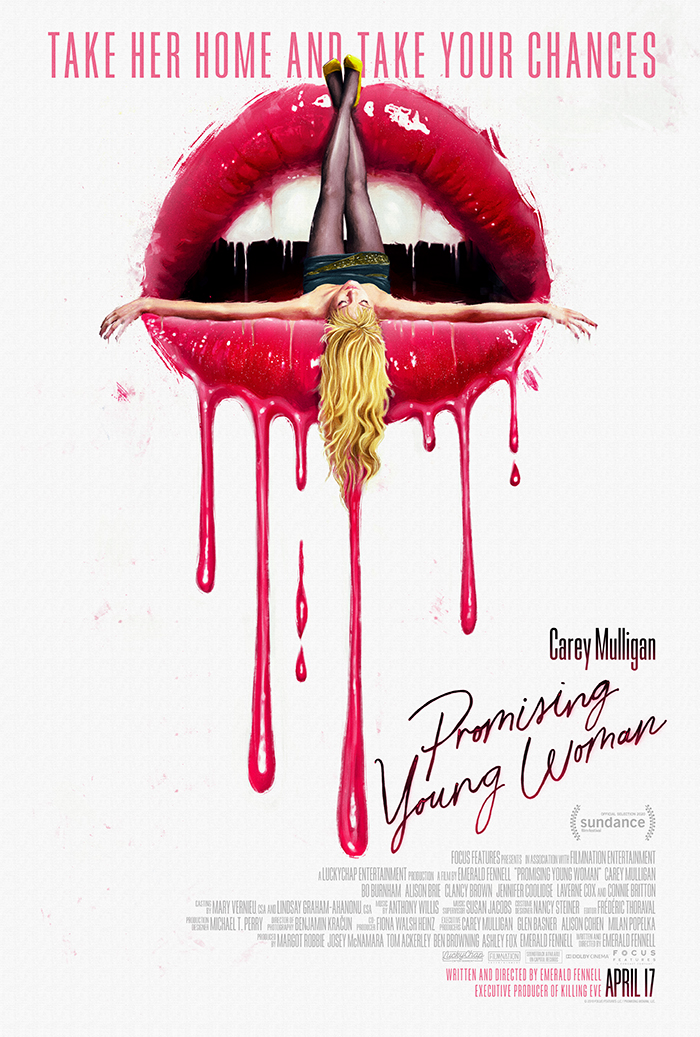 Quick Scan:
"Promising Young Woman" is a provocative masterwork that will mesmerize you. A powerful, bold, and original film. A must-see.