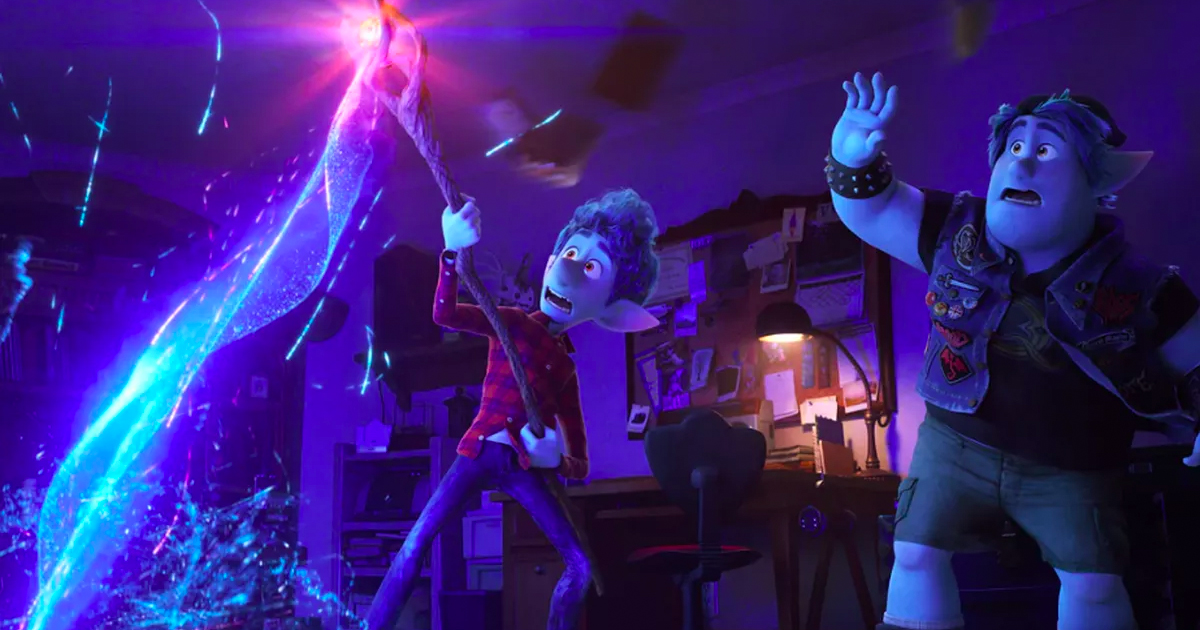 "Over time, the magic faded away." That is how the new Pixar film "Onward" begins and oh just how appropriately does that opening line fit the current state of the planet. In case you haven't noticed, much of the wonder seems to be gone. No sports, no movie theaters, no Cons, no screenings, no BBQs, no parks, no playdates, no nothing. The COVID-19 virus has stripped away much of what made life magical. Sure it is easier, in some ways – no commutes, no meetings, and often no pants. Yet at the same time, the world can feel broken. Similar to the film's fantasy world New Mushroomton. It is full of pixies, dragons, cyclops and a slew of other fantastical creatures, but void of the magic which has been abandoned for technology and convenience.
"Onward" is the story of a pair of very different elf brothers. Ian Lightfoot (Tom Holland) is the practical, introvert whose feet are planted firmly on the ground. He is so unconfident in himself that he can't even muster up the guts to invite some classmates to his birthday party. Barley (Chris Pratt) on the other hand is the bold, spirited, underachieving dreamer whose heart is planted in the world's magical past. The well-intentioned older brother lets nothing stands in his way besides a proclivity to screw things up. Sadly, neither brother had much (or any) time with their dad, who died just before the before Ian's birth. While Barley holds onto the three memories he gathered during their short time together, Ian understandably has no memories of his dad.
During Ian's 16th birthday their mom (Julia Louis-Dreyfus) presents Ian with a gift his father wanted then to have when he reached this age. The gift is wizards staff that gives the pair access to some of the magic of old. Along with the staff are a magic crystal and a spell that would let them share one day with their father. Unfortunately, the spell is literally half as successful intended, bringing back just their dad's lower half of his body, a pair of legs. And so our quest begins. The pair hop into Guinevere, a Barley's beast of an old van custom-designed with some bodaciously cool 80's unicorn art, and head off on an adventure (and misadventures) as they try to complete the spell before the 24- hours with their dad comes to an end.
From this point forward we tag along what can essentially be described as a road trip buddy movie. Much of the film is rather paint-by-numbers, as we watch the odd couple forced to work together on a series of tasks to complete their father's spell. It doesn't venture anywhere particularly original while checking off all the themes you would expect from an uplifting Disney/Pixar film. But even as the film is not particularly funny and full of familiar tropes, it also somehow still grabs our attention and our hearts to keep us on board for the ride. Much of the credit goes to writer/director Dan Scanlon who develops what feels like a nostalgic throwback to the films of the 80s and 90s. It is a familiar and comfortable fit, that delivers substantive characters who are breathed life into by and outstanding voice-over ensemble.
The cast is lead by the always relatable and easy to love, Tom Holland. He gives Ian an underdog vibe that keeps the viewer rooting for him to break free from his shell. Barley, played by hard to dislike Chris Platt (in a role that seems to be either originally intended for or partially based on Jack Black), makes each of the well-intentioned, never-do-right Barley's missteps more entertaining than the last. He is like a big lovable, well-intentioned dog who while trying to bring you the newspaper runs through the screen door.
The film also provides us with two buddy road trips for the price for one. We also follow along with the boys' mother, Laurel (Julia-Louis Dreyfus) and Manticore (Octavia Spencer) a feisty (well) manticore who has lost and, with the help of the Lightfoots, rediscovers her "dangerous and wild" side. The pair races to save the boys from an unbeknownst curse at the end of their quest. The coinciding adventures keep the action level high while Spencer and Dreyfess's instant chemistry provides a welcome addition to the core storyline, preventing it from wearing out its welcome. Mel Rodriguez (Last Man On Earth) in a smaller role as Colt, the mom's unwelcome boyfriend who makes the most of his screen time, injecting some great dad humor and some physical comedy.
While on the surface it may seem like a shallow adventure film everything works as a whole because it is surprisingly moving and full of heart. The fast-moving story keeps us vested in the characters, their mission and lessons learned along the way. It is assembled in a way that creeps up on you, delivering an emotional impact that seems to come out of nowhere and really packs a wallop. Even while expecting to be moved somewhat, it affected me more than anticipated. And, As usual, Pixar creates an aesthetically amazing world, full of color, whimsy and packed with background detailed sight gags that will make for interesting repeat views. Oh yeah, keep an ear out for Pixar good luck, John Ratzenberger who continues his streak of being in every Pixar film to date.
The themes of self-discovery and recognizing what is right before your eyes which felt especially relevant today. While we partake in home lockdowns, many families are reverting to the simpler things that have often been cast aside for modern technology – be it puzzles, board games, phone calls, family meals or just sitting together to watch a movie. As Barley says in the film, "on a quest you need to use what you've got." The new focus brought about by these strange times is bringing families closer together and reminding us about the magic that has been in front of us all along. Maybe this COVID quest we are all on will reveal that much of the wonder has been right in front of us all along.
Maybe I am being overly sentimental (or maybe that is what happens when you rarely leave your house for a month and spend most of your day in your PJs) or maybe this crisis has made me hyper-alert. Either way, you can decide for yourself because through the magic of streaming "Onward" is available on your screens streaming on Disney+ right now.
Quick Scan
While taking a familiar-feeling path, this animated journey takes us on a moving adventure.