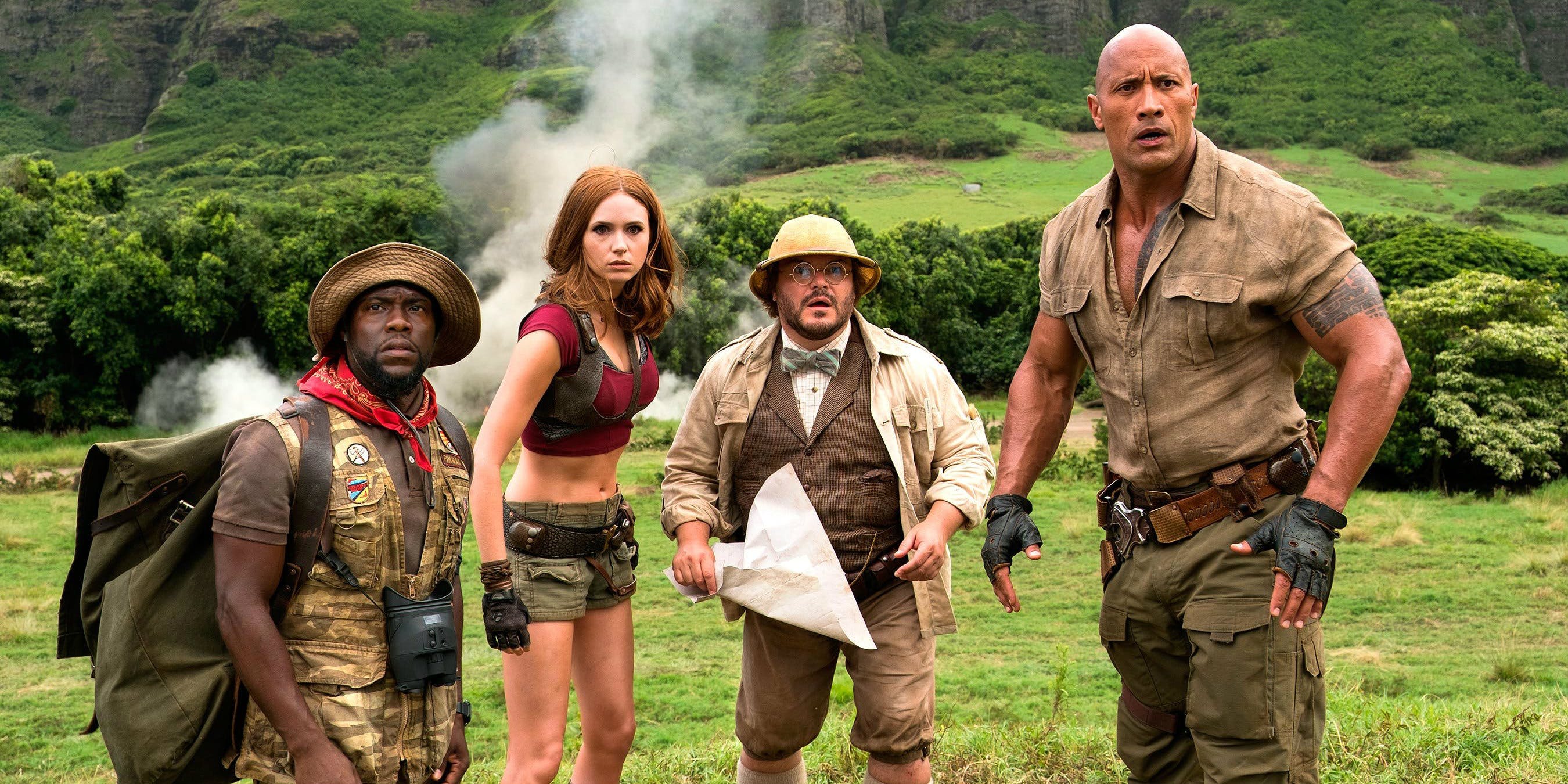 When it was announced that a sequel/remake to the 1995 fantasy adventure film Jumanji was in development, the internet got up in arms, as just the idea of remaking a Robin Williams film is considered to be blasphemous. While that is a sentiment I tend to agree with, I can't say I feel the same about Jumanji. Most people that track with that film were kids when it was released, and therefore have a nostalgic attachment to it. I was twenty when it was released, and didn't see it until I had children of my own, so I didn't have that emotional connection. It's for that reason I can objectively say that Jumanji not only isn't that great of a Robin Williams film, it's not that great of a film period. Don't get me wrong, it's enjoyable enough, but it's a bit muddy, the CGI wasn't where it needed to be at the time, and it has a pretty twisted ending if you think about it (Jon Favreau's  2005 spiritual follow up Zathura was considerably more successful, though it's not nearly as beloved). That said, I was open to a new chapter in the Jumanji series.
The original Jumanji was based on the Chris Van Allsburg book of the same name (that book's sequel was the basis for Zathura), and while Welcome to the Jungle is an original story, thematically it definitely belongs in the same world. Four high school students from different social backgrounds are given detention, and while they are given menial work to do, they discover a twenty-year-old video game system,  and boot up the Jumanji jungle game that is installed. The quartet is sucked into the game, and are forced to finish it in real life in the avatars they chose. Rather than retreading the "board game comes to like" theme seen in the first two films, this explores the opposite, updating it to a more modern video game. This opens the film up to play around with some simple and familiar video game tropes (avatars, limited lives, cut scenes, strengths and weaknesses, etc). Film adaptations of video games have been historically bad. Apparently, the key to making a good video game movie is to not base it on an actual video game. Jumanji: Welcome to the Jungle is a very entertaining film, with more than enough humor and action to go around.
The incredibly likable cast gathered here is the real reason the see this film. Dwayne Johnson has a blast playing up to the stereotypical action video game/film character role, but does a nice job conveying that he is still a "nerd" behind his avatar.  Jack Black overplays his role as a self-absorbed teenage girl stuck in the avatar of middle-aged man a bit, but it's still pretty fun to watch. While Karen Gillan has made a splash in the MCU co-starring in the Guardians of the Galaxy films, it's great to see her be able to display the charm that made her a fan favorite during her run on Doctor Who. Not surprisingly, Kevin Hart is given the lion's share of jokes in the film, and deservedly so. While the rest of the cast is fairly successful portraying their teenage counterparts (Alex Wolff, Madison Isema, and Morgan Turner), Hart acts nothing like Ser'Darius Blain, instead acting exactly like Kevin Hart. It's a forgivable oversight though, because Kevin Hart is pretty damn funny, as usual. Hart and Johnson are proving to be a pretty dynamic duo on screen, having co-starred in Central Intelligence as well, and I hope they continue to make movies together. Nick Jonas eventually joins the quartet on their mission to finish the game, and is given what very little emotional weight the film has to offer, a task he takes on nicely. The very funny Rhys Darby has a supporting role, but he isn't given much to do, and is constrained to a one-note joke through out his appearances.
The film is good, though it does have its flaws. The character development in the film is a bit thin and expected, and the high school stereotypes portrayed are have been so over-used in movies and on television that they are almost caricatures. The characters here are absolutely identical to those in The Breakfast Club, sans Judd Nelson. There's a nice nod the Robin Williams' character in the first Jumanji, but given how that film ended, it doesn't actually make sense. While the film is family friendly by and large, as Jack Black's character is a girl in a man's body, there are more than a few penis jokes, including a quick erection reference, and a longer-than-it needs-to-be scene in which he/she is shown how to pee standing up.
Overall, Jumanji: Welcome to the Jungle is a very enjoyable film, with just enough humor, action and likable characters to make it worth seeing. In past years, this would have likely been a summer release, but given that comic book films have taken over that seasonal time slot, a Christmas release is perfect, and it's a nice break from the heavy award season releases.