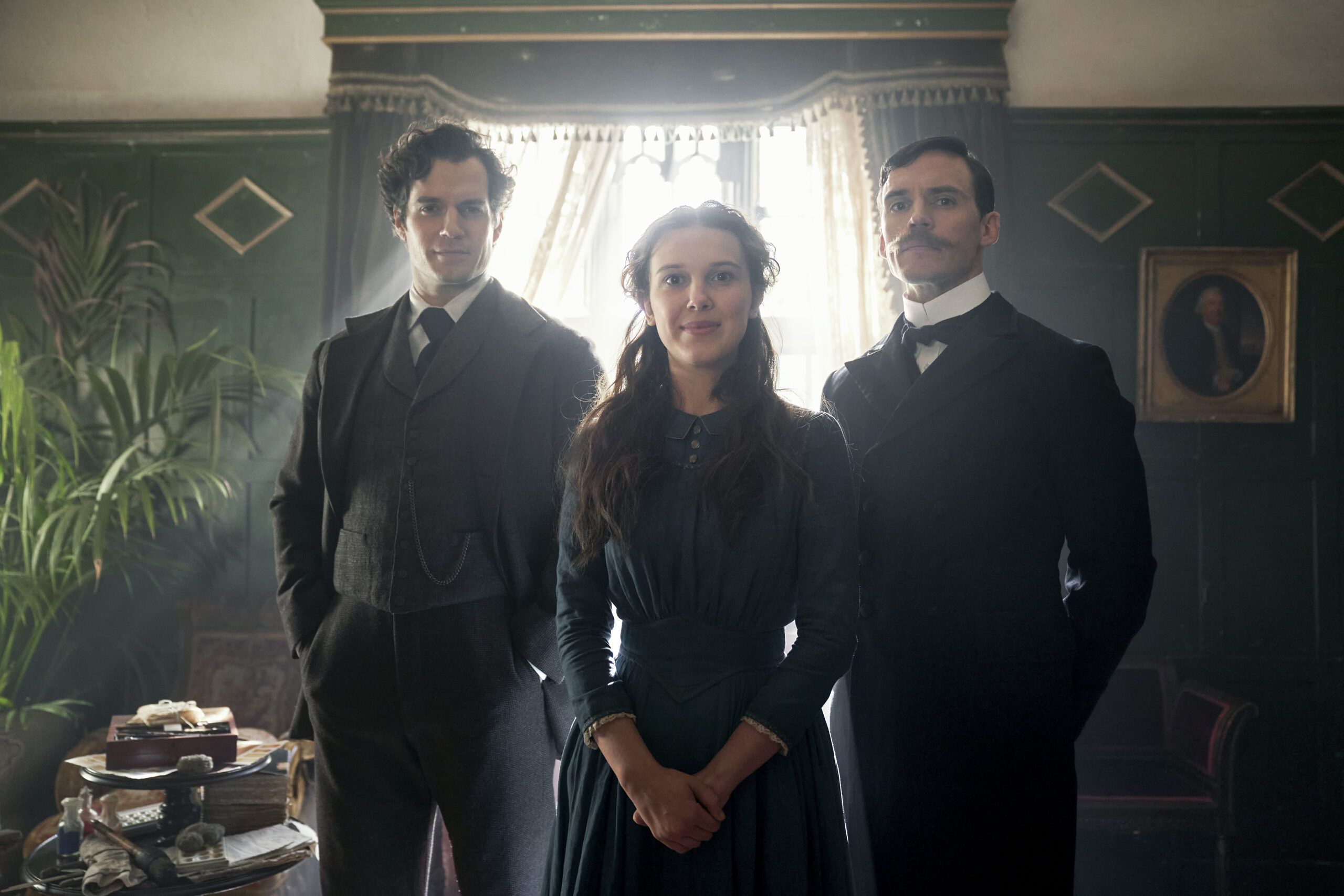 The lively Enola Holmes brings us to somewhat familiar territory with yet another take on the world of Sherlock Holmes (Henry Cavill). This time around there is a welcome twist. Instead of centering around Arthur Conan Doyle's world-famous detective, the film revolves around his younger sister, Enola (Millie Bobby Brown) a character created by author Nancy Springer for her book series of the same name. It results in a lighthearted adventure with a delightfully classic heroine who is a perfect fit for modern times.
Living in a single-parent household after her father's death, Enola's unique sensibility derives directly from the strong bond with her eccentric mother, Eudoria (Helena Bonham Carter). She raised Enola as a free-spirited, headstrong young lady who can "do anything and be anyone." There were few rules in the Holmes household; days consist of homeschooling, full-fledged tennis matches in the dining room (scores are written directly on the walls, of course), martial arts training in the yard, living room archery, and a plethora of word puzzles. Then, on the day of her 16th birthday, Enola wakes to find her mother missing without any explanation and seemingly without a trace.
Thrust into the care of her much older brothers, whom she had not seen in over ten years, Enola attempts to track down her missing mother. The eldest brother, Mycroft (Sam Claflin), a stern and strict man, explicitly forbids her to do so. He would prefer "to break her and build her up" as a sophisticated, proper woman, instead of the "wild child" fashioned by her mother.
Sherlock, on the other hand, is more in tune with Enola and quietly supports her rebellious ways. The quest presents itself in a snappy fashion and is a treat to watch as Enola deciphers the series of clues left behind by her mother. The sleuthing approach stays true to the Sherlock Holmes spirit while instilling a new pleasant hopefulness exclusive to Enola. Along the way, we meet a Tewksbury (Louis Partridge) a mysterious, unexpected young man whom she feels driven to help out of harm's way.
The film draws its energy from the fabulous spark plug that is Millie Bobby Brown. When she first appeared on most people's radar in 2016, on Netflix's Stranger Things as the shaved-head, waffle loving, super-powered Eleven she quickly became a fan favorite. But can she carry a full-length feature film? The answer is emphatic yes! Millie Bobbie Brown is infectious here, delivering a charming sweetness combined with the depth of a beyond-her-years non-wavering determination. The results are undeniable.
Brown is at her spunkiest when she breaks the 4th wall speaking directly to the viewer in the most endearing of ways. Director Harry Bradbeer uses this approach brilliantly in Fleabag and just as effectively here – a short cut to learning what makes Enola tick. These moments are where Jack Thorne's screenplay hits on all cylinders. We as viewers are Enola's confidante, given a peek into the soul of the character. Both her strong-willed nature and also her wholesome sincerity. A wink toward the camera, a quick cheeky commentary, or a lowered eyebrow makes us true companions on her journey rather than just bystanders.
Complementing Enola's pluckiness is the vivacious art direction, a whimsical score, and gorgeous costumes. A keen visual style engulfs the film to deliver a modern sensibility while retaining an appropriate classic feel throughout. The use of a Monty Python-like paper cut out animation injects flare into the mix while helping to deliver exposition in a creative and witty way. Cinematographer Giles Nuttgens wrings the most aesthetic value out of every scene. Rain glistening at night on the rough London cobblestone streets, glorious fields of green and beiges illuminated warm hues of the sun, bustling city squares cloaked in grays only interrupted by the flair of colorful flower markets. He shoots both the exteriors and interiors with precision. All this visual appeal while your ears get the treat of Daniel Pemberton's (Spider-Man: Into the Spider-Verse – a favorite of mine) capricious orchestral score that perfectly captures the spirit of Enola.
Midway through the film Bradbeer all but abandons the 4th wall-breaking approach falling back on a more standard and, sadly, less engaging approach to storytelling. Instead of continuing to speak directly to the viewer, most of Enola's conversations shift to her and the secondary characters. This move casts a spotlight on the weaknesses in the plotting and some of the less interesting secondary characters. It reveals that this film is not about the mystery or Sherlock or anything else, it is an Enola showcase. When the focus drifts from her the film suffers.
Partridge does a suitable job as Enola's sidekick Tewksbury during the lively action scenes, but as the budding romance elements unfold they drain the kinetic pluckiness that was working so well. The same pacing issues occur when Mycroft and Sherlock are on-screen sans Enola. I understand that the draw for many viewers will be seeing the famous sleuth in action, but frankly, Enola does not need them. Claflin's Mycroft is written to be just a hair less than completely unlikable, sneering, and huffing throughout.
Cavill's Holmes while more fleshed out is in comparison is the most under-developed Sherlock interpretation of the character in recent memory. Sherlock by name only, none of his trademark quirks make it to the screen. The duo serves their purpose to the plot, but every time they appear the energy drops considerably. Leaving me wondering what Enola was up to. Bohman-Carter fares better, delivering some inspiring unconventionality to match that of Enola. She is craftily edited into the story via flashbacks that keep her a surprisingly active part of Enola's story from which she should be absent.
The film is a marvelous combination of mystery, escapism, wry humor, and a dash of romance. While Bradbeer has some issues with the pacing, he also delivers a wonderfully empowering feminist message and a character who is sorely needed in today's landscape. Brown's brilliant performance perfectly paints Enola in a way that glorifies her originality and casts off social constructs. She loves learning, is inquisitive, resilient, and will not let anyone tell her what or how to think. An ideal hero (and heroine) for not just girls, but for any viewer. Hopefully, Enola Holmes will take on another case.
Enola Holmes premieres exclusively on Netflix on September 23rd.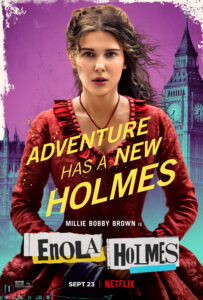 Quick Scan
Millie Bobby Brown lights up the screen in what should be Netflix's next franchise film series.