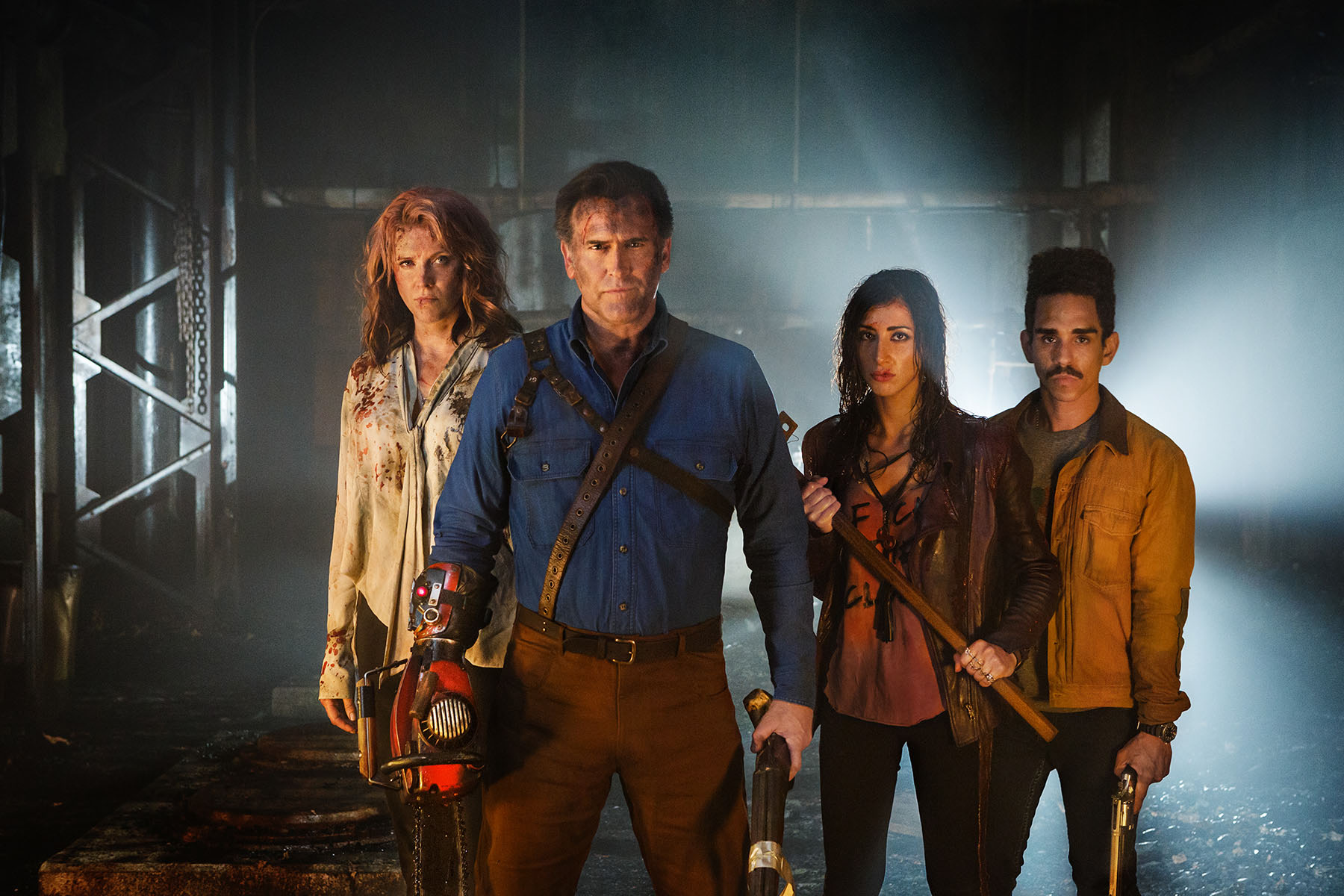 Fanboys are a fickle bunch. Rare is the moment when they're expectations are met, let alone exceeded, but the first season of Starz's Ash vs Evil Dead did just that (you can read our own Nick Berg's  review of it here). After years of clamoring for more Ash and the deadites, producers Sam Raimi, Robert Tapert, Greg DeGregario and Bruce Campbell gave fans exactly what they wanted, and it was freaking amazing. Naturally, expectations are high for season two, and I can say after screening the first two episodes, they are once again exceeded.
Home, the first episode of the season, finds Ash (Bruce Campbell), Pablo (Ray Santiago) and Kelly (Dana DeLorenzo) living it up in Jacksonville Florida, trying to  forget their recent run in with the forces of evil (having pawn responsibilities on Lucy Lawless' Lucy), and the impending doom they are bringing. A visit from a few deadites sends the trio to Ash's hometown of Elk Grove Michigan to search for Lucy, where Ash is forced to confront the backlash from the events in the first Evil Dead film, as well as his strained relationship with his father (Lee Majors).
Home was directed by Rick Jacobson, but this is every bit of Sam Raimi's Evil Dead.  Like most of season one, Home is an absolute blast to watch. Ash's perfectly cheesy one liners are sandwiched between grin inducing action and over the top gore (which is actually a bit more reminiscent of Peter Jackson's Dead Alive, if that gives an indication of how over the top it is). The casting of Lee Majors as Ash's dear old dad Brock Williams is absolutely inspired. We quickly see that the apple doesn't fall far from the tree, and watching Majors play an aged version of Campbell's Ash is fantastic. We also get a pretty great Six Million Dollar Man reference from Majors. 
The second episode of the season, The Morgue, tones down the action a bit. Ash and Kelly are on the hunt for the Necronomicon,  while Pablo confronts Lucy about his connection to the book.  We're treated to a bit more of the Evil Dead 2/Army of Darkness slapstick action, though the tone is definately a bit more gross-out than we've seen in the franchise before. It's still petty fun to watch though, thanks primarily to Campbell's manic performance.  We also get to see a bit more of Lawless in the episode, and based on what we've seen from season two so far, we'll be seeing a lot  more of her than in season one, which is very welcomed. The Morgue doesn't stand up quite as good as Home does, but like the weaker episodes of season one, it's still better than most everything else on TV.
If the first two episodes are any indication of what we can expect from the rest of season two, the sophomore year of Ash vs Evil Dead is going to be one hell of a good time. Season Two of Ash vs Evil Dead premieres Sunday October 2nd on Starz.
https://www.youtube.com/watch?v=WzeJTAwqEJ4