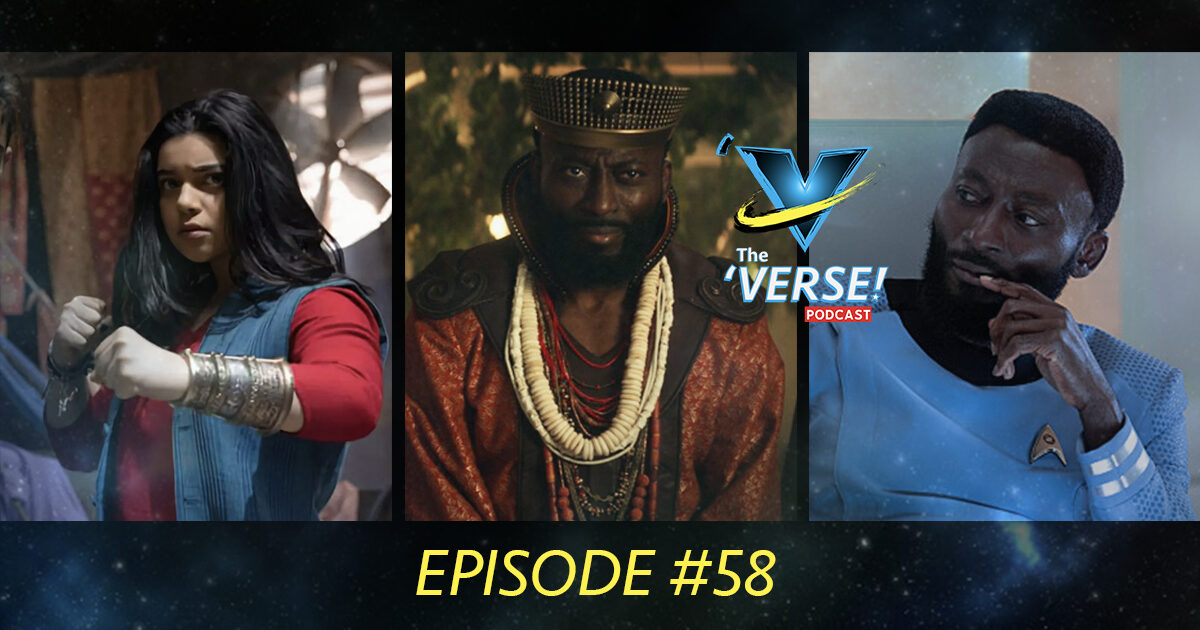 The squad dives into two episodes each of Disney+'s Ms. Marvel and Paramount+'s Star Trek: Strange New Worlds. After a cautious opening with Ms. Marvel, we are fully on board with Kamala Khan's imagination, courage, and Gen Z sensibilities. Episodes 3 and 4 have us really excited to see how this series (or season?) wraps up!
Next we return to The Verse's Star Trek 101 academy for the penultimate class of the semester with episodes 8 and 9, stopping just before the season finale. Reviewing these two philosophy-laden episodes together with our coverage of Ms. Marvel's deft handling of family dynamics and intergenerational trauma…this was a heartfelt episode you won't want to miss.
Plus a bones, 'The Admiral' (Lucas Longacre) also treats listeners to moments from his interview with Babs Olusanmokun, Dr. M'Benga of Strange New Worlds for our sister site Awards Radar (your source for all things awards).
And in case you did not hear we just spoke with Bisha K. Ali the head writer and Executive Producer for Ms. Marvel – the interview will run as an Extended 'Verse! episode early next week. Keep an eye out for it. It was a really great conversation.
Follow us on Twitter @TheVerseCast where we post news, announcements about the pod, and answer listener questions.
If you stick around after the credits, ye mi' fi'ally learn uh thing er two about Cockneycon. Blimey!
Subscribe to The 'Verse! at these wonderful podcast locations and more:
See you next time in The 'Verse! Follow us on Twitter, too.