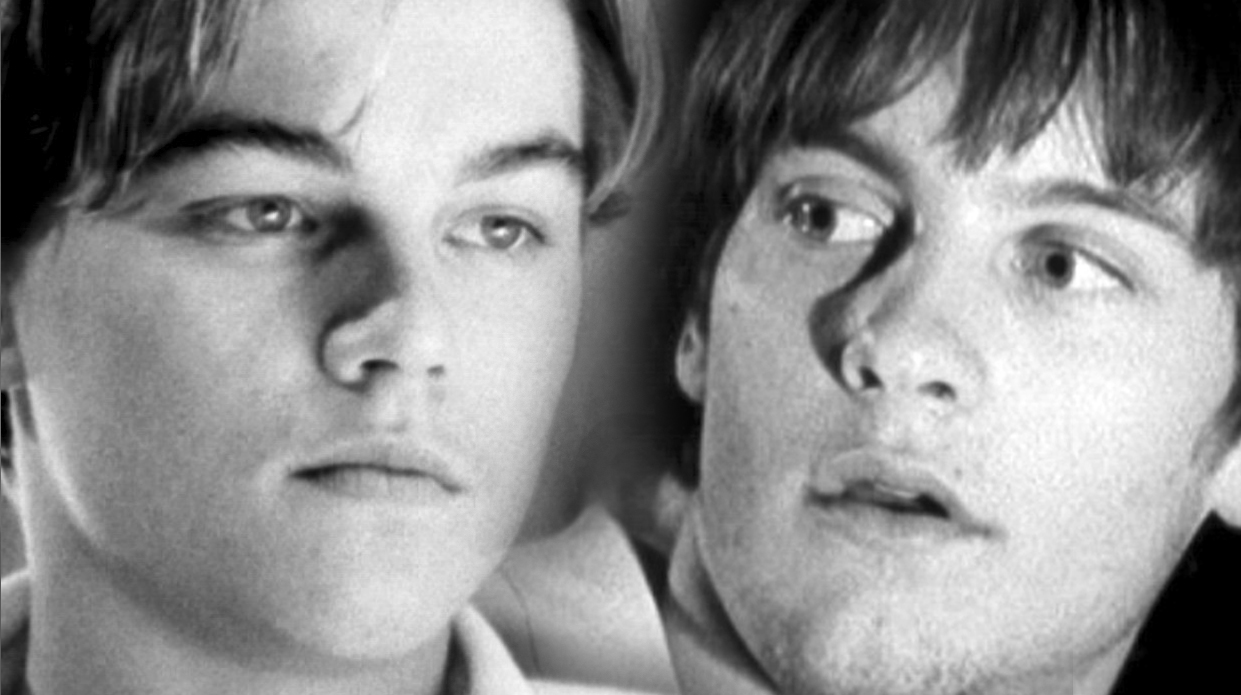 How Two Hollywood A-Listers Stopped a Film's Release and Blacklisted a Producer in the Process
Before Titanic, before Spider-Man, before becoming Hollywood elite, Leonardo DiCaprio and Tobey Maguire starred in a small, black & white independent film called Don's Plum. However, before it could be released, the two saw to it that no one in the US or Canada would ever see it. Now, more than twenty years later, the film's writer/producer is trying to see to it that the film will finally have an audience.
The mid-nineties was fertile ground for aspiring filmmakers. With independent films like Slacker, Clerks and El Mariachi making waves in the film industry, more and more filmmakers were beginning to work outside of the Hollywood system to get films produced. Among those hopefuls were a group of friends in Los Angeles, who were looking to create a film to help launch their acting careers. "We were all just really good friends and we wanted to work together," says writer/producer Dale Wheatley. "Before I got into the mix, Tobey (Maguire), Scott Bloom, R.D. Robb and Kevin Connolly wanted to make a film together. I came aboard as a writer on a previous project, a short film called Last Respects, but Leo (DiCaprio) never approved that script. We had this one open opportunity to shoot with Leo, so the producer of the short film, David Stutman, came up and he had an idea that he had started sketching out called the Saturday Night Club, which later became Don's Plum. I was asked to come on board and write it, though everyone agreed to improvise a portion of the film as well. We then had just a few short weeks to shoot with Leo. "
Most of the actors in this group were relative unknowns at this point in their careers. Connelly had measurable success in the industry, co-starring in the WB's Unhappily Ever After (years before his success on HBO's Entourage), and director R.D. Robb had gained notoriety from his role as Schwartz in A Christmas Story. But the film's stars Maguire and Bloom had very little credits to their names. Future Buffy the Vampire star Amber Benson, as well as future indie music gem Jenny Lewis, and Connelly's then TV co-star Nikki Cox, also appeared in the film, but none were known names at the time either. Leonardo DiCaprio, on the other hand, was quickly becoming an actor to watch, having recently starred in This Boy's Life and What's Eating Gilbert Grape? Maguire's star would rise very soon after the completion of Don's Plum, a fact that would eventually seal the fate of the film.
The film shot for three days in July of 1995. After the film was cut together it was decided that some changes were necessary. "When we cut together the first three days, we had 78 minutes, so we needed to round out," says Wheatley. "We needed a new intro because the intro that we shot sucked, so we cast (singer) Toledo Diamond for the reshoot of the new opening. We also needed to get some pickup shots after cutting it together."
A presentable rough cut was ready in June of 1996. "We had already completed the second shoot with Tobey, Kevin Connolly, Scott Bloom, Jenny Lewis, Amber Benson and several of the cast members, and we had already done all of the reshoots and were cutting that new footage into the 72 minute cut of the film," says Wheatley. "We were planning to screen the film at MGM in the coming months, but Tobey had booked a movie, and was going to be out of town. He was practically begging to see the film because he wasn't going to be in town for the MGM screening that we were planning for Leo and the rest of the cast. So, I guess our best intuition was to say "okay, we'll give him a view" and it was a screening at Paramount."
This would prove to be the beginning of Maguire's "poisoning" of the film, as Wheatley puts it. "Unbeknownst to us, there was some tension amongst the friends at this time, because we had built a wall between our friends and the film," says Wheatley. "We had a producer named Jerry Meadows, who believed that we needed to keep to ourselves and keep the cut isolated so there wasn't a lot of influence on the edit." A brief article in Variety mentioning the completion of the film apparently furthered the actors' sense that they were being left out of the loop. The tension became evident when Maguire showed up at B.D. Robb's house one night to talk to Robb and Wheatley about the film. According to Wheatley, Maguire stated "There's a lot of questions that I feel need to be answered. I feel like you guys have been really cryptic and manipulative. I feel really uncomfortable and I would like you guys to come clean and just let me in on what's going on." By Wheatley's account, after a couple of hours of insinuations and accusations by Maguire, an agitated Robb finally asked 'What the eff do you want, Tobey!? Why are you here?' to which Maguire repeatedly responded with 'I WANT DON'S PLUM TO BURN!'"
Maguire's reasoning for his displeasure with the film was that to his knowledge, they were only shooting a short film, and Robb, Wheatley, and the rest of the producers used the actor's improvisations to cut a feature-length version of the film. Wheatley, however, finds this to be preposterous. "Tobey Maguire showed up to the second shoot knowing full well it was a feature film, and we have all of this absolute evidence that supports and corroborates and proves our story. We talked openly about how we hoped Don's Plum would be good enough to go on to festivals and, eventually, art-house theaters throughout the US and Canada. We were transparent from the start."
Wheatley firmly believes Maguire's true intentions for sabotaging the film was his own ego and the trajectory of his career following the film. "I think he had a certain amount of concern surrounding his performance," says Wheatley. "Tobey was trying to keep everybody back. You know, Tobey Maguire to R.D. Robb's lips: "I'm going to beat Leo." He was just this giant competitor, and when you look at Don's Plum, I don't think that Tobey sticks out the same way as a guy like Kevin Connolly does, or Jenny Lewis, or R.D. Robb, who has an auspicious debut in the independent film scene. And s0, I really believe that Tobey Maguire's true motivation was to keep everybody else at bay so he could accelerate on his point." According to Wheatley, Maguire also thought his improvisation was a bit too "real," and he was concerned that it would adversely affect his blossoming career.
Wheatley states they tried for over two years to properly sort out the situation, but instead, Maguire, who had recruited DiCaprio's help, continued his campaign to destroy the film and those who made it. Wheatley decided it was time to take legal action against the actors. "We have all of this evidence that corroborates our story, so I said to my attorney, "Let's take this thing to trial". Our testimony is so solid because we just have the truth. The truth is totally on our side and their testimony is all over the place, whether you are looking at Leo's deposition or Kevin Connolly's or Tobey Maguire's or Scott Bloom's, it's just all over the place. Our lawyer said to me "you don't understand how this works. No one cares about what is the truth. They're going to look up at the stand, they're going to see Leonardo DiCaprio, they're going to remember Jack Dawson frozen and sinking into the sea and that is it. So, our lawyers said, "there is no way you will win in a trial no matter what the evidence is." The filmmakers were left with no other choice. Despite the odds, producer David Stutman filed a lawsuit in Los Angeles Superior Court against DiCaprio and Maguire for Declaratory Relief, Interference with Prospective Economic Advantage, Breach of Contract, Slander of Title, and Injunctive Relief. The case was eventually settled, and it was agreed that the film would be released outside the US and Canada only, crushing any dreams the filmmakers may have had about the film.
On September 5th, 2014, nearly twenty years after production began on the film, Wheatley posted an open letter to DiCaprio on the website FreeDonsPlum.com.  Wheatley states that his reasoning for writing the letter stemmed not only to vent his frustrations about the entire ordeal, but to make an attempt to clear his name, and career. "I guess I think the older I got, the more ridiculous this whole thing becomes. I started to realize how much of my constitutional rights have been violated as a writer and as an artist. I have been trying for 20 years to get a film made and I have always, and still have to, answer for Don's Plum.  So, every time I try to get a cast member, or I try to get an investor, the first thing is, "well what is up with this film?" The internet was just littered with lies and bullshit about the filmmakers taking advantage of Leonardo DiCaprio, who had lived an incredible life at this point, a life  being supported entirely by his work as an actor and an artist, and I'm out there trying to get a fucking hundred grand together to make another rugged little independent film, and I have got to sit across from these people and explain myself and when I do, nobody tends to believe me.  It's just so weird, they jump on the internet and they see Leo's little claims about us being horrible filmmakers who turn shorts into features, and the investor inevitably would go away."
As to why Wheatley chose to address DiCaprio publicly, rather than Maguire, Wheatley says it boils down to DiCaprio's actions. "Yeah, well it was Tobey's witch hunt. He's the one who got his pitchforks out, and he was the one who wanted the film to burn. Tobey Maguire is responsible for making all of this happen, but Leonardo DiCaprio is responsible for facilitating things. So, Leonardo DiCaprio's actions are as despicable as Tobey Maguire's. Tobey was powerless and he used DiCaprio to crush the film. Leo was fool enough to fall for it." Unfortunately, DiCaprio's actions didn't end there. In an effort to allow people to finally see the film, Wheatley posted Don's Plum in its entirety on Vimeo. That was until Wheatley was faced with a cease and desist. "I wrote that letter, and I know he and/or his representatives read it back in September. He had a chance before any of this became public to sit down and say, "let's get this thing right" as the letter asked. The letter would have fucking disappeared. The only people who read it in September was Hollywood. But instead, on January 27th, Leonardo DiCaprio suppresses the film. And the reason he stopped it again is to stop me and stop R.D. and to stop the progress of our careers."
Maybe one of the poignant lines from Wheatley's open letter, and one that best sums up his feelings toward DiCaprio, reads "I loved you for what you did in Don's Plum, but I hate what you did to it." The actions taken by DiCaprio has not tainted Wheatley's view of him as a performer, but his resentment still resonates. "Leonardo DiCaprio is just the next level of talent," says Wheatley. "There are only a handful of people that I can say in my life that I have had the privilege of being around that are as talented as Leonardo DiCaprio. It was a privilege and an honor to work with him, and it made me a better artist all around. But the fact is, I'm disgusted by Leonardo DiCaprio's behavior. I find it despicable, deplorable, and the antithesis of America, the antithesis of artists and ethics."
The future of Don's Plum is still unknown, but Wheatley is hopeful that with some help, it will still see the light of day. "The only way is it is ever going to get released is if people will join me in shouting at the top of this mountain here," says Wheatley. "The more fans we build, the more voice we get to move forward." An emotional Wheatley is also cognitive of how the future of the film will impact his legacy. "When you search "Don's Plum" now, you get to see my side of the story. The rhetoric isn't about how Leo was wronged, but how Leo was stopping movies. The future is for me that if I can't save this movie, maybe when my niece and nephew become adults, and they become a fan of a guy like Leonardo DiCaprio and start looking into his history, they'll find out I was a part of that history, then maybe they won't be ashamed. Maybe they would be proud, you know? Leonardo DiCaprio said in his SAG speech he encouraged actors to learn the history of film. Just days before, he tried to change the history of film by suppressing it in America and Canada. And so I think that the future has at least that part of the story out there finally."
We would like to extend a special thank you to Dale Wheatley for speaking with us. Requests for comments from Leonardo DiCaprio and Tobey Maguire were denied by their publicists. Below you can watch Don's Plum in its entirety, until we are told to remove it.
Interview transcription services by Eaya Reynolds.