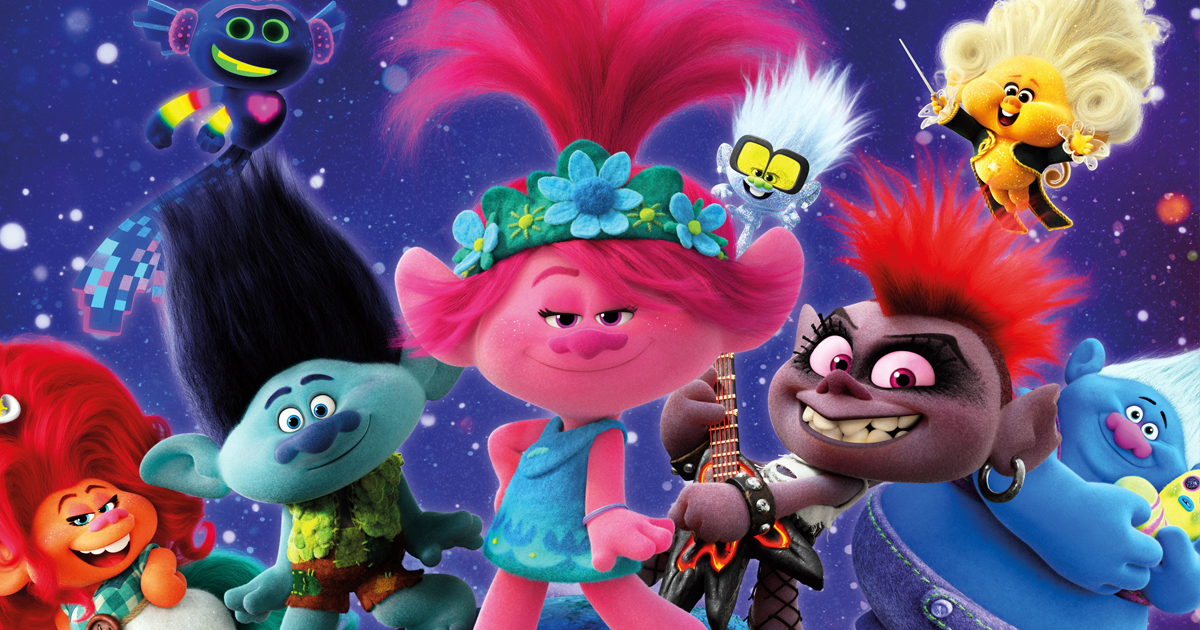 The "Trolls" series felt like an unlikely success story from day one. An animated film based on a line of toys that has gained and lost popularity over the decades seems like a hard sell. How could that ever work? Okay, okay. I know "The Lego Movie" was a huge success, but that's different, people were still actively using Legos at the time. Plus, "The Lego Movie" had a spectacular hyper real style. In comparison, the Trolls movies often look like a unicorn exploded, splattering rainbow colors, sparkles and glitter everywhere, even in the hard to reach places. For some parents, this can feel a nightmare, but kids to love it. Whatever your take, the first "Trolls" film was a box office success and even earned an Academy Award nomination."
The first film was easy enough to watch, providing enough colorful characters, positive messages, and a mix of snappy new music and covers of beloved classics. "World Tour" offers more of the same just not in the same fable type style. This time there is more at stake as the Trolls are battling for their own existence. Much of the original crew, including Poppy (Anna Kendrick) and Branch (Justin Timberlake), learn of the existence of a wider world of Trolls, which is broken down into six different music-themed territories each represented by six magical, musical strings. Poppy and Branch's world, as seen in the original film, is the pop world and it is joined by classical, country, funk, rock, and techno. All six territories are under the threat of being taken over by Queen Barb (Rachel Bloom) who wants to obtain all the strings and as a result conform all the music styles into one, heavy metal.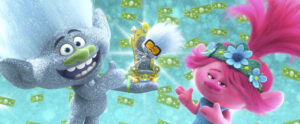 As the pop trolls try to defend their world, plenty of positive messaging is dispensed along the way. While well-intended, it may be a little confusing for younger viewers as it shifts from 'we're all the same and therefore we should be treated the same' to 'actually, we are all different and those differences should be celebrated.' It even addresses cultural appropriation which is something I did not expect going into the film. All this from a Trolls movie. Surprising. The core message is delivered through the discovery of even more styles of music that fill in the gaps between the main six – yodeling, reggae, K-pop, and others are all given their time to shine.
As each flavor of music is revealed, snippets of the respective music is performed. The problem is that these performances shift the focus from the story too frequently. Instead of a cohesive film, it often feels like an endless music tour, cycling through the genres in the franchise's sugary, rainbow-colored style. It may sound like a lot of fun and in a way it is, but the more these musical interludes pop up the more you will probably wish they would just slow the overall pacing. We are introduced to one musical world and another is only seconds behind.
Still, it has a charm of its own and will hold your interest as you watch how the visual styles shift along with the music. Visually it is a lot to look and is obviously geared toward younger audiences. Nothing is subtle here. Why use any muted colors when you can cover it with glitter, ultra-bright colors, and sparkles? As for the music itself, the kids will probably enjoy identifying all the popular songs they know. Parents may not be as tolerant of the endless saccharine melodies that share some properties with what you can find second-tier amusement park revues just with better production value.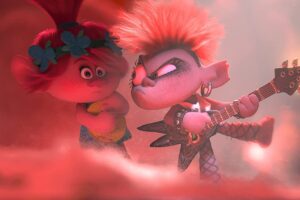 The film sports an impressive cast of familiar names who provide the character voices as well as contribute to the soundtrack. Recognizable voices include James Corden, Mary J. Blige, George Clinton, Kelly Clarkson to name a few. Sam Rockwell is the best new addition as Hickory, as a helpful country troll complete with a cowboy hat, southern drawl, and horse body. Another standout, and providing my favorite moments, is Ozzy Osbourne who is obviously having a lot of fun with his reality-tv and heavy metal god personas.
As a whole, the film is a cheerful watchable mix of humor, music, and dance number which should be sufficient for those craving something new to watch. The target audience will probably not be distracted by the endless musical interludes and, at the same time, may have most of the film's messages fly right over their heads. The good news is they will have an enjoyable time while doing so.
World Tour was another film meant to be released in theaters but instead shocked the entertainment world by being the first major release to skip the theaters entirely and going straight to VOD. It did shockingly well with over $100 million in VOD sales over the first three days of release. Full disclosure, the VOD success does not sit too well with me being that I am more of a film purist. If possible, films should be released in theaters. The theater experience is part of the joy of cinema which should continue for many generations to come. This of course to not factor into my review. Especially since I went to see the film at a drive-in theater. 
Quick Scan
A fun watch even when the story often gets lost in the sound of its own tunes.