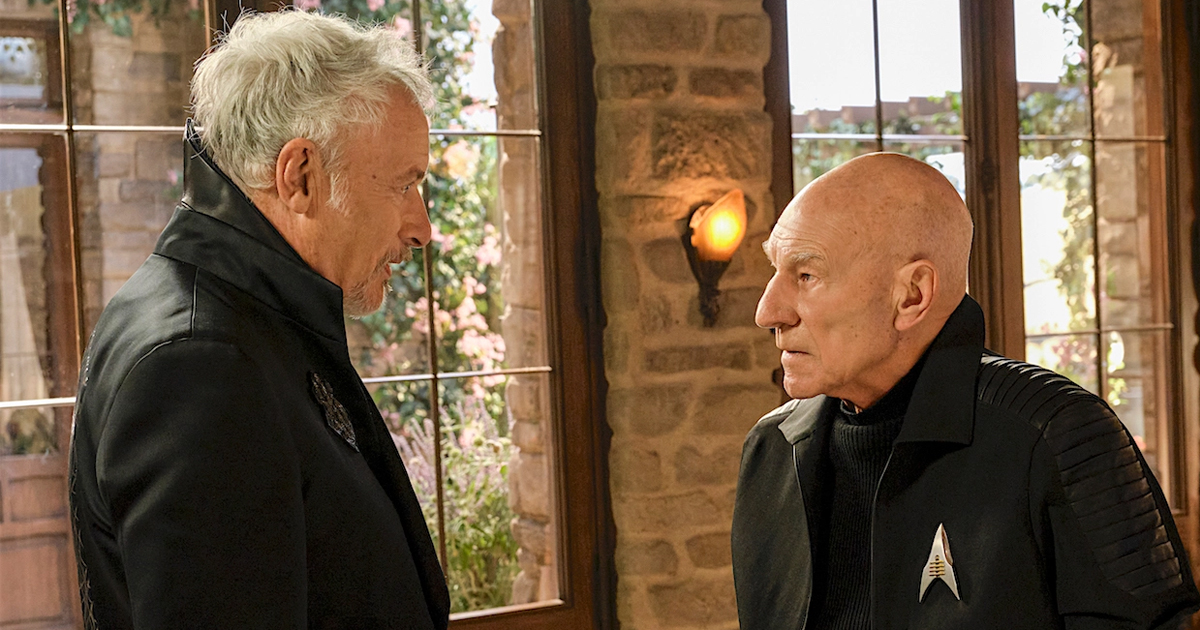 A few years ago, I appeared as a guest on the then-Stark Trek-focused podcast, Synthoholics. On the show, I discussed an article that I never finished for Screen Radar titled, "At a Crossroads in the Neutral Zone: Where Star Trek Went Wrong and How it Can be Fixed." The nuts and bolts of the article were that I thought that Trek needed a series set in "present day" Star Trek, as in the time period that followed the time period of The Next Generation, Deep Space Nine, and Voyager set however many years since Star Trek: Nemesis. We needed to know what was going on with Starfleet, the Borg, the Cardassions and the Dominion War, etc. Even Voyager, which took place at the same time as TNG, took us far away from the action of the Federation. Instead, we got a series of "period pieces" (shows and films that took place in the past of the TNG time period), such as Enterprise, the film reboots, and Discovery (I should note, that despite my desire for fewer series set in the past, I think Strange New Worlds ranks with some of the best Trek ever made). 
Then, as if my prayers had been answered, we got Star Trek: Picard. Finally, we got some answers. Sort of. While it didn't get terribly deep into the goings-on of the Federation, we learned quite a bit about Romulus and the Borg. I know a lot of fans were disappointed that there weren't more TNG references and appearances, but I wasn't one of those fans. To me, it didn't make sense that Picard would still be hanging around old coworkers after all of these years. Was I happy where they took Picard as a character? Not really, but I appreciated what they were doing. 
Going into Season Two, my expectations were definitely lowered, and I was pleasantly surprised. I think they may have over-course corrected after the backlash from the first season because they went all in on some TNG favorites: time travel, alternate realities, Q, the Borg Queen, freaking Guinan. I'm fairly certain they used a fan-based algorithm to determine what was being thrown into the mix. Overall, I think it was the right call, but I don't think they pulled it off completely successfully. 
I like how they handled Q and Picard's rather complicated relationship. Q was written fairly inconsistently through the years, but Picard handled their love/hate relationship with the sentimentality it deserved. I enjoyed seeing the crew assembled from season one working together as a team. The "fish out of water" crew in our modern time period always works well in the Trek franchise, and that was no different here. 
While enjoyed the season overall, I felt it losing steam in the end. I found myself not terribly engaged in their mission to ensure that Picard's ancestor Renée Picard took flight and discovered a microorganism in space (something you would think Picard would have mentioned at some point in the last four decades). I also was not super invested in the flashback storyline about Picard's mother. Plus, the writers seemed to have forgotten that it's been well-established that Picard had a brother, Robert. We met Robert, as well as his wife and son, René, in the fourth season of TNG, and we learned in Generations that he and René tragically perished in a fire. But there was no sign of young Robert in a single flashback. 
Whoopi Goldberg's Guinan was a welcomed addition, but I can't say I was crazy about the casting of Ito Aghayere in the role of young Guinan. Not only does she not resemble Goldberg at all, but her take on the character was so vastly different than the original character that it didn't seem like the same person at all. I would have suspended my disbelief had they just had Goldberg play young Guinan. She hasn't aged all that much, and they could have just spent a little money and de-aged her digitally.
Annie Wersching's portrayal of the Borg Queen was wonderful. She is the third actress to take on the role (after Alice Krige and Susanna Thompson), and she managed to keep her familiar and new at the same time. 
I wish so much time hadn't been spent on relationships (Picard and Laris, Raffi and Seven of Nine, Rios, and Teresa). I don't traditionally go to Star Trek for relationship stories. Just give me some thought-provoking sci-fi. And I also wish they'd stop finding the need to shoe-horn in Brent Spiner. I loved Data, and I like Spiner as an actor, but I think we've had enough. Data died in Nemesis. Let's leave it there. Wesley Crushers' cameo was deafeningly forced, but I really didn't have a problem with it. He needed some closure eventually. 
Overall, Season Two was a huge improvement over season One. Was it a bit too much fan service? Maybe. But it had a decent enough story to overlook that. However, while that story was decent enough, it wasn't as compelling as I would have liked it to be. Season 3 looks to be what everyone wanted in Season One, which is a Star Trek VI, actor signatures send off for TNG, which may just be what Picard needs.  
BONUS FEATURES
The three-disc set is complimented by some pretty decent extras, though running commentary (a feature that seems to have gone the way of the dinosaurs) would have been welcomed. 
The USS Stargazer– An in-depth look at the design of the newest ship in the Star Trek franchise, the USS Stargazer. Hardcore Trek fans should enjoy this feature, though hard-core fans that have an encyclopedic knowledge of Trek starships might want a bit more out of this. 
The Chateau– Picard's childhood home gets the behind-the-scenes treatment as the design and the set piece itself are discussed. 
The Trial is Over- The long and complicated relationship between Jean-Luc Picard and the omnipotent Q is explored, from the TNG plot, "Encounter at Farpoint," straight through the finale of season 2 of Picard. 
Rebuilding the Borg Queen- An interesting look at the new Borq Queen, the third we've seen in the Trek franchise. 
Picard Props- A detailed look at some of the easily missed props in the series. 
Picard Passages– A character study of each of the major characters of the season. 
Gad Reel – A fairly short feature of somewhat humorous bloopers. 
Video
Codec: MPEG-4 AVC
Resolution: 1080p
Aspect ratio: 2.39:1
Original aspect ratio: 2.39:1
Audio
English: DTS-HD Master Audio 5.1
German: Dolby Digital 5.1
Spanish: Dolby Digital 5.1
French: Dolby Digital 5.1
Italian: Dolby Digital 5.1
Japanese: Dolby Digital 5.1
Subtitles
English SDH, French, German, Italian, Japanese, Spanish, Danish, Dutch, Finnish, Norwegian
Discs
Blu-ray Disc
Three-disc set (3 BD-50)
Packaging
Slipcover in original pressing
Embossed print, Inner print
Playback
2K Blu-ray: Region A, B 
Quick Scan
Vast improvement over season one, but still came up a bit short. Blu-ray bonus features almost make it worth the purchase.