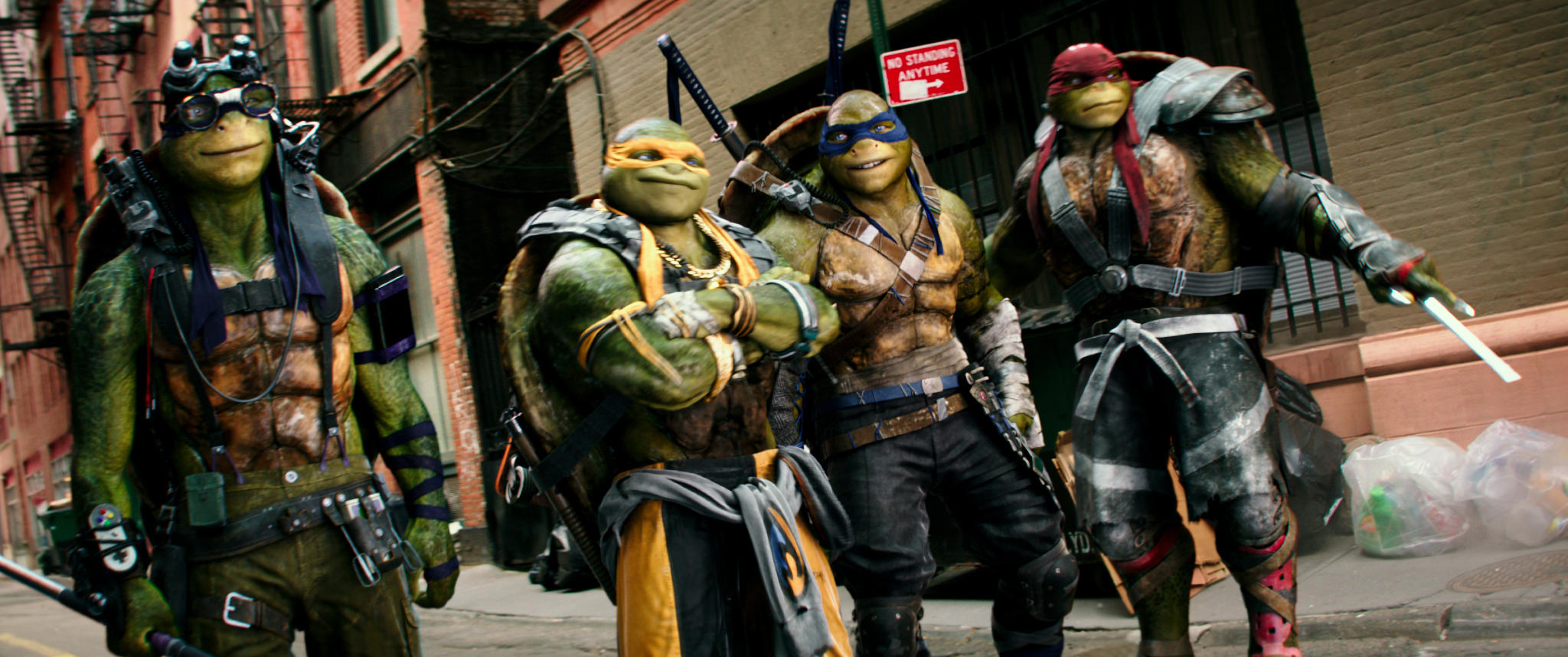 June 2nd, 2015- It's 1:00 AM, and we're standing in a temporary production office located in the banquet room of the NYU School of Law, which is currently doubling as a police station. We're watching a monitor, which actress Megan Fox is studying intently, as her and co-star Stephen Amell's stunt doubles are engaged in a fight with members of the Foot Clan, a scene that is currently filming down the hall. Fox is making notes with producer Andrew Form so she has an idea where her mark will be when she steps back in for her double. The production of Teenage Mutant Ninja Turtles: Out of the Shadows seems to be utilizing every square inch of the building, as both 1st and 2nd units are on hand filming.
The first Teenage Mutant Ninja Turtles film opened to less than favorable reviews, but with a budget $145 million, and a worldwide gross of over $485 million, a sequel was inevitable. In order to avoid the critical disappointment of the first film, changes would have to be made. One change, in particular, seems to resonate with the cast and crew. "I would say the first Turtles we learned a lot of things, like how to crack the tone, which for me is always the hardest part," says producer Brad Fuller. "So it's much better for us going into the second film knowing what the tone is. Michael (Bay), Drew (producer Andrew Form), and I are very active in listening to what the fans are telling us and what they want, and we are very eager to deliver what the fans are looking for."
Pete Ploszek, who plays Leonardo, agrees getting the correct tone is the key this time around. "I think that [the tone] has informed our approach to this one though in the sense that I think we're all very aware of the movie we made last time. What worked. What didn't work. When you see what made it and what didn't make it (into the final cut), it really informs your choices as an actor. Even just seeing your translation of yourself to a motion-captured turtle, it's pretty damn educational. So that's sort of greased the machine for us this time around. It's been a good fast start." The actors weren't even aware what type of movie was being made last time. "We shot three different versions of the movie for one," says Alan Ritchson, who plays Raphael in the films. "There's a whole other movie on the cutting room floor. A couple."
Screenwriter André Nemec says the type of movie they were making was ultimately decided in the editing room. "The stuff that was trimmed away and left behind, it was to find the tone, it was to not live in too dark of a world or in too silly of a world at any point. And so I think if there was any trimming that we were doing in post-production, it was doing that. It was walking that line and trying to figure out, what is our tone? Like for all the comic-book superhero movies that are out there, it's like, who are we? In the landscape." Producer Andrew Form says the new film has greatly benefited from the first. "The hardest thing of movie one was not trying to take it so seriously and never forgetting the movie we were making," says Form, "I think when we were shooting movie one we got lost a few times, and once we understood what the tone was, wow did it help us a lot. So coming into this movie we learned a lot from the making of movie one and then besides just tone, even technology second time around is obviously much easier for us now because we learned a lot with the turtles and the motion capture and how to do all that. So second time around everyone's back so it moves a lot easier."
Nemec says the new film has a much more focused direction. "I think the movie leans into a very strong theme of what it means to grow up and leaning into the notion of the teenager part of Teenage Mutant Ninja Turtles, and that time of life where you don't really know how you feel. I think every kid goes through that moment in time where they sort of think they understand their purpose and their place, and who their friends are and aren't, and what life is going to be, but ultimately everybody has to go through that blossoming part of life. I think this movie leans into that theme on a lot of levels, and it leans into the strength of family, which is sort of a fundamental theme of the Turtles whatever incarnation of turtles has ever existed, it's always been thematically about family. This one does that, but it explores that other realm as well." Andrew Form says the movie is about acceptance. "The turtle's journey is then about that, and what it's like if you feel different at all and how teenagers today um most go through a phase where you feel different, or maybe you're not accepted by everyone," says Form. "And I think the turtles also go through that in this movie, and come out on the other side and realize that uh you know who you are is okay and that we are all special in our own way Every character in the movie goes through the same theme, how about that. Truthfully, Casey, April, Fern, and the turtles, all follow that arc. Despite these themes, comedy still plays a vital part in the script, "For this movie, humor is the thing we gravitate most towards, finding the humor and the irreverence of the movie, and I think whether it be the Saturday morning cartoon or the graphic novel, there's an irreverence to the concept of Teenage Mutant Ninja Turtles," adds Nemec."
Earth to Echo director David Green, stepping into to replace original TMNT director Jonathan Liebesman, was a Turtle fanboy growing up, so it seemed like a good choice to help steer the sequel in the right direction. "What was communicated to us early on was how much of a fan he is, and that he really gets it, " say Ploszek. "I think he was able to watch the first movie–like we all were as an audience–and see, okay that works, that doesn't work. I love that let's do more of that. I connected to that or I didn't connect to that.' So, that's where he has a leg up this time around, as anyone would coming back to a sequel." "He loves the turtles so much," says Form. "He used to dress up as Donatello when he was a kid, so he is really is all about the turtles and I love that he brings that, he brings the heart to this movie, he really does. It's all about family and brothers for him, and he stepped right into the machine of the movie, and he brings that which for me is you know as important as anything. He is doing an amazing job on the movie. He's a great collaborator and we surrounded him with what I think is the best team, and I think he came into the movie knowing that 90% of the people who worked on movie one."
One of the scenes being shot tonight has two of the turtles crashing through the ceiling of the police station. Because of the technical aspect of the film, each take is shot numerous times. First, with the actors in their motion capture suits. Next, the same shot, but with a life-size bust of a turtle in the actor's place. In the next take, the bust is replaced by a large reflective ball, and lastly, the scene is shot with no actors or props, just camera movements. It's a long and technical process, but a necessary one to ensure the effects department have the right environmental and lighting information in the scene to properly render the turtles. However, for ILM's Pablo Helman, the film's visual effects supervisor, the motion capture is all about performance. "It's all about giving the performance from the actors into the digital assets," says Helman. "And so, that is very, you know, the most interesting part of my job because I think that when you focus on performance, you start learning a lot about how people um, communicate and what makes, what makes somebody angry or you know happy or funny or concerned or a leader or something like that. And you have to portray those kinds of things and you have to work with the actors so that they bring it on the set and then we translate that in the computer. And so it's really difficult to do that and so that is why I would rather do this kind of character work than actually "exploding" things."
While stars Megan Fox and Will Arnett are returning to reprise their roles, the sequel brought an opportunity to bring in some new characters. "The depth of the canyon is one that will allow us to let this franchise grow," says Fuller. "There are so many interesting characters and we are bringing some characters forth in this particular version of the film that I think will make the fan base very, very happy." One of the most notable characters absent from the first film was fan favorite Casey Jones. "We always wanted Casey Jones to be in our first film, but we weren't able to figure out how to," adds Fuller. Cast to play the role of the hockey-masked vigilante in the sequel is Arrow star Stephen Amell, who is no stranger to portraying masked comic book heroes. But don't expect to see the same Casey Jones we've seen in the past. "We're meeting Casey in this movie at a different point," says Amell. "The Casey that we met in the previous live-action films was a finished product. I'm doing a completely different job than what I'm doing at the end of the movie. I like it because it's very much an origin story for my particular character, That's certainly not the centerpiece of the movie, but for me personally, I like finding the character in a phase of discovery." Andrew Form states it's the turtles that help Jones in his discovery. "Casey wants to be a vigilante and I think the turtles help him find that, " says Form.
"He has a sweetness inside him and under the layer — I mean, I know he's Arrow — but he has a sweetness to him and he has a charm to him that is really part of what Casey Jones is, I think at his core," says André Nemec about the casting of Amell. "As rugged and rough and tumble and cutthroat as Casey Jones is in those original graphic novels to sort of who he becomes a little bit, in some of the cartoons, a little bit funnier and a little bit more slapstick, there always seems to be a sweetness underneath Casey Jones. A desire to win, a desire to do the right thing that Stephen just sort of, even as a person, seems to embody. And sometimes it's impossible for that component when you're seeing casting to not come through. To sort of, you see the people reading and then you see the people walking in and out of the room, and both of those facets are important. So yeah, he really had that sweetness in him."
Nemec says that part of being able to bring this franchise out is being able to pull from all the material that came before. "We've been able to pull some great characters out of the original comics and all the way back to the graphic novels, and then lean into some of the cartoon stuff from the early years, says Nemec. "It's such a big sandbox, there's just so much going on in that sandbox. At times we've had to restrain ourselves from wanting to put too much there in the spirit of clarity and the spirit of telling a good story and in the spirit of hopefully down the road we can pull that character and have them make an appearance and tell a story around them." In addition to Casey Jones, the film will boast a few other characters fans are familiar with- Bebop & Rocksteady (played by Gary Anthony Williams and WWE's Stephen Farrelly) and Baxter Stockman, played by Tyler Perry. "When Baxter Stockman was being thrown into the mix, the first name we talked about was Tyler Perry, and we went right after him, we chased him hard, we flew down to Atlanta to pitch to him," says Form."We did a whole presentation to him and I mean it's just one of those things where luckily he is in the movie."
Also joining the cast is three-time Oscar nominee, Laura Linney. The actress, who plays the bureau chief of organized crime for New York City, wasn't quite sold on the film at first. "I was a little skeptical," says the actress. "These sets can be difficult. They're high-powered, people under a lot of pressure, they're very expensive, and some of these sets are not very pleasant, so I was a little concerned about that because I'm just at an age now where I just don't want to be around that, and I met these guys and they were so nice, and they really are so nice, and everybody involved is really lovely, and the turtles are just adorable. They're just lovely young men and they enjoy each other and really the four of them, their attitude and their fun, really does permeate the whole set. It's just a joy to be around, and it's funny, it's kind of a kick to be in a movie with giant turtles."
In a nod to the 1990 TMNT film, the original April O'Neil, Judith Hoag, was offered a small role in the film. "It something that they wrote for me and I was really happy to be able to do that with them," says O'Neil." "It was really surreal because it's been twenty-five years and, you know, having the opportunity to shoot in New York City and to shoot in Times Square and to have that energy of crazy Times Square was really fun. Also, we were shooting across from my original agent's office where I had been when I first got the job and it was sort of a full circle moment that I kind of had to pinch myself. You know, as an actor you do a movie and you move on and then usually in most cases, that movie is forgotten or, you know, its replaced with something else, and this franchise, Teenage Mutant Ninja Turtles, from the comics to the cartoons to the action figures to the second generation of movies, it just keeps growing as opposed to diminishing and that is really unusual and I feel very grateful for that."
Like every other incarnation of the Ninja Turtles, New York plays a major role in the film. "We just said to Paramount, New York will be a character in this movie like everyone else," says Form. "We scouted New York, we came up with some great locations and we did a presentation for the studio. I'm glad they let us because it's been the best experience. I think we are just trying to capture New York as a character in a movie, it's not just about landmarks, and I don't know if we did the best job of this on movie one, where, I don't know if the audience felt New York as much as I wish they did. I think in this movie you will, and it's just the texture of the city, the streets, the alleys, daytime, there's a lot more nighttime in this movie than movie one for sure.We really didn't shoot much on the big streets of New York in movie one, and we're doing a lot of that in movie two. Plus, we open up the sky at the end of this movie and some crazy stuff happens. You know we don't just have a tower falling off of a building in Times Square, The stakes in this movie are global, whereas in the first movie I feel like they were contained to 45th and 7th, you know and now they are fully global, and which is a much you know bigger story than we had in movie one."
The first film centered mainly on Megan Fox's April O'Neil, but screenwriter André Nemec states that was primarily due to the fact that they didn't know if animated characters could pull the emotional weight of the film. "I think in the first movie, again, we weren't sure what the Turtles were going to be, " says Nemec. " We looked at these beautiful moquettes that were built and early renderings and drawings and grey-scaling from ILM and then early renderings of how they were going to move and how their faces were gonna [look] when they spoke. So as we were building out the first movie, it was hard to get a handle on what kind of story you could kind of tell with the turtles. And I think that's why I'm saying part of the process of completing that first movie allowed us to sort of figure out what the second move itself wanted to be. And it made us realize that we actually could lean into telling sort of a dynamic emotional story with the Turtles. That they didn't just have to be secondary players in someone else's story. This movie though is as much April O'Neil's story as it is the Turtles' story. I mean, she certainly carries a thorough arc in this movie. But I think we realized that we were going to be able to actually tell a story where you were going to be emotionally impacted by what the Turtles were going through in a way that when you looked, at least when I looked back in the early work, outside of the animated version of it into sort of the guys in the rubber costumes, it was hard to drag real deep emotion. It was hard to play a deeply emotional scene with guys in rubber suits. So we weren't sure we were going to be able to really pull that in the first movie, and if we tried it and didn't land it, it might've floated off the screen."
 Helman says the key to allowing the emotional center of the film be carried by animated characters comes from the characters being able to visibly transition from one emotion to the next. "You know when it's a lot more interesting to see somebody you know getting mad than [being] mad," says Helman. "When you see that transition from somebody actually changing, right there from something that you are seeing, and you see that person changing in front of you and you are reading what he is thinking, and you know what's happening, it's a lot more interesting than just having somebody wrath, always angry. You know how much energy it takes to be angry all of the time? And so or somebody funny when somebody is about to tell a joke, it's a little timing thing and there's this sparkle that they have, and if we can work with the actors to do that more and more and more, then the animation is better and better. So that is one thing that we learned [from the first film], that we need to work with the actors to, you know, to give us those suggestions."
It's now in the wee hours of the morning. Megan Fox has re-joined Stephen Amell on set to put their fighting skills to the test. Production will continue for another couple of months, which will give a little under a year for post-production to complete the film for the scheduled June 3, 2016 release date. As far as the future of the franchise is concerned, Andrew Form says nothing is set in stone. "Well listen, we haven't talked anything, I mean anything, beyond movie two, at all. We're not even halfway through shooting this movie. So you know we have new villains in this movie, which I'm really excited about, and I think we'll see how that plays out at the end of this movie which would drive us into [a third film]. Listen (knocks on wood), if we're lucky enough, to make a third one, which, you know I hope so. I feel very lucky that we're here for number two. We talk about other dimensions, we talk about the villains, but we really haven't talked about journeys for the turtles…yet."
Interview transcription services by Eaya Reynolds.