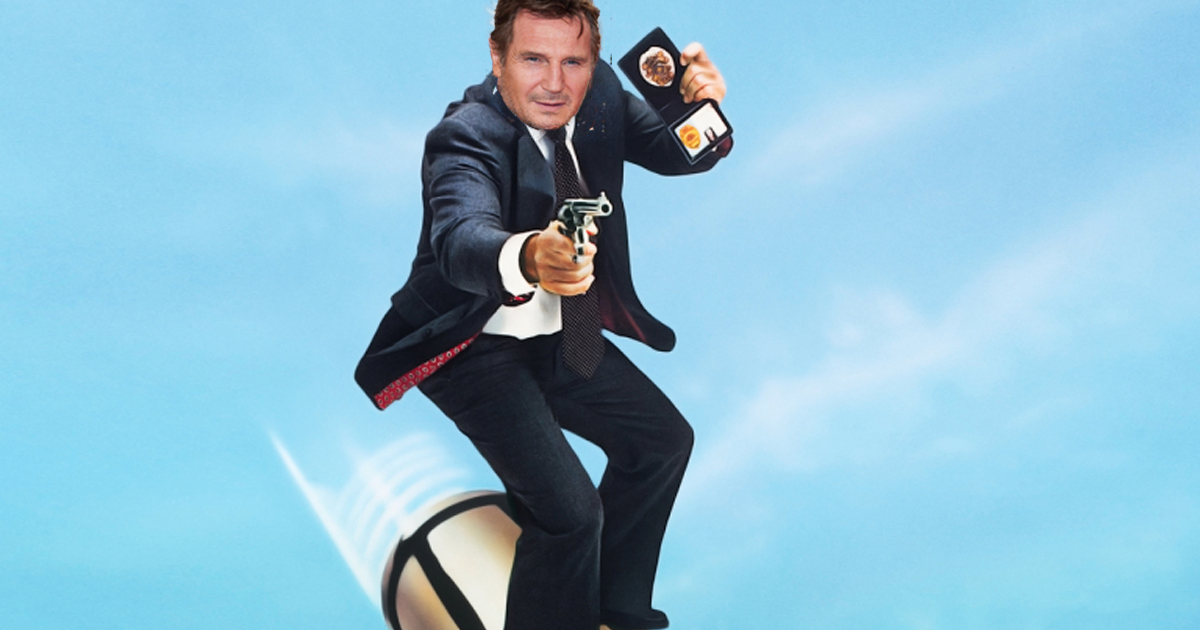 Liam Neeson could potentially be the next Detective Frank Drebin in a reboot of the cult crime comedy, The Naked Gun.
In a recent appearance on People (The TV Show!) Neeson said he and Seth MacFarlane (Family Guy) have discussed the possibility of rebooting the films made so popular by late actor Leslie Nielsen. "I've been approached by Seth MacFarlane and Paramount Studios to maybe resurrect the Naked Gun films," said Neeson, "It'll either finish my career or bring it in another direction. I honestly don't know."
An announcement of the comedy resurrection comes days after Neeson announced he is retiring from action movies sometime in 2021. Earlier this week, the Oscar-nominated actor told ET's Lauren Zima that he's going to be filming a few more action movies this year, but when those are finished "that will probably be it." Although the 68-year-old loves "beating up guys half my age," he often finds himself "breathless" after scenes and no longer has the stamina to keep up with them.
Neeson's latest action film, The Marksman, hit theaters this past Friday, where he plays an ex-marine turned rancher who finds himself protecting an 11-year-old boy from Mexican cartel assassins. The Marksman is currently unavailable for streaming. 
Although the Naked Gun might be a jump-off from Neeson's action repertoire, the seasoned actor did co-star in a comedy western with MacFarlane back in 2014 titled A Million Ways to Die in the West. The film received mixed to negative reviews but mostly surrounding MacFarlane's directing and writing, not so much Neeson's performance. 
Now if a remake of The Naked Gun sounds like old news, you wouldn't be incorrect. Back in 2013, Paramount announced that Ed Helms (The Office, The Hangover) would portray Detective Frank Drebin in a reboot of the classic comedy film. It's been over seven years since that announcement and there's been little to no chatter of Helms as of late (meaning the last five years) moving forward with such a project. 
The original film, The Naked Gun: From the Files of Police Squad, was released in 1988 followed by two more consecutive films, The Naked Gun ​21⁄2: The Smell of Fear in 1991, and Naked Gun ​33 1⁄3: The Final Insult in 1994. Nielsen, a once serious dramatic actor turned dead-pan comedian, starred in all three films as Frank Drebin, a klutzy police detective based on the once television series Police Squad!
No release dates have been set for the Naked Gun reboot, but with Neeson taking a back seat on action films, and MacFarlane taking the lead with the help Paramount, the odds of a film in the next two years are quite favorable. 
Source: ScreenRant