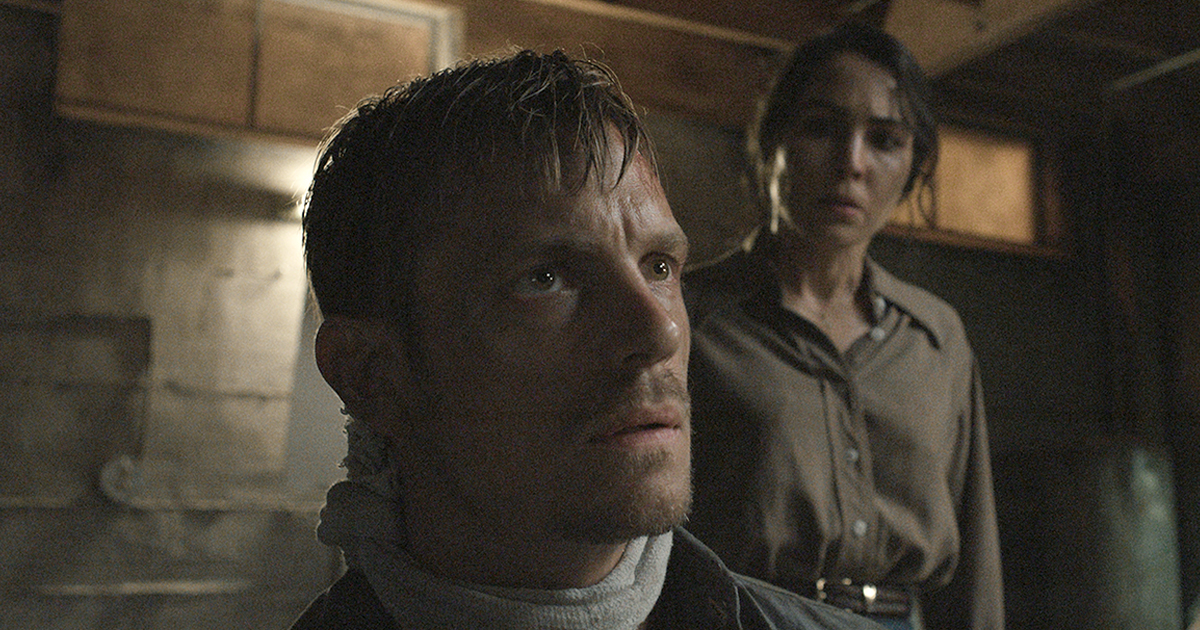 It is a picturesque, tranquil day in the town square park during what feels like simpler times. The sun is shining, the skies are blue, the grass is green, school children are running by, a man is calling for his dog, and a mother is playing with her child (Jackson Vincent). On the surface everything is normal, yet, something is off. Things are not as innocent as they seem. The music is slightly distorted and the camera perspective has us peering through a child's blown bubble giving a somewhat warped feel of our view.
The mother of the boy playing with the bubbles, Maja (Noomi Rapace, The Girl with the Dragon Tattoo) shifts her attention to the man (Joel Kinnaman, The Killing) playing with his dog. A sense of heightened awareness settles in and remains throughout The Secrets We Keep, as something in the formerly serene scene promptly veers into a tense and compelling thriller.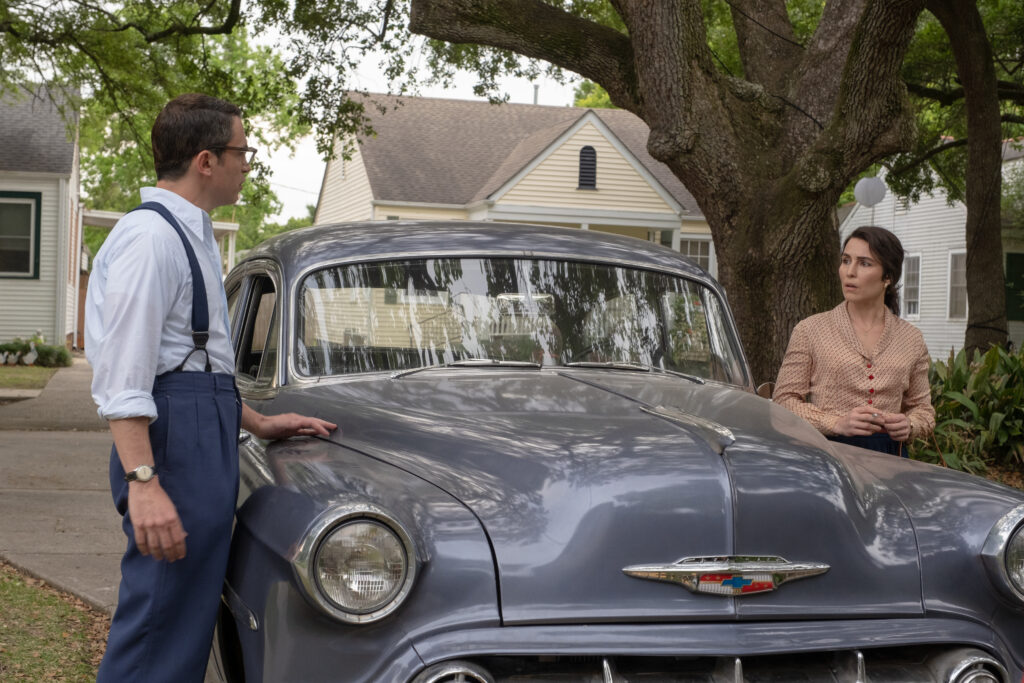 We are not given privy as to what causes her alarm. In a conversation with her husband, Lewis, (Chris Messina) where Maja divulges her family's shrouded experience in WWII. They were victims of the Nazi soldiers who brutalized, sexually assaulted, and executed her family. This random man in the park looks to be one of her most vicious attackers, Karl. An idea that she believes so strongly that she shockingly kidnaps him, tying him up in her basement for a ruthless interrogation. Are her memories accurate or did she kidnap a hiding Nazi war criminal or an innocent family man, is the question she must answer?
We are never quite sure where we stand. Adler does not lead the audience in any direction or provide answers. The viewer is left off-balance as loyalties switch back and forth wading through the details in an attempt to determine whose story we believe. This is due in part to a strong performance by Kinnaman whose Karl/Thomas never comes across as nefarious, instead of no matter what he is accused of we see his humanity through it all. He is both sympathetic and resilient. As Maja digs in deeper to coerce his confession, there is an unsettling sense that maybe her memories are not quite as reliable as required when someone else's well being is at stake. Who should we be siding with here?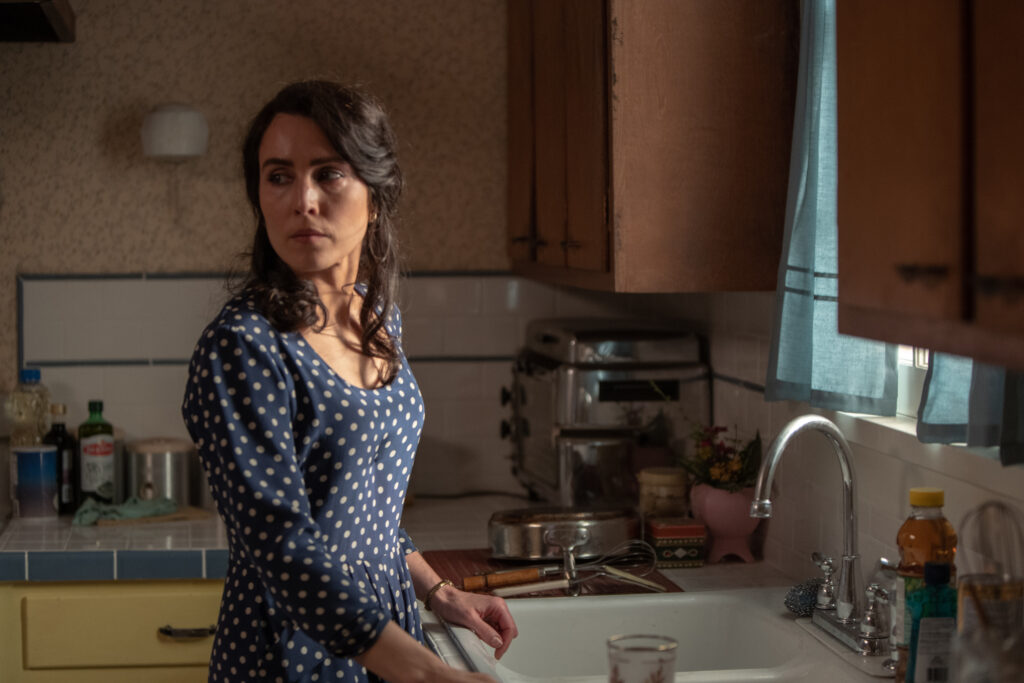 Rapace's acting style is not showy in the least and it works to keep Maja relatable. Although this is another tale of revenge for her, unlike her work in the Dragon Tattoo series, her work is nuanced and restrained. The inner struggle she battles is not limited to her dialogue. The emotional damage can also be found in her physicality, it weighs heavy on the way she carries herself to the look in her often distant, expressive eyes. She is visibly torn at the seams by her own self-doubts and the need to find closure for the trauma that she has been reliving for years. One reason she slips this role so well may be that Rapace and director Yuval Adler (who also co-wrote the screenplay with Ryan Covington) extracted characteristics from her Romanian upbringing and applied them to Maja. It adds a weighty authenticity to her performance. (You can hear more about her role inspiration in our interview with Rapace and Adler).
The film's strength lies not only in Rapace but also in the chemistry between the three leads. Kinnaman (who went to school with Rapace) and Messina form a triad of doubt and ambiguity that feed off each other. Messina is surprisingly strong as the mediator in a husband/wife/prisoner relationship that feels adds complexity to and an already tangled situation. He serves as our on-screen representation torn between a victim and a potential villain. And, to make the matter more confusing, Maja has a budding relationship with Karl's worried wife Rachel (Amy Seimetz) which stirs in a hint more mental anguish.
For all that works, there are also moments that do not feel altogether plausible. For a film whose effectiveness teeters on the viewer's engagement in the moral dilemmas, these moments and serve as an unneeded distraction. The score is also a bit overpowering and heavy-handed at times, swelling when I felt the natural sound of the scene would have worked better.
For those looking for an action thriller, you will not find that here – there are no car chases or choreographed fight scenes to be found. Most of the film's "action" is internal, revolving around conversations and memories whose meanings change when filtered through each characters' perspective. Adler's direction is straightforward with a measured murkiness meant to retain the perplexity throughout, even if he may tip his hand a little more than advisable. He raises the pulse rate steadily while never peaking with excessiveness. The muted color palette used throughout complements the overall dour tone.
The Secrets We Keep holds us captive (along with the characters) as we attempt to determine where the truth lies. Like a pot of water over a fire, the suspense slowly rises in temperature and energy, looking calm, but at any time can shift into a full-on boil. The approach works for the film set in post-war American suburbia, where hidden behind a facade of normalcy is darkness not always ready to be revealed.
The Secrets We Keep is being released by Bleecker Street in theaters on September 16th and on VOD October 16th.
Quick Scan
'The Secrets We Keep' holds us captive with an intelligent and mature thriller.