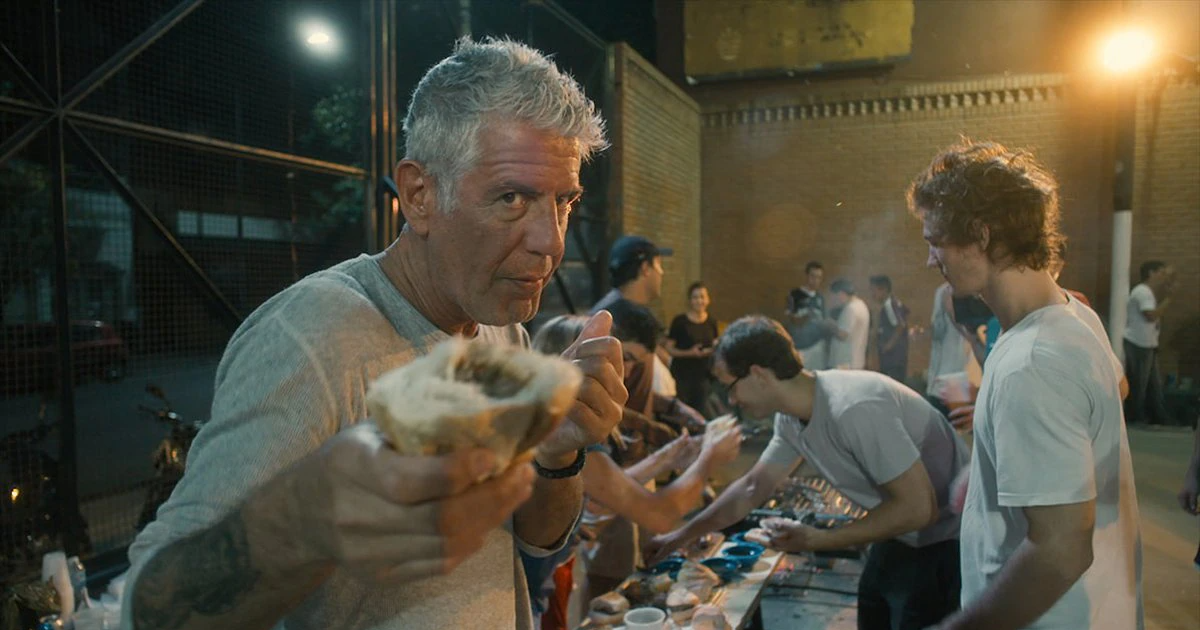 The new documentary Roadrunner: A Film About Anthony Bourdain from director Morgan Neville tells the story of the larger than life Anthony Bourdain whose career path started in the kitchen as dishwasher and through an unexpected string of events to become rock star chef, world famous author ('Kitchen Confidential') and tv host/journalist, world traveler… and ultimately dead by suicide. It is both inspiring and sobering and a reminder about the fragility of life.
I typically would not spoil the details of a film, even a documentary, but if you are not aware of Bourdain's untimely end there is a good chance you will not be watching this documentary. Also, his suicide is announced quite powerfully in his words within the opening 5 minutes of the film. Those words cut deep, even for someone like me, a casual fan.
You know it tragically ends but for the majority of this film Bourdain's spirit is kept alive as we he takes us to tour both the parts unknown and the familiar ones through the endless video footage of him and, more importantly, his own words. The film does not pull many punches. He was a man with some demons that he seemed to be running from right up until the end of his life. Always on the move to new places, meeting new people, trying new things and eating new foods. If he just kept going he can leave the demons behind him.
The most obvious and frankly discussed addition was to heroin – something that he kicked on his own, cold turkey. That alone is an amazing enough fact that could make for a film and gives us an idea of the will of the man. Honestly, I was expecting the drug addiction to show it's ugly face later in his life, but at least based on what we were shown that wasn't the case.
One thing for sure is Bourdain was a very self-aware man who knew what made him tick – his weaknesses, his strengths. We hear and see the contradictions of a conflicted man who at times seemed to want to be anywhere but here and only here simultaneously. In addition to his voice and footage from the television travel and food shows he hosted, there are interviews with some of the people he was closest too.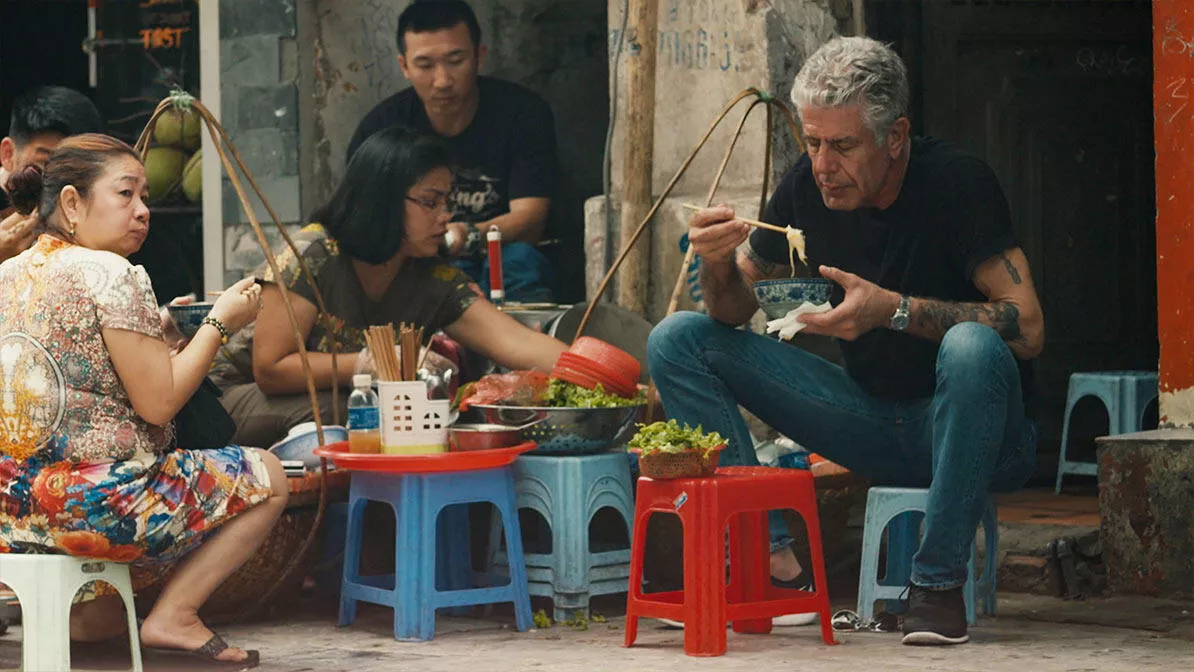 His ex-wife, friends, people from the culinary world and the crew from his TV shows fill in the pages of the story he could not. These also provide the perspective he was unable to provide, especially near the end. The interviews are raw, fresh and emotional addressing a friend's life and demise maybe a little too close to the tragic event. You can see the pain in their faces as they unfairly question what they could/should have done to prevent it.
And while Bourdain's story seems like it can be a dour one, director Morgan Neville (who also directed the documentaries Won't You Be My Neighbor and the Academy Award-winning 20 Feet From Stardom – both are must sees films) steers this in a more inspiring direction. We watch a man who paths a way for his success through his bravado, wit and drive. He was not a very good chef (in his own words) not did he have a television background and still he became one of the biggest names and faces in both fields.
He used language to get out of trouble and make strides. His towering and lanky frame combined with his deep smooth New Yorker voice made him someone that people gravitated to. And the words he used when he spoke and wrote were full of unrestrained truths and insights – told in a honest, sincere and often poetic fashion. I cannot say enough how powerful the use of his voice is, for a moment it bring him back to life – you forget about his tragic death, something that often become the legacy of a person who dies in such a way.
The documentary moves at a brisk pace never sitting in one place too long, like Bourdain. That is until the last quarter of the film which focuses on his final months. It is something that must be included, but at the same time I can't say they completely handled it as well as they could. There are many questions that remain unanswered and still Neville uses the interviews and clips to paint a pretty damning picture. Accurate? I cannot say for sure. It does make me wonder how a gifted editor could sway you in another direction.
I learned after seeing the film that the director used spliced together sentences using AI to bring to life Bourdain's written words, as if spoken by the man. They weren't though. They were written and pieced together based on his interpretation of the meaning. It did not bother me until it did. Speaking something and writing those same words on paper are not the same thing. If this approach was going to be used then the viewer should know. That hint of doubt in the authenticity/transparency can be the kiss of death for a documentary. With that said, the decision did not spoil the for me. If the 'faked" voice is the biggest sin, I can look past it – but I still don't like it (not without a disclaimer, at least).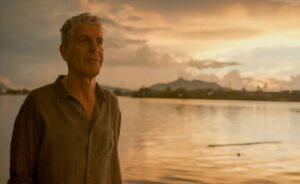 When it comes down to it, the bigger-than-life rock star persona Bourdain carried alone is enough to entertain – sleeveless shirts, tattoos, hoop earring, leather jacket and turtlenecks. People gravitated to him and viewers will do the same here. He's the guy at the party that is always surrounded by a crowd who just want to hear his stories. And still, there's much more – his passion for food, travel and people, covered in his television series, is another aspect of him that the doc covers. He had an uncanny ability to pull back the sheen to find the essence of a destination and its people – showing a more personal side of them and himself.
Overall I had a conflicting feelings during this film. While the film celebrates these aspects of his life, it also dips into the underlying darkness of the man – often existential and real. It is part inspirational and at the same time quite depressing. Bourdain knew he had issues. I left with a smile, but did not feel quite right about it.
Through his writing, he could remove himself from the things that haunted him, assessing them though a sort of self-therapy. Half-jokingly he states, "my parents committed the unpardonable sin of loving me." Which seems like the setup for a standup routine, but as he revisits this and other concerning thoughts, you realize there's something deeper and more complex going on here. It is something I understand to a certain degree which makes so much of what he says resonate. No matter where he was, no matter how comfortable he presented himself, he was a stranger in a strange land, looking for his home.
Summary
Roadrunner: A Film About Anthony Bourdain takes a look at the celebrity chef's rise and sudden demise in a way that is both inspiring and depressing. Both fans of the man and those  less familiar should be satisfied.