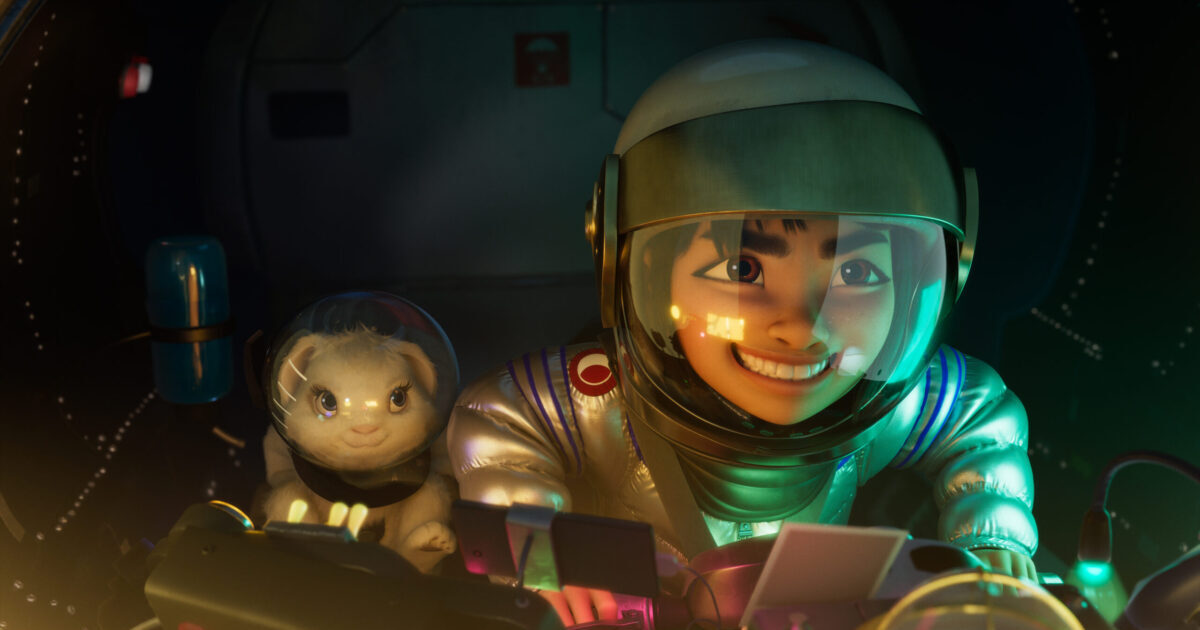 It is amazing how far animation has come. The stories being told are richer and more textured than ever before; moving stories that perfectly capture the essence of the human spirit are now told using the medium. Netflix's Over the Moon aims to be this type of film, delivering a tender tale full of complex emotions that is told with stunning visuals, Broadway-quality songs, and a delightful lead character. It celebrates culture and uniqueness while completely engaging the viewers in a mingling of sight, sound, and story.
The film is directed by animation legend, Gary Keane. He has worked on everything from The Rescuers and The Little Mermaid to the Academy Award-winning shorts, Dear Basketball, and (one of my personal favorites) Paperman. Set in a colorful version modern-day China, Over the Moon introduces us to Fei Fei (Cathy Ang) an bright, spunky eight-year girl who loves science and her parents. She is a pleasure to spend time with. Spirited, driven and has the best hair – a self-cut style that is the perfect physical representation of her individuality and drive.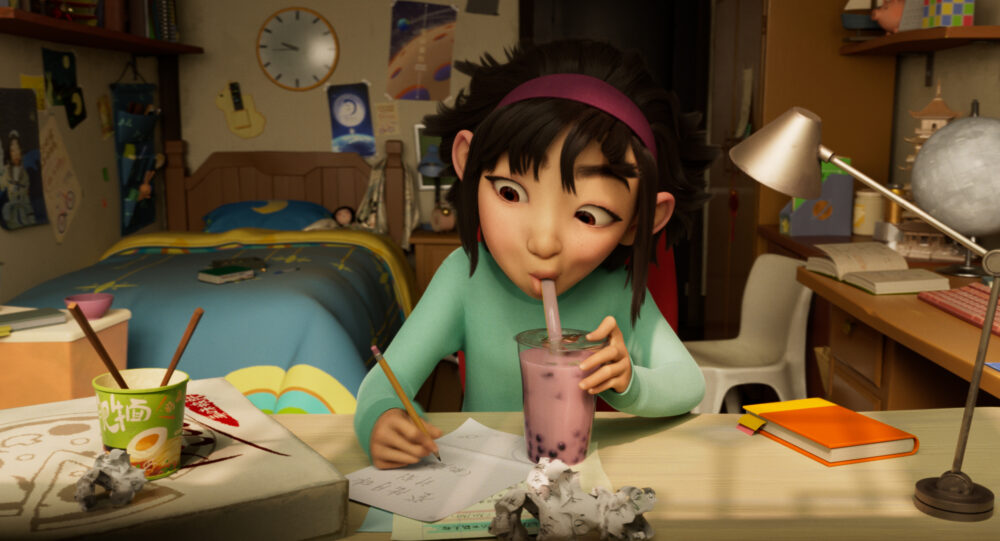 Her mother (Ruthie Ann Miles) fills her head with tales of fantasy while her father (John Cho) tends to be grounded in science. She is the perfect blend of both of them, a dreamer who loves the challenges of the unknown. Fei Fei is also enamored by the folktale of Moon Goddess, Chang'e (voiced elegantly by Phillipa Soo of Hamilton), who lives on the lunar land of Lunania and possesses the secret of immortality. Her mother tells her the story and she cannot get enough of it, but soon her mother is gone and all that remains are the stories.
Fast forward four years, Fei Fei's world had been upended as her father looks to remarry leaving her lost and looking for answers. She believes if she can meet Chang'e and prove the existence of eternal love it may sway her father away from the woman he is dating Mrs. Zhong (Sandra Oh). Using her ingenuity and engineering prowess she plans to "fix" things by building a homemade rocket to launch her to the moon.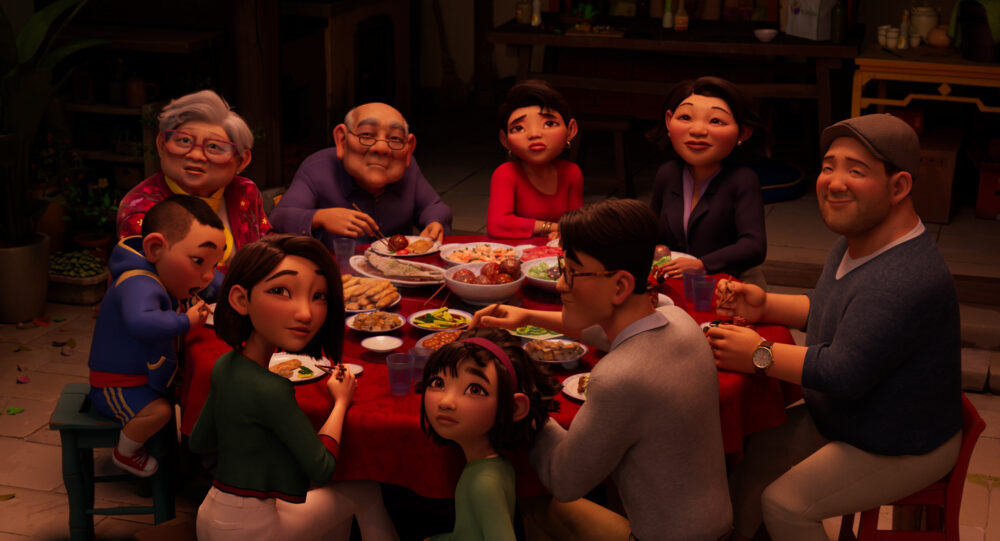 The opening act sets the bar high, taking us right into Fei Fei's. There's joy and wonder aplenty as we meet several generations of Fei Fei's family and a good sampling of Chinese tradition sets a warm and endearing tone. A compilation of small moments makes us a member of their sweet household as they prepare traditional moon cakes, share dinners, and debate the truth behind the legend of Chang'e. It splendidly captures the comforts of family.
If the opening act gets things moving, the showstopping tune, "Rocket to the Moon" launch expectations high into orbit. Ang belts out with power and precision, providing all the feels and then some with lyrics that encapsulate all the emotions running through her – hopes, dreams, and grief. Every time I have listened to it, there is one particular note that delivers head to toe chills. The song is accompanied by a clever montage that lets us get a glimpse at Fei Fei's inventiveness put into action as she researches, designs, and tests a full-functioning rocket. Her uncontainable enthusiasm for it all makes science and engineering look cool (cuz it is), and will surely spark the new interest of girls (and boys). This scene could almost stand alone as a short film. It is that good.
Just when you would expect the film to soar to new heights, as we head off to the moon's surface, the unexpected happens, the film's rockets lose their thrust and struggle to regain it. The warmth, tenderness, and wonder quickly disappear once we leave earth and what we find on the moon is cold and hollow in comparison. Don't get me wrong, there are wonderful moments abound in the world of Lunania, most of them revolving around the original songs, but aesthetics and tone feel out of place after the first act.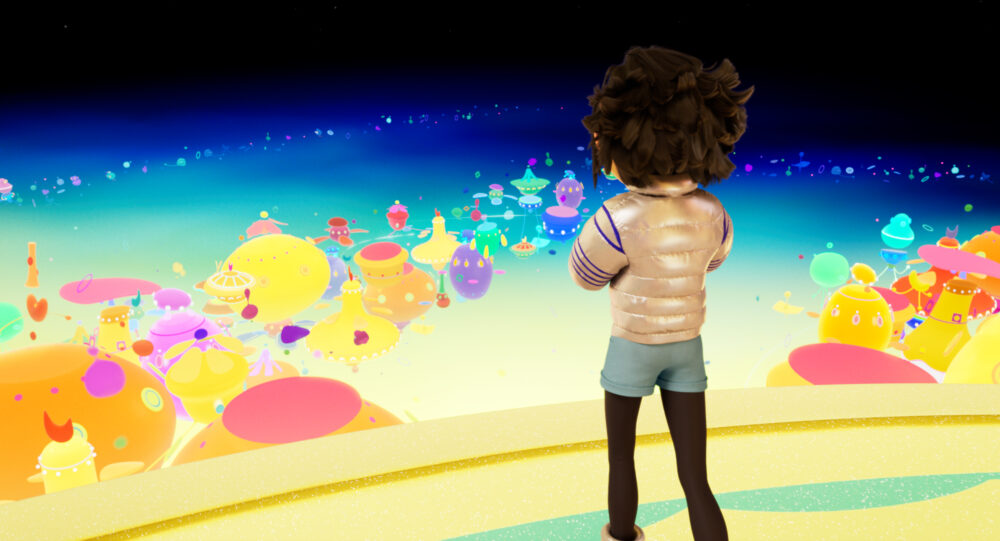 The landscapes of the moon are often stark, filled with bright, colorful, and fanciful elements, but empty at the same time. If Fei Fei's home was elegant brushstrokes of color on a canvas, Lunania's medium of choice is neon – visually loud and still somehow flat. The luminescent globby inhabitants look like neon gumdrops and candies, including Gobi (Ken Jeong) a spacy sidekick who adds some laughs to the mix. Frankly, much of moon style feels unfinished and had me feeling disconnected from the film's emotional core that held my attention so embracingly in the earlier scenes.
Thankfully the inclusion of Fei Fei's boisterous, bothersome brother-to-be, Chin (Robert G. Chiu), who is a stowaway on her flight, helps add some zest and brother/sister chemistry. The much anticipated Moon Princess, introduced with full-fledged, pop concert flair, turns out to be a somewhat unlikeable dictator. She's a self-serving pop star diva who sends Fei Fei on meaningless and rather uninteresting task, searching for a Macguffin that is, honestly, really below her pay grade. Rather generic, it had me hoping this would be a short layover and the return flight to the Fei Fei household would soon be ready for liftoff.
Keane revisits his Disney animation roots, incorporating into some beautiful hand-drawn animation into the mix. Used sparingly, it is refreshing and perfectly fits the flashbacks it conveys. So fluid and personal, it makes me long for the style. The CGI is also used well adding intricate attention to detail in Fei Fei's home is intricate, revealing attributes of the family better than any words could ever do. The chips and wear on the paint, the mouth-watering food graced with rising steam you can almost smell, the random leaves blowing through the kitchen all transfer us to a place you will want to visit longer.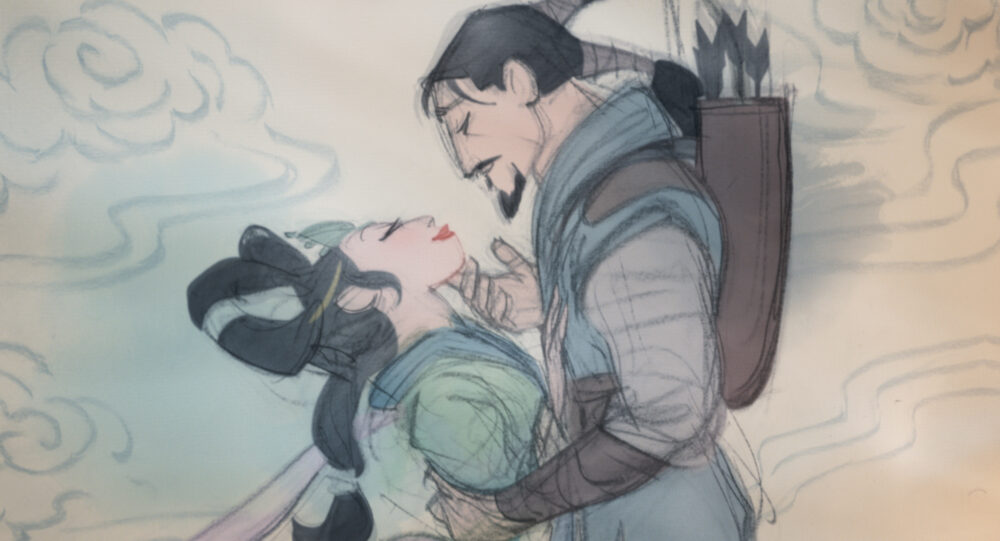 Christopher Curtis, Marjorie Duffield, and Helen Park were up to the task of delivering a collection of distinct tunes to serve as the connective tissue that drives the action and the narrative. "Mooncakes" is intimate and sweet, the passing down of traditions of culinary artistry from one generation to the next. Soo wows as Chang'e in her aforementioned introductory song "Ultraluminary" a booming electronic anthem that literally launches her to the stars. The pop/rap battle of "Hey Boy" explodes off the screen pitting Chin against Chang'e in a kinetic, gravity-free ping pong match that bounces back and forth both lyrically and with action. The music injects the energy needed to keep audiences interested when things wane.
Over the Moon looks like an instant classic, aiming for new heights even if it falls a little short. There is much to like (and to love) about it – Audrey Wells' (The Hate U Give) screenplay accentuates the family elements, the messages of overcoming loss and learning to love again, a glimpse of Chinese culture (even if it only skims the surface). The musical performances are the parts that hold this rocket ship together up until the touching ending – even if some bolts are loose. Kids will certainly enjoy the ride especially the groovy songs and Fei Fei's inventiveness. While the story's heart gets obscured by the moon scenes, its glow still finds a way to shine through.
Quick Scan
Over the Moon looked aiming for the stars but falls a little short.