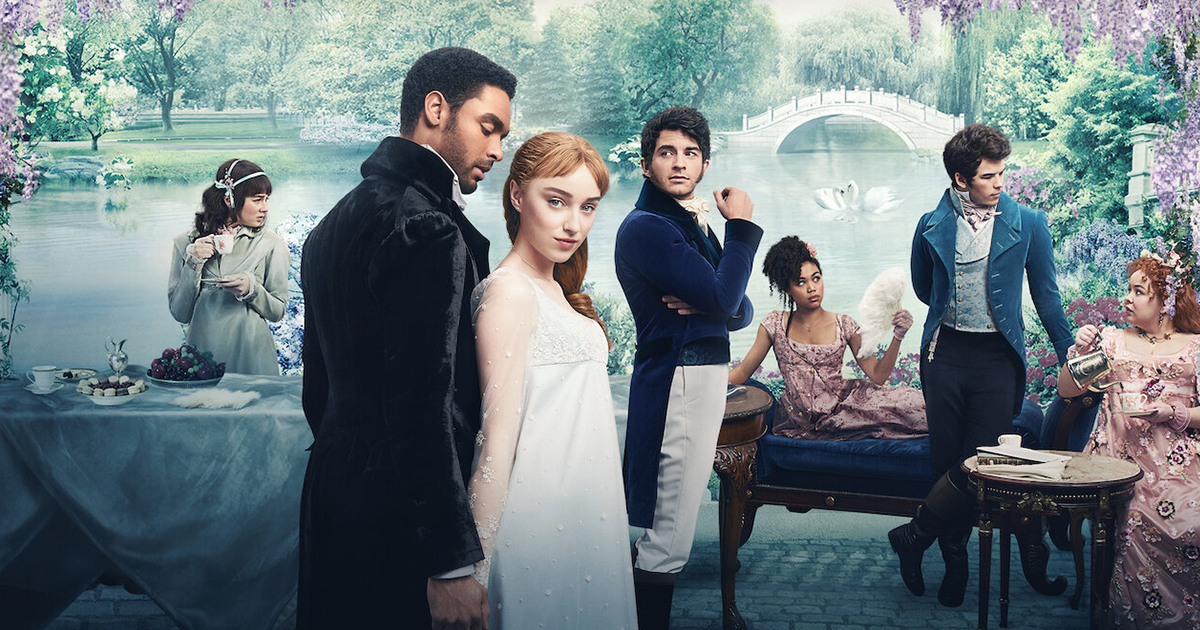 Like 63 million other households, I recently binged Bridgerton, the first Shonda Rhimes-produced Netflix original. Adapted from Julia Quinn's best-selling novels, the Regency-era period drama follows the lives of the Bridgerton family during London's debutante season. Daphne (Phoebe Dynevor), the eldest Bridgerton daughter, debuts on the highly competitive marriage market right when Simon (Regé-Jean Page), the notoriously eligible Duke of Hastings comes to visit. Every bit of drama sets the tongues of the "ton" a-wagging. Even the whisper of scandal can ruin a reputation. And in this world, reputation is everything. 
I enjoyed Bridgerton, but when I talked to friends about it, the conversation always opened with some variation of "it's great IF you take it for what it is," or a self-deprecating admittance that we were indulging ourselves. Perhaps it's because the show is adapted from romance novels, a genre consistently dismissed as unserious. "Cliterature," so to speak. If it's not obvious, I'd love to explain why this is outdated and sexist (The least-respected genre of literature is the one with female writers catering to a female audience? Shocking.), but many writers before me have already done so.
I'm no devoted fan of romance or period drama, but these criticisms ring hollow. Yes, Bridgerton includes a lot of sex. Perhaps its soapy narrative, fueled by drama and scandal, doesn't fit into what we consider sophisticated. But how different are these traits from those of wham-bam blockbusting action films? Both have sex (not always plot-relevant, sometimes gratuitous), and both have melodramatic (often contrived) storylines. If we can take one seriously, why not the other?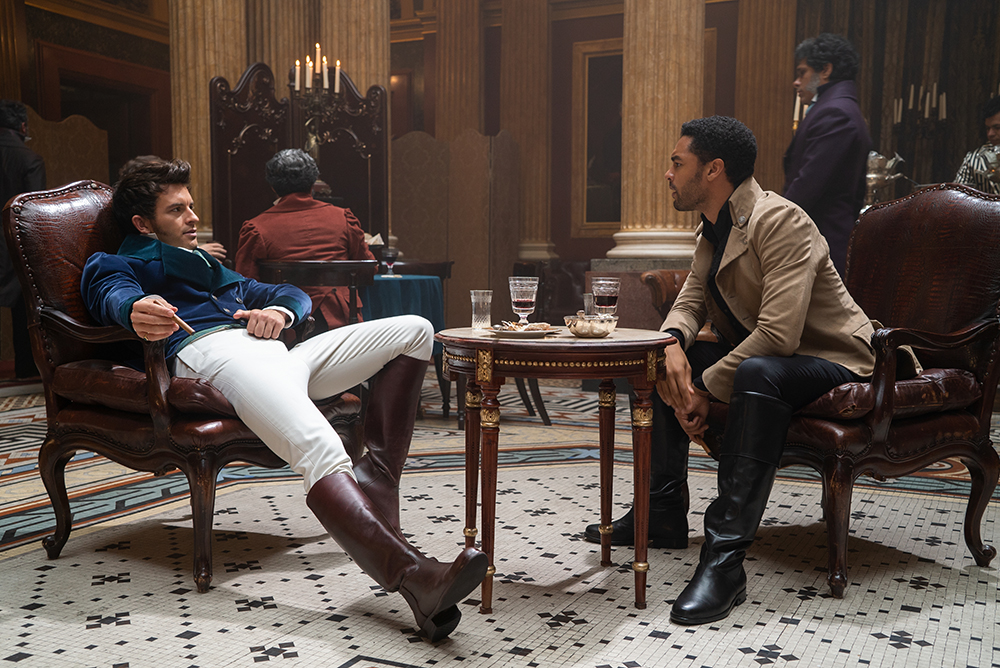 As well as Bridgerton can be summed up by NPR as "Sexy Shondaland Goodness," I would also call it well-crafted drama with intentional, but light attempts at subversion.
An important aspect of drama is enticement. Why should we care if the characters get what they want? The obvious answer is that they're sympathetic or relatable. But Bridgerton doesn't stop there with its drama. It ensures every development is a zero-sum game. The conceit of the show helps – one character's romantic win is necessarily another's loss, since polyamory isn't really a public thing in 1800s Great Britain. All events beyond the marriage market follow this rule too. 
At every turn, characters are placed in opposition to each other, sparking conflict and action. This technique is part and parcel to screenwriting in general, but Bridgerton does it with a deft hand, almost effortlessly.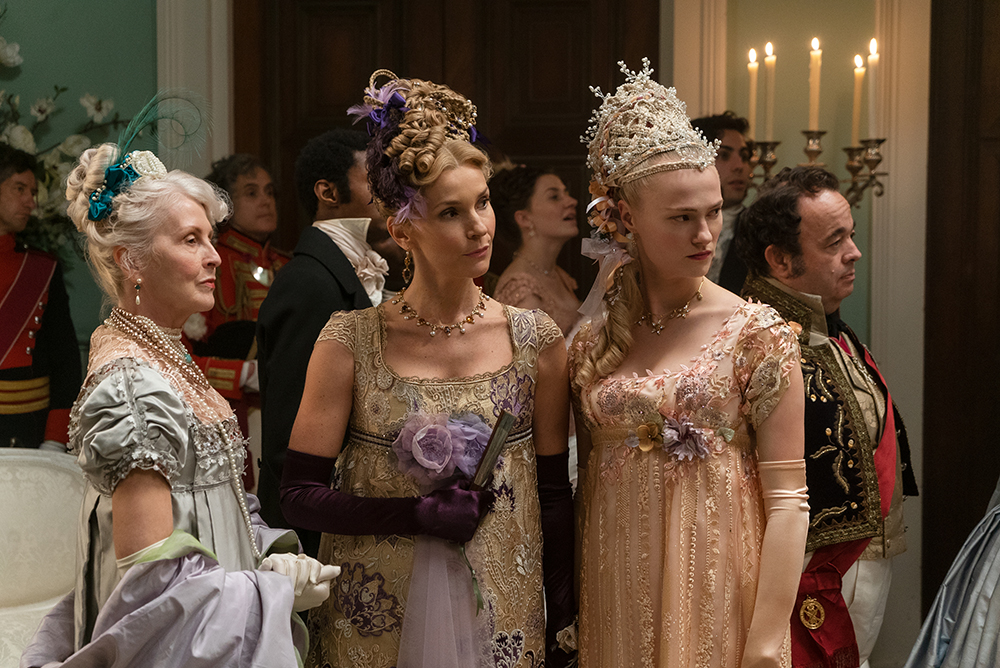 Bridgerton also makes several statements about race and gender in its writing and casting. The cast is notably diverse. Brown and black individuals did exist in high society at the time, but period dramas tend to have mostly white characters. But in Bridgerton, people of color appear at every level of society, from the help to the Queen of Great Britain herself (Golda Rosheuvel).  As the New York Times writes, the show follows the belief that "characters of color should get to have just as much fun…as anyone else." 
The seemingly race-blind casting offered a chance to portray people of color holistically, as human, first and foremost. But about midway through, Lady Danbury (Adjoa Andoh), Simon's childhood caretaker, explains that the crown began granting titles to nonwhite folks after King George fell in love with "one of us," aka the black Queen Charlotte. 
And then it's never mentioned again. 
This one line opens a big can of worms. Where did these estates come from? Isn't Britain like, really colonialist? Did racism just end right there at the royal altar?
Anyway.
Bridgerton's characters go beyond just challenging tropes of distressed damsels waiting for male saviors. Frankly, the men in this series are nearly useless compared to the women.
Women have limited power even in this escapist fantasy, but they're much more effective at wielding it compared to the men. When problems arise, they don't shrink or fret. They let maybe one troubled look shadow their faces before taking action, and more often than not, their plans are both effective and entertaining. Meanwhile, male characters stand around talking about the societal rules they're supposed to follow. And when there's no clear solution, they falter, even break down.
Bridgerton draws a distinction between the motivations of its male and female characters. There are several exceptions, but women tend to be motivated by duty, conviction, dreams. Men tend to be motivated by revenge, greed, lust. I found this refreshing, but have to say that Bridgerton neglects the stories of its men just a tad too much, leaving them feeling hollow inside compared to the women they have so much power over.
The show also glosses over any questions around class, portraying the help as smiling servers, equally content to be window dressing or confidante according to the whims of their masters.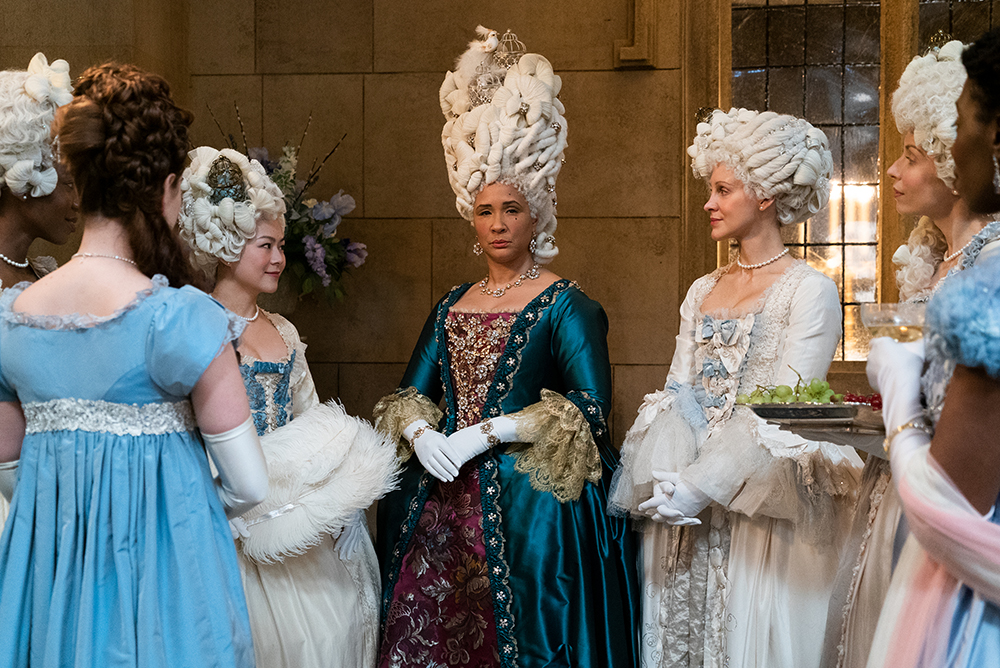 But you might not mind because the viewing experience is dazzling. In just a few scenes, we see grand ballrooms, handsome nobility in the height of modernized regency fashion, stunning flyover footage lifted straight from the Great British Bakeoff's B-roll. The queen is particularly picturesque. At risk of misusing young people lingo, I absolutely stan Golda Rosheuvel as she withers her subjects with nothing but a curved lip. The music, composed of a romantic original score, some choice classical hits, and modern pop songs covered in a classical style, strikes a fine balance between new and old. Having the series narrated by Julie Andrews' dulcet tones is the cherry on top.
Whether it feels like a guilty pleasure or not, Bridgerton is worthy of, and stands up to serious analysis. Don't let it decay too long in the corner of your brain reserved for escapist TV, or you'll miss out on a veritable feast for the eyes and mind.
Quick Scan:
A well-crafted drama with all the pomp and circumstance Netflix budgets can afford. Don't forget your hand-fans and clutching pearls. You'll need them.