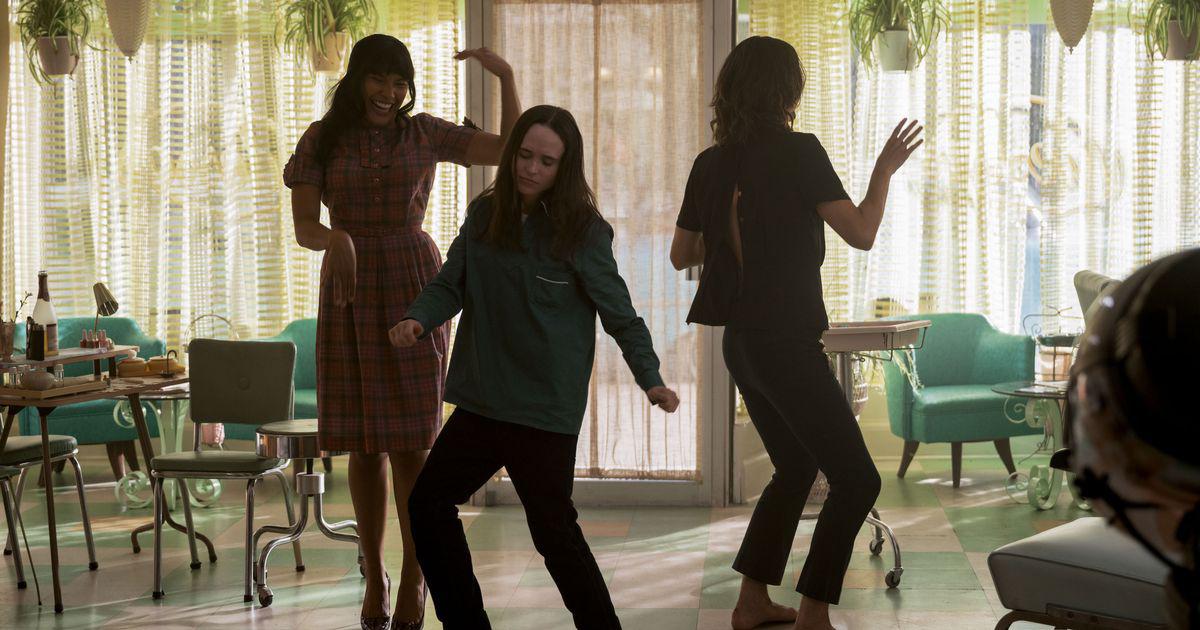 (Warning: Light spoilers ahead)
Umbrella Academy recently returned for its second season on Netflix, following the superpowered, dysfunctional Hargreeves siblings scattered across time in 1960s Dallas. The new season brings with it more hilarious sibling dynamics, more playful fight scenes, and more excellent special effects.
And of course, season two brings the bangers.
Umbrella Academy's music is iconic. In season one alone, there's the much-memed sequence of the Academy members dancing in their rooms to Tiffany's "I Think We're Alone Now" (which was recreated for an adorable teaser trailer here—WATCH IT), the Disney movie-esque fantasy dance break between Allison and Luther  (Ellen Page and Tom Hopper) set to Toploader's "Dancing in the Moonlight," and pretty much any fight scene involving Five.
Season two doubles down on the pop/oldies soundtrack, opening with not one but two hit songs before the title card. Maxine Nightingale's "Right Back Where We Started From" plays us into the episode as the Hargreeves siblings arrive in Dallas, scattered between 1960 and 1963. Five lands in town just in time to watch his family battle a Soviet invasion as Frank Sinatra sings "My Way."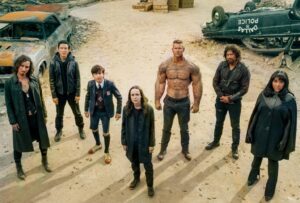 The show has become known for its musical montages and fight sequences scored by upbeat tunes. Admittedly, the choices can be unsubtle at times. For those who have watched the latest season, I'm thinking specifically of Peter Schilling's "Major Tom" and Generation X's "Dancing with Myself." No shade, but I did have a moment of "for real guys?"
But it doesn't get old. The use of pop music elevates the show for several reasons:
1. The songs are worked into the scripts.
A recent Reddit AMA with showrunner Steve Blackman revealed that unlike most other shows, the music is often selected before shooting begins. His team will write scripts around a song, creating scenes that fit, beat for beat, with the music. Blackman works closely with music supervisor Jen Malone, who provides different music choices and works with artists to acquire the licenses. Malone is integral to the art of Umbrella Academy's needle drops and was recently nominated for an Emmy for her work on Euphoria. The actors can then listen to the songs while learning their roles, adding another layer of cohesion to the process.
2. The songs are chosen carefully and often play with our expectations for a scene.
The writers choose recognizable songs, and use our relationship to that song and the memories it evokes to connect us to the scene. Umbrella Academy sometimes subverts this technique by choosing unexpected tunes, or an unusual cover of a popular song instead of the original.
In episode five, a villainous trio of Swedes (that's literally their title but I also like "Ikea mafia" and "The Milkmen") get their own dramatic, unexpected music montage. A somber chord progression plays. It's oddly familiar. As the vocals enter in Swedish, we realize it's a cover of Adele's "Hello" by My Kullsvik.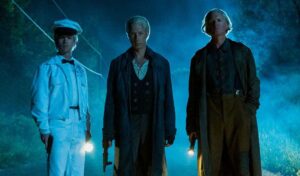 It's a great choice for the obvious parallels—the song is in Swedish for the characters' heritage—and for the less obvious ones. Since the song isn't in its original language, we don't immediately think of Adele's romantic heartbreak, but focus instead on her tones of longing and despair.
It's an unexpected and humorous choice for the scene. Unexpected and humorous also happens to be a perfect description of these identical triplet assassins who seem to have a policy against killing cats but won't hesitate to murder innocent civilians.
3. The most critical reason: the writers never rely on pop music when they shouldn't.
While pop hits pace the show and elevate its action, Umbrella Academy relies on its original score composed by Jeff Russo for its weightiest scenes. The score is largely orchestral, and often centers violin and strings. This is a unifying musical choice as the show also centers Vanya, who plays violin and has powerful sonic abilities. Many of Vanya's moments of critical character development during both seasons are scored by silence or violin-focused instrumentals. The same is true of a heavy mid-season scene at Stadtler's lunch counter. Towards the end of the season, we hear more orchestral pieces that are thematically similar to the music playing over season one's finale. These final episodes become more impactful because we're reminded, sonically and visually, of the conflict from last season and of how much the siblings have developed since then.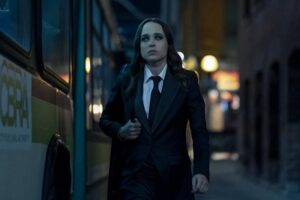 At risk of outing myself as a pretentious nerd, one of my favorite examples of Umbrella Academy's use of music doesn't come from its pop soundtrack or from the original score. During a critical late-season scene between Vanya and another sibling, we hear the mournful Sarabande Bach's Partita in D minor. This is part of the same piece she performs in season one when she auditions for first chair at the orchestra. In season one, she plays the more energetic Gigue movement. Using the same classical piece, but choosing two very different movements highlights the depth of Vanya's character and the utter joy and destruction she's capable of.
Umbrella Academy is a great example of how to put a big music licensing budget to work. Even if you're not convinced by the show's bold choices, let's at least agree that the writers have fine taste in music.