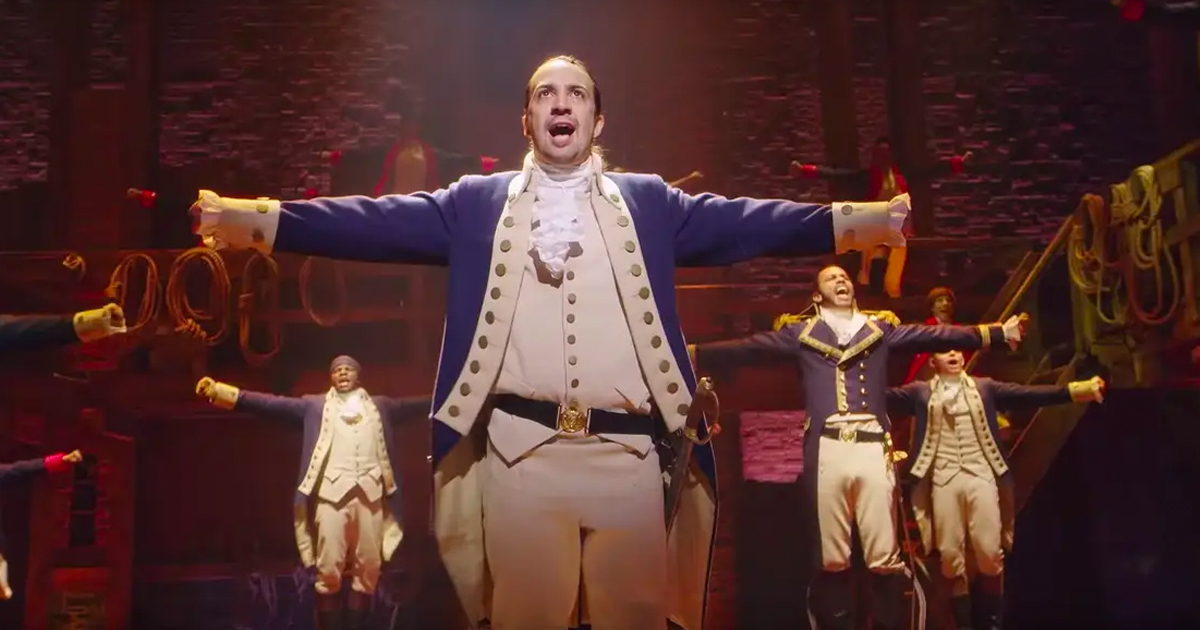 "Alexander Hamilton. My name is Alexander Hamilton. And there's a million things I haven't done. But just you wait, just you wait."
Well, the wait is over for millions of people who had longed to see Hamilton, the universally praised Broadway show from the mind of Lin Manuel Miranda. Thanks to Disney, it is finally available to the masses without the extravagant ticket prices through their streaming service, Disney+. The perfect solution for those hungering for such entertainment, especially since Broadway just announced it will remain shuttered until 2021.
The musical was the baby of Miranda, who spent seven years writing it after being inspired by Ron Chernow's 2004 biography of the often overlooked forefather. Miranda actually pitched the concept in front of President Obama during the White House Poetry Jam in 2009. (You can watch this moment below. It's pretty incredible). Fast forward six years later is debuting Broadway where it was met with rave reviews and garnished a record 16 Tony nominations and 11 wins, a Pulitzer Prize, and even a Grammy for the soundtrack. It's no wonder why it has remained one of the most sought after ticket for anyone visiting The Great White Way. This filmed version, directed by Mark Kail, was shot over three performances in 2016 with the original cast at the Richard RodgersTheater, bringing the Broadway experience into our living rooms.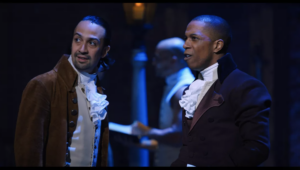 There's a reason the play has earned such exorbitant praise-quite simply because it deserves it. Miranda took on the massive task of breathing life into history. And, like the hero himself, he overcomes the odds by relying on his own perseverance and talent. The results are a tapestry of music, history, bravery, and passion. Miranda effectively and effortlessly weaves together a plethora of historic figures and moments into a deeply personal exploration of a man set on creating a legacy of his own. It is as enthralling as it is inspiring.
As with most Broadway shows, the story of Hamilton is told in two acts even including a brief intermission. The first act introduces us to Alexander Hamilton (Lin Manuel Miranda) an ambitious young man from humble beginnings looking to make his mark on the world. The story follows Hamilton as rises from a "bastard, orphan, son of a whore" to become a "hero and scholar" by "working a lot harder, by being a lot smarter, by being a self-starter." He arrives in 1776 New York where he meets Aaron Burr (Leslie Odom Jr.) and other influential men and uses his talents to quickly make an impression. The colonies are in the middle of the Revolutionary War and Hamilton finds himself working alongside George Washington (Christopher Jackson) as he leads the troops against the British. Spoiler alert – the colonists win. As Hamilton rises up the ladder, it becomes evident the only thing limiting him is his own obstinacy trying to obtain his lofty aspirations
The show is layered and possesses some unexpected depth that allows it to work on many levels which probably explains why it is appreciated by a wide-ranging audience. Miranda meticulously researched Hamilton's life and it shows in the level of detail displayed here. Just the amount of American history references here will satisfy buffs and keep most of us running to Wikipedia for refreshers. Even if you don't remember what the Continental Congress or The Federalists Papers are, Hamilton's story of ambition and drive, in hunt of the American dream, is engaging enough to retain the attention of even the lesser history buffs.
While "Hamilton" on the surface is about his accomplishments, it is more about the man himself from his strengths to his flaws, both as a politician and as a husband. The play often changes gears as it shuffles across the next few decades dropping in periodically to keep us abreast of Hamilton's career ambitions, his growing rivalry with Burr, and aspects of his personal life. Surprisingly, it is Alexander's relationship with his wife Eliza Schuyler Hamilton (Phillipa Soo), a subplot I had not expected, that delivers much of the musical's emotional weight. It creeps into becoming entangled in with other threads in a unique way that actually at times makes this more Eliza's story than Alexander's.
With her moving voice and emotive eyes, Soo is a powerful presence on stage, that demands your attention. That is where using the film medium really elevates the show. Thanks to the use of the 19 cameras this is not your typical cold recording of a play on tape. Miranda and Kail deliver an intimate piece that captures the energy of the show. The masterful editing directs us to focus on the character who our eyes should be watching while the camera close-ups allow us to see the subtle facial reactions – the pain, anger, frustration, and love on the characters' faces – even some well-timed spittle. This is something you would not typically experienced in the theater, no matter where your seats were located.
While the focus is on Hamilton, the songs are generously distributed to an array of performers in one of the most astounding ensembles ever assembled. They lend their chorus of distinctive voices, sometimes in dual roles, while bringing their own unique musical and dramatic skills to the production. Each one seems to be more intoxicating and entrancing than the last. And, the musical styles they deliver are as diverse as the cast itself. They shift and flow in and out from performer to performer seemingly effortlessly. From hip-hop to R&B, rap to the gospel, pop to your more standard Broadway fare – it is mesmerizing and gave me the chills numerous times throughout.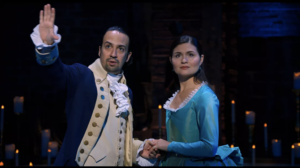 Miranda, while not the strongest voice here, delivers a Hamilton who we can both cheer for, sympathize with, and at times deplore. Being the underdog fighting to fit in among the big dogs works in his favor, as both a performer and the character. He exudes some unpolished charm that keeps you rooting for him throughout as he becomes more confident and successful. Along the way, we also meet numerous familiar names from US history including Madison (Okieriete Onaodowan), Jefferson/Marquis de Lafayette (Daveed Diggs), John Laurens (Anthony Ramos), and even King George who is played as a pitch-perfect, delightfully snarky, pompous prick by Jonathan Groff. He is a scene-stealer, which feels unfair to say as he exists among a cast of scene-stealers.
There's also Leslie Odom Jr. who adds complexity, vehemence, and desperation to Aaron Burr to songs like "The Room Where It Happens." He is the anti-Hamilton, and much of the overall impact of the show is reliant on the strength of his performance. Daveed Diggs is a revelation, he uses his robust voice and comedic skills to make every characters' lines the most anticipated every time he takes the stage. It absolutely amazes me, as someone who often fumbles over words, how he was able to go out night after night to deliver such difficult lyrics without error. Especially in the rap battle-like "Guns and Ships," where he spits nineteen words in just 3 seconds. Renée Elise Goldsberry (straight off of last year's explosive Waves) plays Hamilton's sister-in-law, Angelica. She digs deep with a performance so full of strength, conflict, and passion that it is at times gut-wrenching. She pours her heart out on stage for songs like "Satisfied" and it will blow you away. The amount of sheer talent in this ensemble is simply astounding. And now, because of this Disney+ release, they will gain the wider acknowledgment they rightly deserve.
The lyrics are densely written and are often presented with a rapid-fire delivery. And since not a word is spoken, only sung, the production almost requires a second viewing with captions on to catch all the nuances in Miranda's lyrics. The historical references alone deserve, do your homework, and return for a second viewing – I found during my third viewing that having captions helped.
While some people are calling this a movie (I am not sure where I stand), don't go in expecting a fully realized film as you have seen with Les Miserable or Chicago. This is a top-notch recording of the stage show. There are no extravagant sets or locations, just a Broadway stage. But, magic happens on that stage. Witness it. Witness history.
Hamilton is now streaming exclusively on Disney+.
Quick Scan
 "Hamilton" does not throw away its shot. It transforms your living room into a world-class theater through high-caliber performances and music.