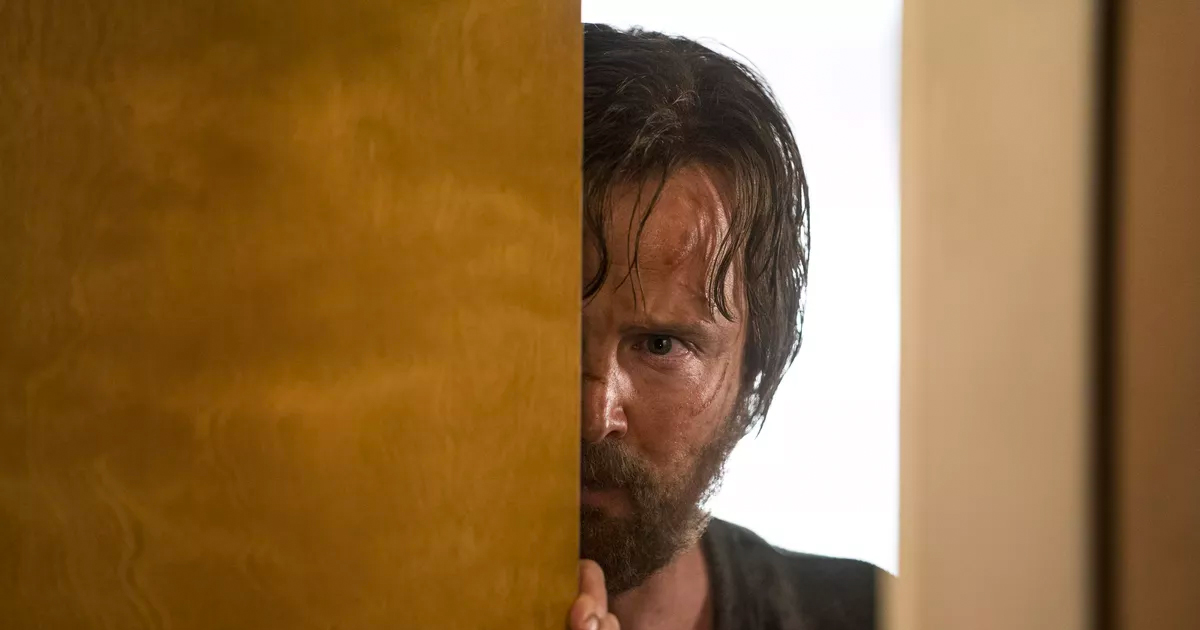 El Camino takes Breaking Bad fans on a familiar ride
"Breaking Bad" is one of the most beloved shows in television history, and rightfully so. The show's brilliant writers delivered complex, well-developed characters, including the central character Walter White (Bryan Cranston, Trumbo) – easily one of the best-written characters ever to grace the small screen. Show creator, Vince Gilligan made a penchant for painting characters into corners then finding the most thrillingly satisfying way out of the situation as possible – all while keeping it believable.
As the series came to a close one of the series most beloved characters, Jesse (Aaron Paul, Eye In the Sky) who was put through hell through the latter half of the series finally looks to escape the torturous world in which he allowed hijack his life. The last we saw of him he was him driving off through the desert after, screaming with a mix of rage, triumph and disbelief that he was finally escaping his imprisonment by a group of Nazi drug manufacturers.
El Camino: A Breaking Bad Movie revolves around Jesse who is now a fugitive of the law for his connection to the massive drug ring and its related crimes. For those looking to revisit the energy of the series, 'El Camino' is a success. Gilligan's direction recaptures the magic of the series without missing a beat, producing a well-crafted tale that is both familiar and fresh. Aaron Paul slips right back into a character allowing us to quickly forget that it has been several years since the series ended. His multifaceted performance provides plenty of emotional impact investing us in Jesse's wellbeing. From the inventive camera angles, the familiar score to the comfortable dialogue and its signature tension this is 'Breaking Bad'. It's a fun ride. And as expected, we revisit familiar characters and settings that fans will certainly enjoy.  
Jesse's true fate during the series finale was somewhat ambiguous. As it was left open for the viewer to decide exactly what they thought ultimately happen to him. Jesses driving through the desert was one of the show moments that would often think about long after the show ended. It was always a tad bit frustrating, but also, in an odd way, quite satisfying to be uncertain of Jesse's ultimate fate. Did he make it to freedom? Did the police catch him a few miles down the road? Did he go back to his ways as a drug dealer or did he clean up his act? My read of his ending was usually a hopeful one, but every so often I'd wondered, 'am I wrong, was he caught?'
This is where the 'El Camino' road trip starts to hit some tough terrain. The journey takes us to places we previously didn't need to venture to. The film fills in the holes in the story – leaving us with little to think about. We now that we know precisely what Jesse's fate is and I am not sure if we are any better off for it. Did we need to know? Is the series any better for it? Are the viewers any better off because of it?
Not long after the "Breaking Bad" finale, it was announced that there would be a spinoff called "Better Call Saul" which would focus on Saul Goodman, the shady, criminal lawyer often hired by Walter to resolve potential legal problems in the least legal of ways. Many fans were on the fence about this decision not seeing where the show could take us that would retain the quality of the original series. Over its first few seasons, it has proved naysayers wrong by delivering an amazingly rich, layered character study, comparable to 'Breaking Bad'. Surprisingly, "Saul" is at its best when it expands on the Saul Goodman story, rather than trying to add to the 'Breaking Bad' mythology.
"Saul" works as a stand-alone series, exploring a flawed man in sometimes excruciating detail taking us on new journeys into areas of his life we did not know existed. 'El Camino' on the other hand, retreads territory we have explored already. We learn little, if anything, significantly new about Jesse that we hadn't known or assumed after watching the original series. 
Even though I did enjoy the film, without that added depth or complexity to the story/character, I guess I would prefer to let that image of a hopeful, resilient Jesse riding through the desert remain as the end of his story. Which is why I had to drop one star from my rating. Like an El Camino, the 70/80's vehicle with the large, pickup like flatbed – the film that shares its name seems like a great idea at first, but in the end, you're left wondering 'what am I supposed to do with this thing?'