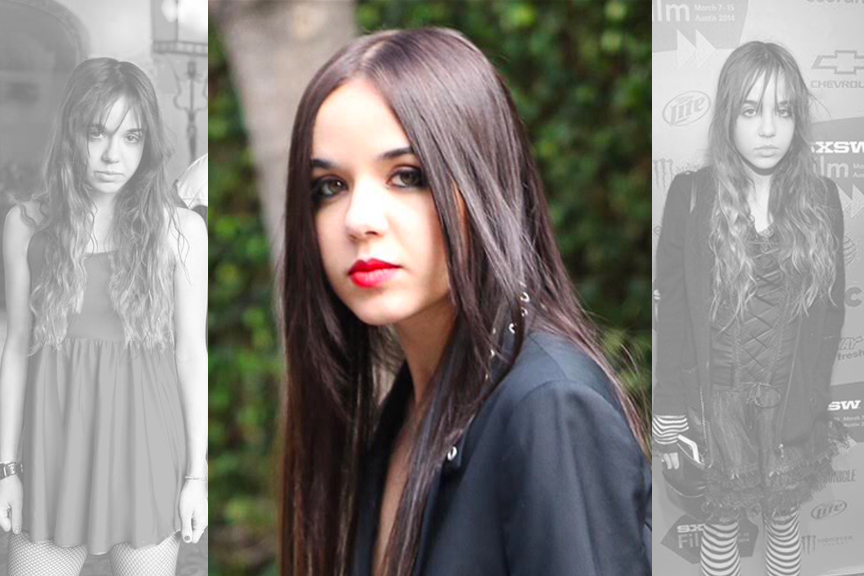 Most child actors are accustomed to growing up on camera, but very few have done it over the course of two hours and forty-six minutes. That was the case for Lorelei Linklater when her father, acclaimed director Richard Linklater, cast her in his ground-breaking and award-winning 2014 drama Boyhood. Twelve years of Lorelei's adolescence was captured on screen over the course of the film's production, and while she's happy to have been a part of the project, she's eager to move out from the film's (and her father's) shadow as she establishes her career as an actor and as an artist in the country's newest cultural center, Austin, Texas.
Young Lorelei was more than eager to take on the role of sister Samantha in the incredibly ambitious Boyhood, but as one would expect after more than a decade of filming, Lorelei's interest in the process began to wane.  "All I ever wanted to be was an actress," says Lorelei. "I'm never happier than when I'm on a set. But there was a point in the middle, when I was 7 or 8 years old, where I wasn't really pursuing acting." Moving into her teens, Lorelei began to rebel against the process. "I definitely removed myself from the role," says Lorelei."I didn't make an effort to really add many parts of myself to the character. I was not as stoked about the project as I was when I was younger. But then toward the end, I started to become more excited about it because it was then that I realized that I wanted to be an actress. I understood how fortunate I was to have this opportunity. I am genuinely really happy to have been a part of the film and I do think that it's a great movie."
Looking back, Lorelei regrets some of the choices that she made in Boyhood, but admits that she has made strides in her craft. "I acknowledge that I have a lot to learn, but I am much more confident in my acting now," says Lorelei.  "I feel like my prefrontal cortex is in place, unlike before when I wasn't entirely sure of anything as a person.  I have definitely changed so much as an actress since even the end of filming [of Boyhood] , that I just want to show the range of what I can do."
Despite the impressive body of work by her father, Lorelei doesn't let his films loom over her choices in roles. "I love my dad's work. I really do, but I think my acting career is something that is truly very separate from his career," she says.  "He doesn't help me with anything.  He does not help me get roles,  and  I like the films that I get to be as different from his stuff as possible. I see the project for what it is, and I can't really think about if it lives up to something."
For Lorelei, there isn't one particular type of role that she gravitates toward. "I love a variety of roles," she says. "Part of what I love about acting is just the ability to escape into being someone else. I have always liked the people that I play better than I like myself….or at least  I just to be them for a little while." While she has no specific type of role she'd like to play, she does have a specific genre in mind. "I kind of have a secret aspiration to do a bunch of B horror movies," says Lorelei.
In addition to her career as an actress, Lorelei is also focusing on her work as an artist, with acrylic painting being her medium of choice. "My goal in my work is just to capture the effects of light," she says. "The hyper-realism aspect of my work is just to portray lighting realistically. I like to do it in a way that the old masters did. They all worked in oils, but I like to get acrylic to act like oils."
While she uses painting as another form of expression, Lorelei isn't necessarily comfortable discussing her art. "It's not really my style to talk about my work or to talk about what it means," she says. "I have it all in inside, and it does mean something. You can look at it without an explanation and still get something out of it. My weakness is describing my art and talking about my art in writing statements. I'd rather the art and the painting speak for itself. I aim to make things that can be looked at for a long time; work that you can't just look at it and walk away."
Lorelei has recently completed a handful of films, including the drama We, the Coyotes and the comedy When We Burn Out, though they have to land a release.  "I've had a lot of really good work that I've done in the past couple of years that hasn't come out yet, and it's frustrating because I know that it's some of the best stuff that I have been in," she says. "They're indies, so they're going to take a while to come out."
Lorelei's next project will have her playing a lead in the Ben Snyder directed action-thriller short film called Hard Water. It's set to film at New Republic Studios, and focuses on gang wars in Mexico. The role and the film is a bit of a departure for the actress. "I haven't been in a movie quite like that before or played a part like that," she says. "There is a very strong female lead. It's going to be action-packed and just very good."
With Austin's current status as a cultural bed for particularly for filmmaking and the arts,  Lorelei is content to continue her career there, though that's not to say she wouldn't be willing to leave given the right opportunity. "I always say that I would live in LA in a heartbeat if I got a steady job there," she says. "I'm like a turtle. I'll just travel with my shell and I'll do what I do wherever. But until then, I am really happy in Austin."
We would like to thank Lorelei for taking the time to speak with us. You can follow her on Twitter @l_l0r3l31art, on Instagram @loreleilinklater.art, on Facebook at Lorelei Linklater: Virtual Gallery or at loreleilinklater.com.
Transcription services by Eaya Moore.