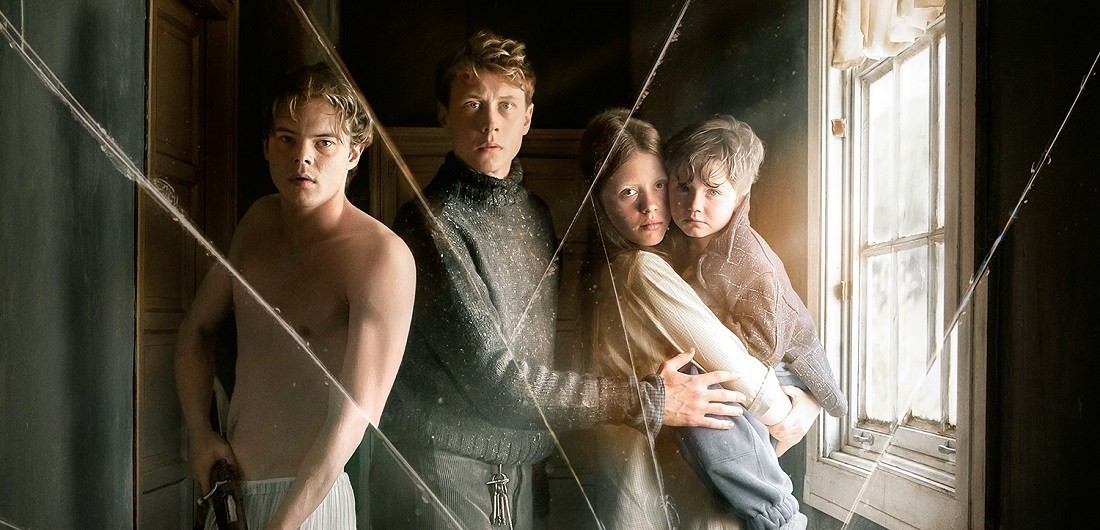 A British woman (Nicola Harrison) and her four children ( George MacKay, Charlie Heaton, Mia Goth, and Matthew Stagg) move to the U.S. circa 1969 to start their life over after a horrific tragedy. Following the death of their mother, the siblings vow to stay together and keep the secret of both their mother's passing and their mysterious past, while at the same time coping with a threatening presence in their large country home.
The first two acts of Marrowbone move at a glacial pace, with only a hint of a progression of story. Despite this, there is a surprising amount of suspense, though seeing as the direction of the plot is so unclear, I found myself wondering why each scene was suspenseful as it was. While the suspense was effective, having little context softened it a bit.
For such a slow moving film, there is a lot going on. The haunted house story is layered with hints of the family's tragic past, in addition to a love triangle story between Charlie,  young neighbor Allie (Anya Taylor-Joy)  and lawyer Tom (Kyle Soller), who himself has a side story about his upcoming move to New York in anticipation of becoming a partner in a law firm. Even with these well-defined subplots, the film is still shrouded in mystery as to its true purpose.
Luckily the third act begins to piece everything together, and as the film progressed I found myself grateful for the slow burn. A film moving at a quicker pace would have had a less satisfying ending. That said, there are a few plot holes left unexplained that could have been explained away with a line or two of dialogue.
There are some really strong performances here, particularly by George MacKay, whose Charlie is tasked with keeping the family together and their lives and past hidden. Stranger Things star Charlie Heaton also has a nice performance, but he is used very little through the first act. Anya Taylor-Joy's Allie could have been a very one dimensional character, but she does a nice job of fleshing her out.
Marrowbone is an enjoyable thriller, with a subtle love story and family drama threaded through the plot. The slow pace and dangling plot points could have been a deal breaker, but a strong ending coupled with some even stronger performances make this worth a watch.
EXTRAS
I have been overwhelmingly disappointed by Blu-ray extras as of late, but Marrowbone steps it up just a bit.
DELETED/EXTENDED SCENES:  Approximately 30 minutes of deleted and extended scenes are included, though there is no context given as to why each scene were excluded, which is unfortunate.
BEHIND THE SCENES: The behind the scenes featurette is also 30 minutes long, which is an impressive length, as most often than not they tend to run under ten minutes. This is a solid feature.
SPECIAL EFFECTS FEATURE: There is no obvious CGI used in the film, but there is quite a bit of special effects to add or manipulate scenery, but a lot of it is shown in the Behind the Scenes featurette, so this is almost unnecessary.
TRAILER: Film's theatrical trailer
SPECS
Format: Widescreen
Language: English
Number of discs: 1
Rated:  R
Restricted
Studio: Magnolia Home Entertainment
DVD Release Date: August 7, 2018
Run Time: 110 minutes