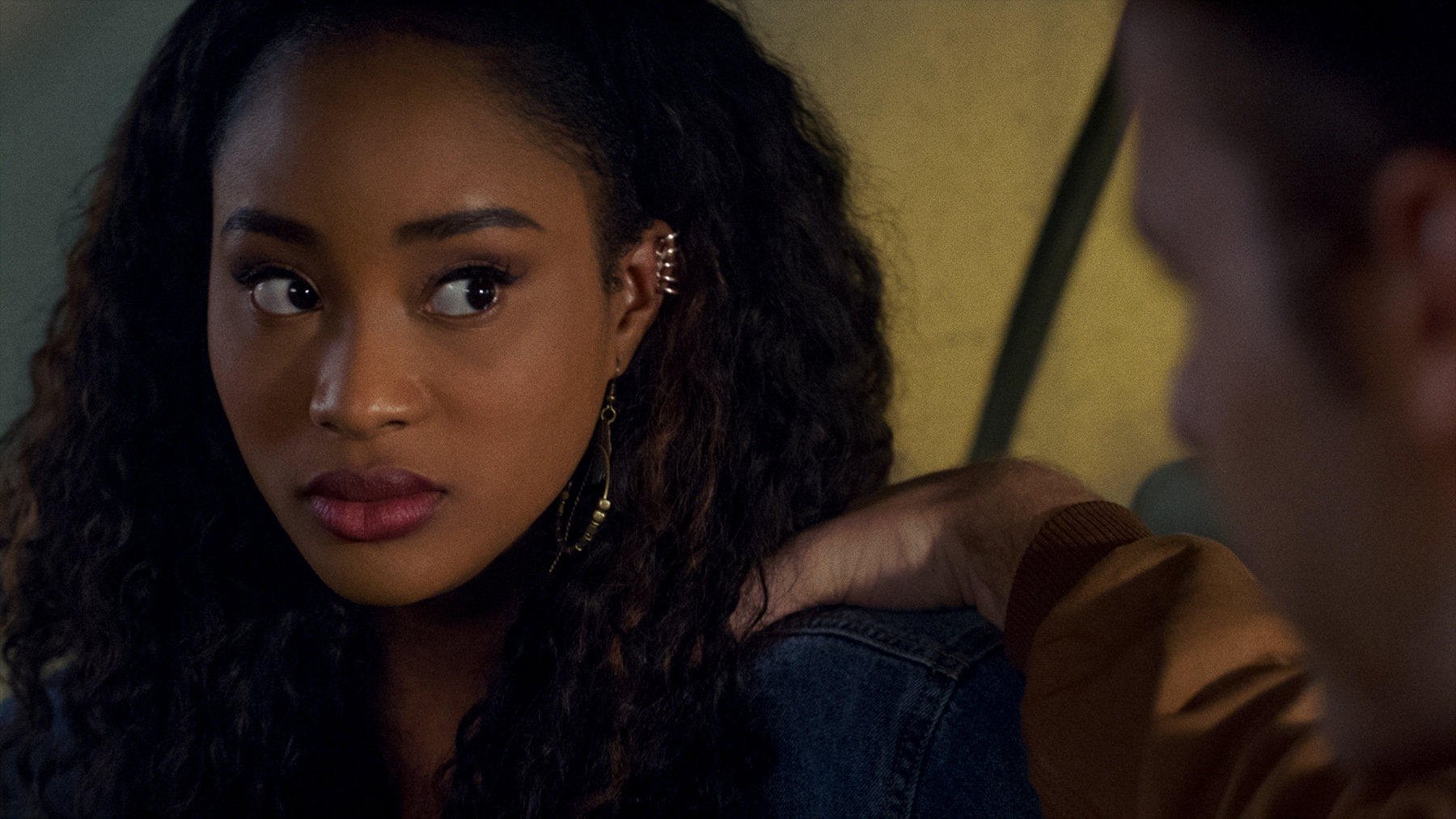 We talk to Ash vs Evil Dead co-star Pepi Sonuga about moving to the States to pursue acting, and about her role in the new season of STARZ's hit horror series.
At the age of 10, Pepi Sonuga and and her mother moved from their home in Lagos, Nigeria to Los Angeles so Pepi could pursue a career in entertainment.  The decision to move around the world to the U.S. to pursue a dream wasn't an easy one, but Sonuga's parents understood the benefits it had to offer, "My parent have always been supportive," she says, "because as an African in America, it's important to get an education, and take advantage of the resources this new world has to offer. I always joke that my mom was heaven, because she wanted this just as bad as I wanted this. I don't think she took it serious until I had an audition and the casting director said "you need to take this seriously, because I think your daughter is going to go far."

The transition of moving from Lagos, Nigeria to Los Angeles wasn't necessarily easy for Sonuga. "It was hard to adjust," she says. "I didn't really know much about America, and I obviously had a very thick accent. I found it hard as far as being bullied. My accent was definitely something I tried to get rid of when I was in middle school. I just wanted to fit in. I didn't want anyone to know that I wasn't like them.  Then when I started acting when I was sixteen, it was more of a conscious effort to pronounce things differently and sound more neutral so I could work more. I eventually I found my balance, but even now I feel like I'm in the middle. When I go back home, I'm not fully there, and when I'm here, I'm not fully here."
At 15 years old, Sonuga won the title of Miss Teen Los Angeles in a local pageant, and then began modeling for brands such as Hot Topic,  Forever 21, and Sketchers. She eventually landed film and television roles, most notably on Freeform's The Fosters. Sonuga states she's been able to cope well with gaining success at such a young age. "It still feels the same to me," she says. "I think because my family is so "African." (laughing). I feel like I'm in two different worlds. It's sort of like I went to a party, and I'm going back home to tell everyone about it, which keeps me grounded. I've also been in school, so the last five years for me has been me coming of the set with relatively known actors, and then going to school and being a student, so it's been easy for me to balance it that way."
Pepi recently joined the cast for the second season of Ash vs Evil Dead, where she plays Lacey, the daughter of the local sheriff, and of Ash's old flame, Linda. While we don't know much about Lacey yet, Sonuga says the character plays a very specific role in the show. "She acts as the audiences eyes," says the actress. "She's very caring and very supportive, and fights for what she believes in, and the people that she loves. I think we're going to see her as the heart of the show. Pablo's the heart as well, but he's adjusted to all of the crazy stuff that's happening. Whereas Lacey, she's the innocent, and we can see her as the pulse of Evil Dead. Everyone around her has become jaded, but Lacey isn't."
Working on Ash vs Evil Dead has fulfilled an acting goal for Sonuga. "I've always wanted to do a scary movie," she says. "I definately wanted to be a badass girl in a scary movie, running and fighting, so this is definitely a dream come true, on many levels." Working in horror has also opened the actress's eyes about the process of the genre. "There was a lot of things that go into filmmaking that I learned on this show," she says. "Any kind of effects that they have for filmming, they have on this show. For instance, when I thought I was totally done shooting, they brought me back to the set, and I was put in a room where they put a bunch of dots on my face, and took photos of me from different angles, screaming, and then laughing, and other facial expressions. Then  they put that into the computer, and put my face on my character in the car. When you're looking at me in some of the car scenes, you're seeing a computer version of my face. The prosthetics, and fake arms…everything looked real on set. It's insane."
A majority of Sonuga's screen time in the first two episodes of the season are spent in Ash's classic Delta, which was a unique experience for the actress. "It wasn't normal," she says, "but the crew and I became very good friends. It was fun though. I was never really alone in the car. In the first episode I was with my friends, and the second episode I was with Pablo. It was active, and difficult, and I love that I got to do my own stunts and really go for it. But it wasn't easy being in that car for all that time."
"I had no idea how huge it was. It was completely out of my world," says Sonuga about the Evil Dead franchise. "The fact that they have completely welcomed me, has been been wonderful. If I didn't know anything about Evil Dead, and I had just met the creators, you wouldn't even know, because everyone is so humble, and they really are a family."
The actress seems ready to accept the rabid Evil Dead fan base out there, like those for instance, that might tattoo her likeness on their thigh. "Just the thought of that is crazy! That is the most loving and humbling experience ever," says Songuga. "That someone would…wow. I don't know if that's going to happen with me! I have seen tattoos of Bruce, and they are actually awesome tattoos. They're all great."
Sonuga's next project will be co starring along Bella Thorne in the upcoming Freeform series Famous in Love. Despite being very different types of shows, the actress says it's an easy transition to make as an actor. "I would say it requires being flexible and fluid, and being able to vibe in what ever situation you find yourself in. The world of Evil Dead is definately very different than Famous in Love, but if you stay grounded, and try to be  collaborative, it's never really that hard."
Ash vs Evil Dead airs on Sunday nights on STARZ, and Famous in Love premieres in April of 2017 on Freeform. You can follow Pepi on Twitter, Facebook, and Instagram.