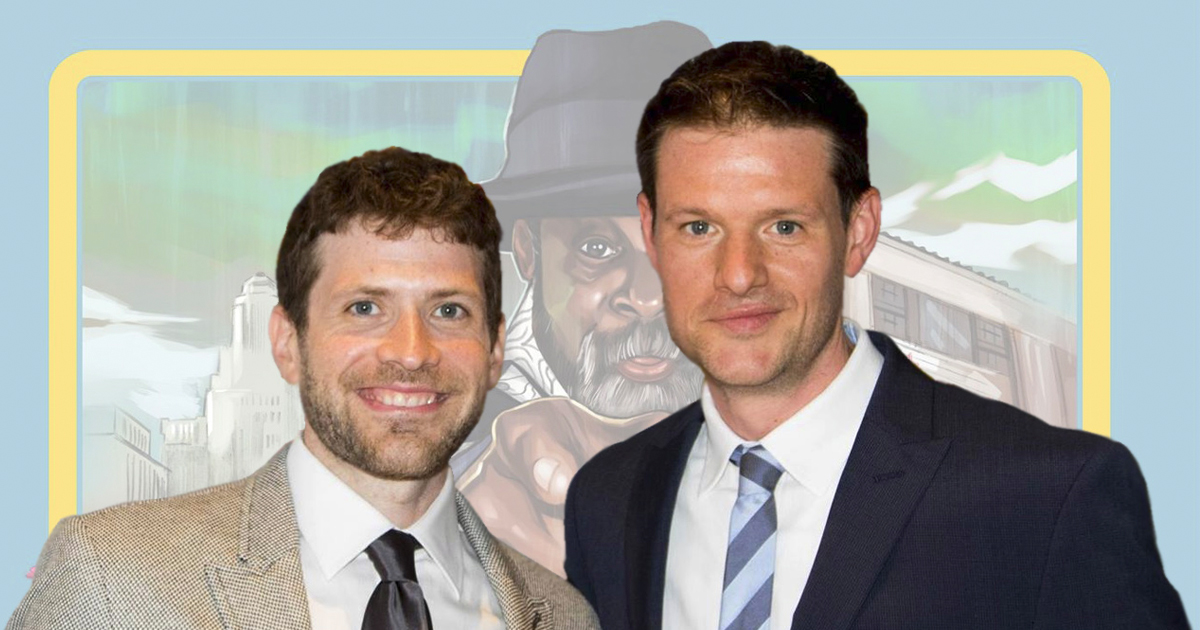 We speak with filmmakers Kevin Polowy and Brandon Rae at the premiere of their new documentary A Diamond in the Buff, which explores the life and career of the late singer/performer Lance Diamond.
Lance Diamond may not be a name familiar to most people around the most country, but if you're from Buffalo, NY, it's legendary. For more than forty years, singer Lance Diamond entertained the Western New York area with his raspy soulful voice and Las Vegas style performances. With weekly shows at the Elmwood Lounge, and appearances at weddings,  benefits, and anywhere else that would have him, Diamond became synonymous with the city itself. Unlike Rick James, an early contemporary of Diamond's, Lance never left New York's Queen City for greener pastures, and the city was grateful for it.
Buffalo native Kevin Polowy, who currently works as Senior Correspondent for Yahoo! Movies, had an idea for film about a character very similar to Diamond, so he approached his old colleague, producer Brandon Rae. "We worked together at MTV about eight or nine years ago," says Rae.  "We did a lot of crazy, goofy video stuff there and we always talked to about doing side projects away from work. Kevin had written the script with a character that was similar to Lance Diamond and he was like, 'Hey, do you want to get on board and try to make a full-length movie about this?'  And it was like 'Yeah sounds great!'  So, we came to Buffalo and met with Lance, who was into it.  We went through a lot of motions for many months trying to get the funding for the movie and trying to get the script to friends. Lance was super stoked about it."
Unfortunately, during the early stages of production, the sixty-nine year old Diamond tragically passed away. Rae says they had a decision to make as far as how to precede. "That kind of took us to a place where we have these interviews with him, we want to celebrate the man's life, we have already done a lot, and what better thing to do than a documentary on his life?"
"It was a pretty easy decision because at that point, because as a Buffalo Native, I have always been a huge fan of Lance Diamond," says Polowy.  Then we spent all of this time getting to know him.  We told him that we're going to make him a star.  We told him we were going to put him in the movie.  This way we were able to. Honestly, I think we felt a little indebted to him. It was a very, very easy decision."
Despite the easy decision, transitioning from a scripted film to a documentary was not without its problems. "We actually didn't even know what it was going to be about," says Rae. "You know, those guys have a lot of very interesting footnotes, whether we focus on, like, Rick James stuff, or whether we focus on breaking the color barrier, or just the music.  We couldn't really find anything specific, so we were able to paint the whole picture of his life which worked out incredibly well.  We didn't go in with a plan." 
"We were able to patch together this pretty cohesive, linear story which I think gives it pretty straight on who the guy was," adds Polowy.
Initially, the pair weren't sure if they were going to make the film as a short film, or a full feature length film. "We had this great footage of him, and we started to learn this story of his incredible life," says Polowy. "We came back from this marathon-long weekend where we just shot all day and all night, because we were coming back Los Angeles and trying to make the most of our time, and I think within four or five hours into production, I just turned to Brandon and said 'This has to be feature-length.'"
Through the process of making the documentary, the filmmakers were surprised to learn of the prejudice Lance faced early in his career. "I don't think people realized what a pioneer he was in terms of the cultural barriers that he broke down in the city," says Polowy. "He came of age as a musician at a time where Buffalo was still heavily segregated; where the white musicians played the white clubs and the black musicians play the black clubs.  He had an all-black band and he came in and he just knocked down these doors.  He was persistent.  He didn't take no for an answer, and he had the charm and the charisma, and the business acumen, to work his way in.  So, he knew if he could just get on that stage for one night and wow that crowd, that club owner was going to think 'Oh man, maybe this guy is going make me some money. It's in my best interests to book him.'"
"He and his bandmates faced a lot of prejudice in those days coming up,"adds Rae. "They would play gigs in the suburbs and people would destroy their car. They had to actually have a guy in the parking lot watching their car.  It was just a sign of the times, unfortunately."
Ultimately, the filmmakers were hoping to delve further into the life of Lance Diamond, beyond his onstage persona. "I think for me it was definitely personal vs. professional," says Polowy. "We wanted to know who this guy was off-stage.  You see him on stage and he is this flamboyant, totally crazy, confident performer, but wanted to get into the personal life. We heard a lot of just personal stories of who he was off-stage which is a very, very different person, and I think that this movie tells people kind of more who that person was.  He was a guy who everyone knew on-stage and very, very few knew off-stage. So, we're here to kind of try and bridge the gap and tell the stories."
We would like to thank Kevin Polowy and Brandon Rae for taking the time to speak with us. You can follow the film on the A Diamond in the Buff Facebook page.
Above Photo: Brandon Rae (Left), Kevin Polowy (Right). Photo courtesy of the A Diamond in the Buff Facebook page. Transcribing services by Eaya Moore.