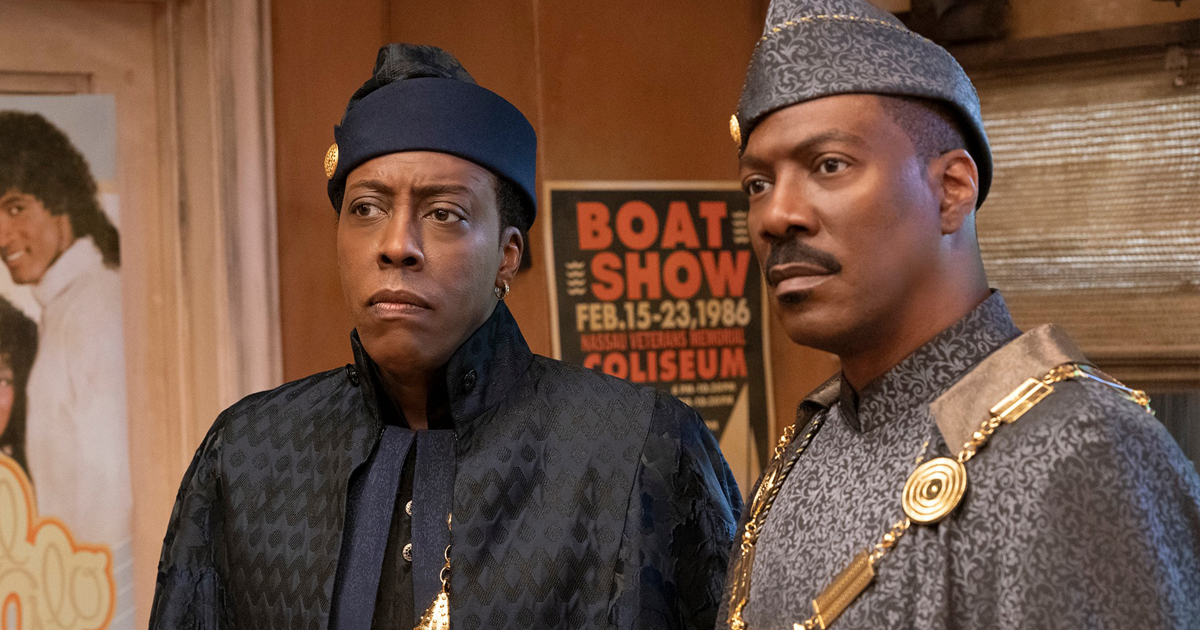 We have our first look at Coming 2 America, the highly anticipated sequel to the 1988 comedy classic Coming to America. The film has Eddie Murphy's Prince Akeem preparing to become king when he he learns that he  has fathered a son (Jermaine Fowler) with an American woman (Leslie Jones), forcing him to return to the States.  Arsenio Hall, Shari Headley, Paul Bates, John Amos, and James Earl Jones will all be returning, joined by KiKi Layne, Tracy Morgan, Rick Ross, and Wesley Snipes.
Director Craig Brewer (Dolemite Is My Name) gave EW a little bit more info about the plot: 
"It's 30 years later and Prince Akeem is preparing for life as a king. Without me giving away too much, there's trouble on the horizon with a neighboring country because of something Akeem did or did not do in the first movie. And he finds out that he has a son in America that he did not know he had. He has three daughters with Lisa (Headley) and now there's this blended family that is happening. Prince Akeem now needs to be a king and have children of his own and find out how to rule his kingdom with these old laws. He's got some problems he's got to figure out and he's got a little bit more depth in this particular one."
Comic 2 America will premiere on Amazon Prime Video on March 5, 2021.