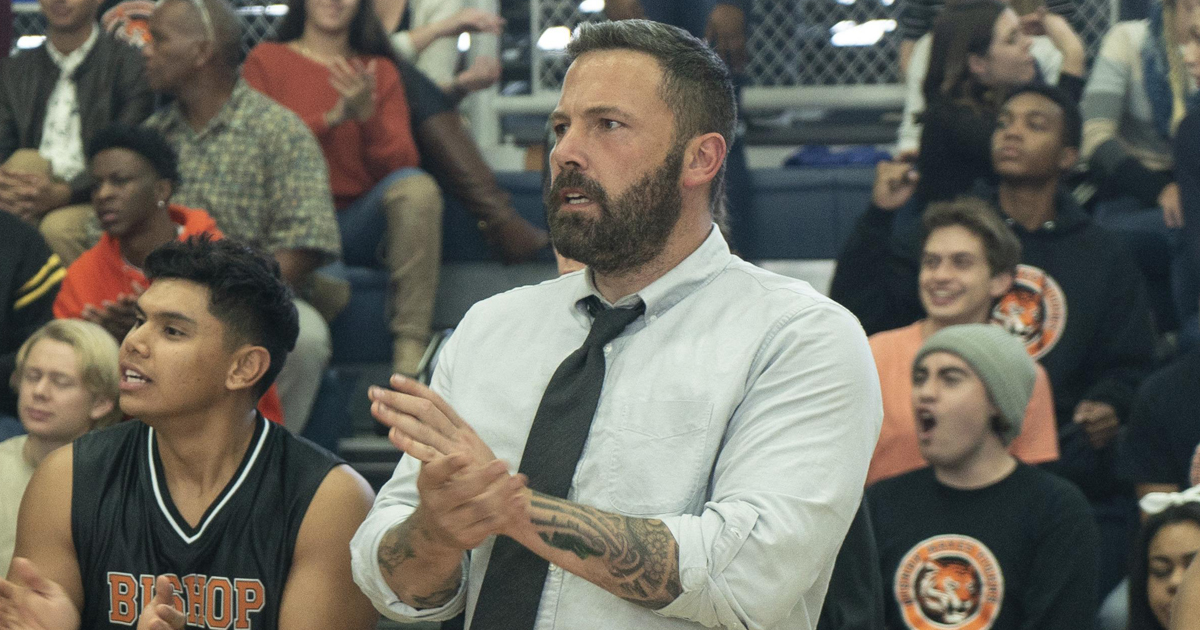 The Way Back could not have come at a better time. Since the virus has put a chokehold on our lives, there is one thing I long for more than anything… basketball. I miss playing it on the weekends and, even more so, I miss coaching it. It is surprising how something so simple as a game can become a central thread of your life affecting just about everything and everyone else with which you come in contact. My pining for the game of basketball is the main reason I chose to watch and review this film. An attempt to temporarily fill a void.
Ironically, upon viewing, I quickly found out that The Way Back is not just a basketball film. Sure, it is a sports drama with the classic underdog basketball arc that intertwines throughout, but the real underdog here is a damaged man fighting to fill a void in his life. Jack Cunningham, played with precision by Ben Affleck, is a melancholy man who attempts to silence his inner demons through the constant consumption of alcohol. He drinks through just about every situation from his job on a construction site where he fills his thermos full of vodka to a short visit with his sister and nephew where he needs to consume several drinks before, during, and after.
There are glimmers of joy and the occasional smile, but it is obvious early on that Jack is a very broken man harboring the pain of the past. Whatever set him on this track is painful enough to reduce him to a life of self-medicating. When he is not working or drinking alone at home he is often with his second family at the local bar going through his daily routine of drinking until someone helps him stumble home. Wake, rinse, repeat.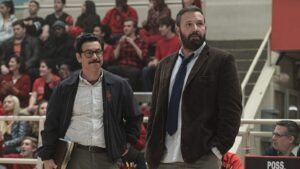 Jack's backstory begins as a bit of a mystery. Besides his alcoholism, we are not provided a lot upfront about what has led him to this point. Clues are provided along the way, the most significant being that he has not always been a failure, but quite the opposite. When he is offered the opportunity to coach basketball at Bishop Hayes, his old high school basketball team, we learn about his legendary status as an all-star player. He was so skilled that his play landed him full college basketball scholarships, which based on his current state we can only assume did not pan out.
After wrestling with himself and his demons, Jack ultimately accepts the position. By taking on coaching duties his alma mater's failing basketball team some meaning is returned to his life. And so, the redemption story begins. Director, Gavin O'Conner (The Miracle, Warrior) keeps a steady hand on telling both the team and the coach's stories concurrently. As the sports story is told he shifts focus putting the team's growth in the front seat instead of Jack's personal struggles while never losing focus on either. In a not so subtle fashion, the basketball team becomes a metaphor for Jack's comeback. Obvious or not, it works.
When Jack first meets the team, they are your typical group of underdogs and underachievers, outclassed by most of the other schools in their league. Once Jack takes the reins their/his transformation begins – from a team of misfits to a team of competitors. We see the practices, drills, tough talk, hard work, and inspirational speeches that help elevate them. As they win, Jack wins. After each game scorecards are displayed on-screen tracking not only the team's progress but also Jack's own redemption.
O'Conner captures a similar vibe to the classic Gene Hackman 1986 basketball film, Hoosiers. While some people may criticize the film for it, I must admit I loved the old school sports drama feel it delivers even while it dabbles in a handful of the genre's more recognizable tropes. Sorry, not sorry. The strong game choreography is spot on and really brings you into the on-court action. It had me cheering along with the team during every slow-motion play, come-from-nowhere win, and dramatic buzzer-beating final shot. If you don't find yourself cheering for a group of kids being taught their self-worth by a man who has forgotten his, then follow the yellow brick road to the Wizard and ask for a heart.
As Jack's life and the team start to take form, O'Conner begins to fill in some of those holes about why Jack's life went off the rails. The moments are hard-hitting, handled in an effective, if not, emotionally manipulative fashion. What makes it all work though is Affleck's unflinching performance. Like the character he plays, Affleck is flawed and knows it. He has been quite open about his own battles with alcohol abuse and he brings those struggles to the screen, providing his portrayal of Jack much more weight than anticipated. Affleck is the perfect actor at the perfect time of his career and life for this role. A career-best.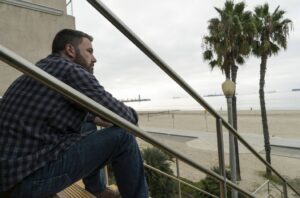 Other performances to note are Al Madrigal, Janina Gavankar, and Michaela Watkins. While Watkins has delivered some knockout roles in the past, namely on her Hulu series Curious and Gavankar was a standout on AppleTV+'s The Morning Show, it is was Madrigal who really impressed here with a dramatic turn I was not anticipating. I had known him from The Daily Show so his portrayal of the mild-mannered assistant coach, Dan, was a nice surprise. Also worth noting is the film's secret weapon, Rob Simonsen's score that drives home all the shifting tones between pensive, pain, and glory. It conveys so much here from Jack's anguish to the thrill of the game. Fantastic.
As the film winds down, I was concerned O'Conner would fumble where other sports-related films had in the past.  Instead, he orchestrates it masterfully, delivering a surprisingly beautiful, poignant conclusion without crossing over into mawkish. The film strikes just the right note by staying true to itself, choosing poignancy over predictability and melodrama.
This was the perfect film at the perfect time for me. As a basketball coach of the toughest 0-12 team of 8-year-old girls in all of New Jersey, whose season abruptly concluded because of the virus, the adaptly edited basketball sequences had me locked in. But, it is the story beyond the sports that really gripped me; a tale of living with regrets, loss, and disappointment. Anchored by Affleck's gutsy performance, The Way Back is a must-see film that forcefully delivers a tale of redemption that is tough to shake.
Quick Scan
"The Way Back" delivers a satisfying sports drama, but more so a gripping tale of redemption that rests on Affleck's career-best performance.