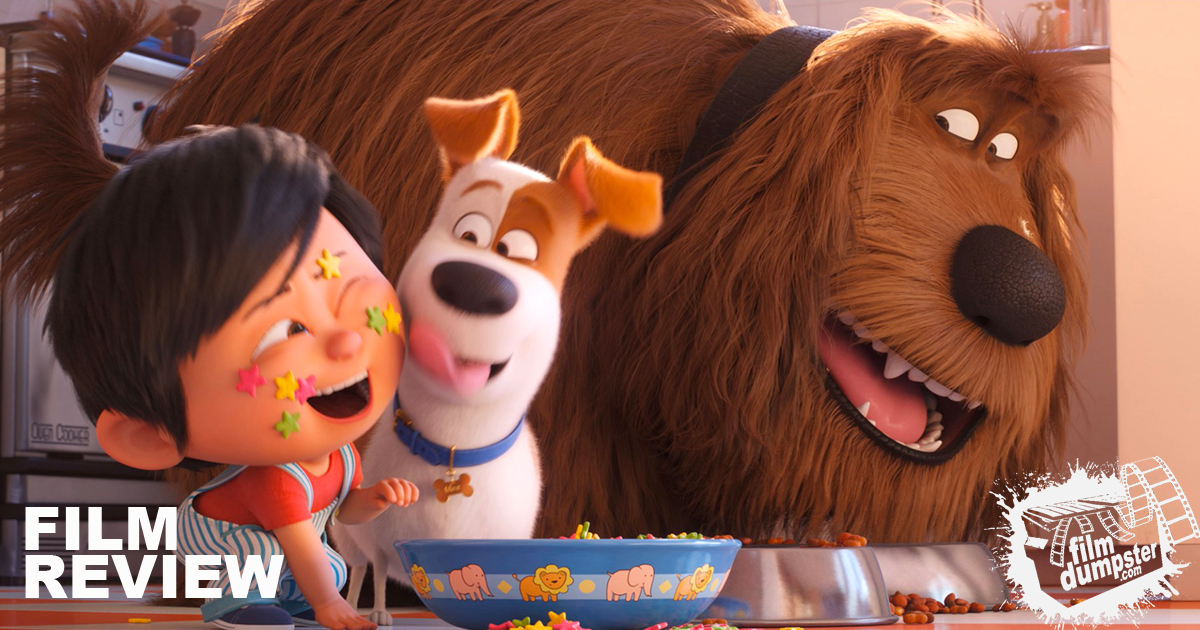 The first The Secret Life of Pets was a bit of a disappointment. It was enjoyable enough and had its moments, but it was unoriginal and ultimately rather forgettable. I am happy to say that The Secret Life of Pets 2 is a marked improvement over the original, though it's far from perfect.
The film begins with Max (Patton Oswalt, taking over for Louie CK) chronicling the changes that have occurred in his and Duke's (Eric Stonestreet) lives since the first film, including their owner Katie (Ellie Kemper) getting married to a bike courier named Chuck (Pete Holmes) and the birth of Katie and Chuck's child, Liam. After a rough adjustment, Max becomes incredibly protective over Liam, and becomes quite neurotic about his safety.
The after the film re-establishes the world and updates the audience on the goings on since the first film, we are quickly provided with three separate storylines to follow. Max's neurosis is tested when a family vacation to a farm forces him to not only face the dangers of the great outdoors, but also the farm's stern and intimidating sheepdog, Rooster (played by Harrison Ford, in his first animated voice-acting role). Back in the city, Snowball (Kevin Hart) and his newly incorporated superhero persona, is recruited by a Shih Tzu named Daisy (Tiffany Haddish) to help rescue a white tiger from an evil circus owner (Nick Kroll), while Gidget (Jenny Slate) must infiltrate a crazy cat lady's apartment to retrieve Max's favorite toy.
This may sound as if these are plots from three completely separate movies, and that's exactly how it feels. With a running time of under 90 minutes, the film doesn't give much room for any of the storylines to breathe. Instead, each plays out like a 22-minute episode of a television show (and different shows at that). While Gidget's cat den story was relatively superficial, both Max's and Snowball's storylines could have easily been fleshed out into films of their own. That said, the three stories do eventually converge nicely, resulting in a rather satisfying climax.
Like the first film, many of the secondary characters are not given much to do, wasting talents like Bobby Moynihan, Dana Carvey, Nick Kroll, Hannibal Buress and Pete Holmes. I've been quite vocal about my dislike of animation stunt-casting, but if you're going to bring in the big guns, at least let them flex their muscles a bit. Eric Stonestreet, whose Duke was the Buzz to Max's Woody in the first film, is reduced to providing reactionary comments, which speaks more to how underdeveloped the character was to begin with. Oswalt, who is no stranger to voice acting having voiced dozens of roles, including Disney's Ratatouille, does a really nice job of projecting Max's awkwardness in the new farm environment, and I really enjoyed his and Rooster's relationship. I just wish they had spent more time with it.
Faults aside, The Secret Life of Pets 2 is an enjoyable film with its share of laugh-out-loud moments.  As I stated in my review of the first film, I won't be surprised if Kevin Hart's Snowball gets his own film, but if not, I hope they at least bring the franchise back a third installment. They are just on the cusp of something really great.