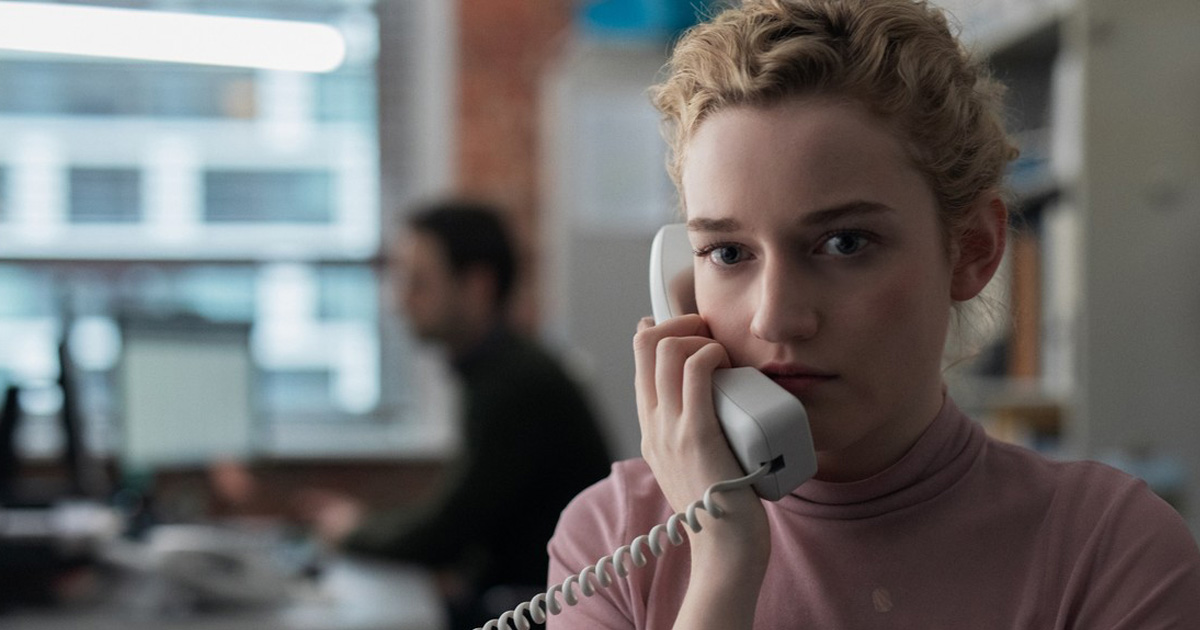 As much as I hate to use the phrase "important film." That label gets tossed around a loosely. In the case of Kitty Green's "The Assistant," the label fits not only because of the very topical subject matter that it tackles, workplace sexual harassment, but also her treatment of that subject. For all the people who ever questioned how systematic workplace abuse can occur, claiming they would never fall victim, or even worse, facilitate it, this film is an eyeopening piece that examines how complicity and power can create a paralyzing cycle of abuse.
"The Assistant" makes us a fly on the wall of a seemingly harmless film production company office where we follow Jane (Julia Garner – "Ozark") going through her less than inspiring daily routine. She is the assistant to a movie mogul, a faceless man who we only know through muffled telephone calls and emails. Her day starts in isolation as she opens the office and continues with a list of menial and demeaning tasks – everything from tidying up her boss's crumb-covered desk, removing his used syringes, and coordinating her boss's travel.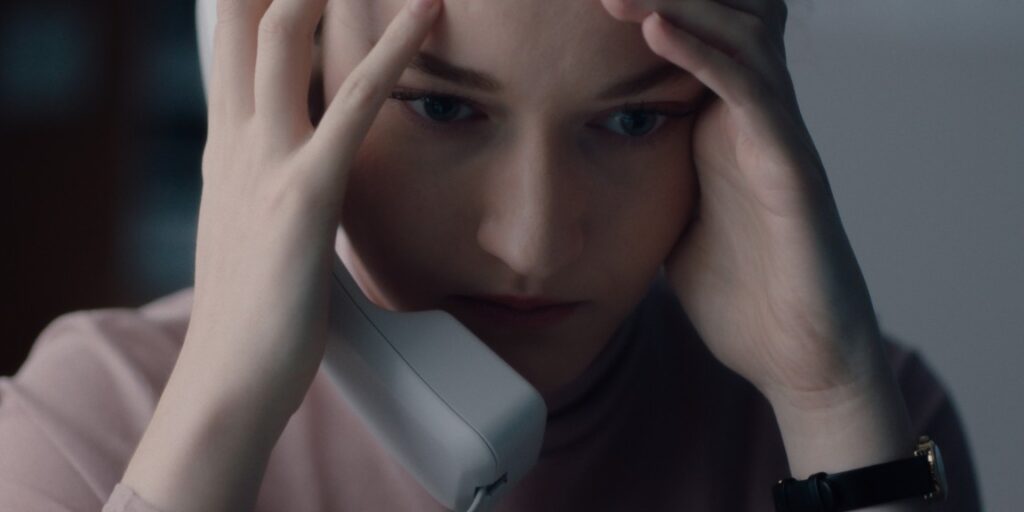 She is a ghost around the office, virtually unseen by her coworkers who carry on with their conversations, barley moving out of her way as she walks by, as if she is not even there. Still, she pushes through handling her job to the best of her abilities. As the day goes on the pieces of a puzzle start to come together there is more here than a boring office existence. Aggressive calls from the CEO's wife, middle of the day hotel rendezvous, a revolving door of attractive actresses, and a slew of comments and jokes from her coworkers reveal that there is a vile monster in charge, one whose heinous actions are hidden in plain sight.
Green's background as a documentarian is quite evident and effective throughout the film which plays almost like observational cinema. She effectively dissects the #MeToo era subject matter from the inside out, avoiding the showiness found in other films like "Bombshell." Instead of big-name actors and high-end production values, she uses a low key approach that keeps us heavily planted in Jane's reality. There is no traditional score to be found, only the menacing rumble of the undiscerning conversations of her coworkers and the buzzing of hideous fluorescent office lighting give us a peek inside Jane's head. The camera follows Jane as she is immersed in the situation like quicksand, slowly pulling us under with little hope of any help.
Though unseen throughout, the film does a good job of developing Jane's boss as a manipulative villain. One minute he is chewing Jane out on a venom-filled, curse-laden, threatening phone call insultingly screaming at her "you should go back to ordering salads." Minutes later the head games continue, he does a 180 telling her how special she is and explaining, "I'm tough on you because I'm gonna make you great." It is a step by step break down of how positions of power are often abused. Jane is on an emotional yo-yo, controlling her rises and falls at while there is always the persistent threat that he will cut the string.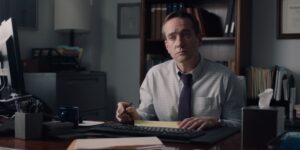 Green offers no sympathy for the co-workers' whose complicity, "harmless" fun, and focus on their advancement up the ladder adds to the toxic culture. They essentially have sold their souls. An off the cuff joke about not sitting on a certain (casting) couch knowing what has transpired there in the past exemplifies the dehumanizing of victims into little more than a punchline. Even Jane's trip to HR, which should be a safe haven, turns into a demonstration of gaslighting.  is spot-on as the oily HR rep in this short, powerful scene. The only comfort he can muster is telling her, "You don't have anything to worry about, you're not his type." By the time their meeting is over, you'll want to reach into your screen and punch him in the face.
The magnifying glass is focused firmly on Jane's experience, exposing more subtle details than would be possible if taking on a wider scope story. The impact of the day-to-day the microaggressions, the jokes, and bullying is heightened. Seemingly innocuous tasks, such as printing headshots, take on new meaning, tainted by the knowledge that these photos of dozens of attractive, aspiring actresses will probably be used by the predator as a menu to choose his next meal.
"The Assistant" is not about the perpetrator or even the direct victims, it is about the collateral victims of these terrible situations. Garner is magnificent. Through her reserved and solemn performance, we witness the nuances of her discomfort and powerlessness. All the while, through her eyes we find a glimmer of hope that transcends through the engulfing negativity that should swallow her up.
The way Green frames Jane compounded but a visually off-putting setting full of dingy pastels and harsh fluorescent lighting to add to the chilling reality of her constant isolation. She has nowhere to turn for help and for 85 minutes the film locks us in this toxic office with her. It is a quiet, uncomfortable, unrelenting film. Although it is unlikely to want to revisit, hopefully, enough people will watch it at least once and help end the collusion that allows such acts to persist.
Quick Scan
Difficult to watch at times, this chilling film deserves to be seen.