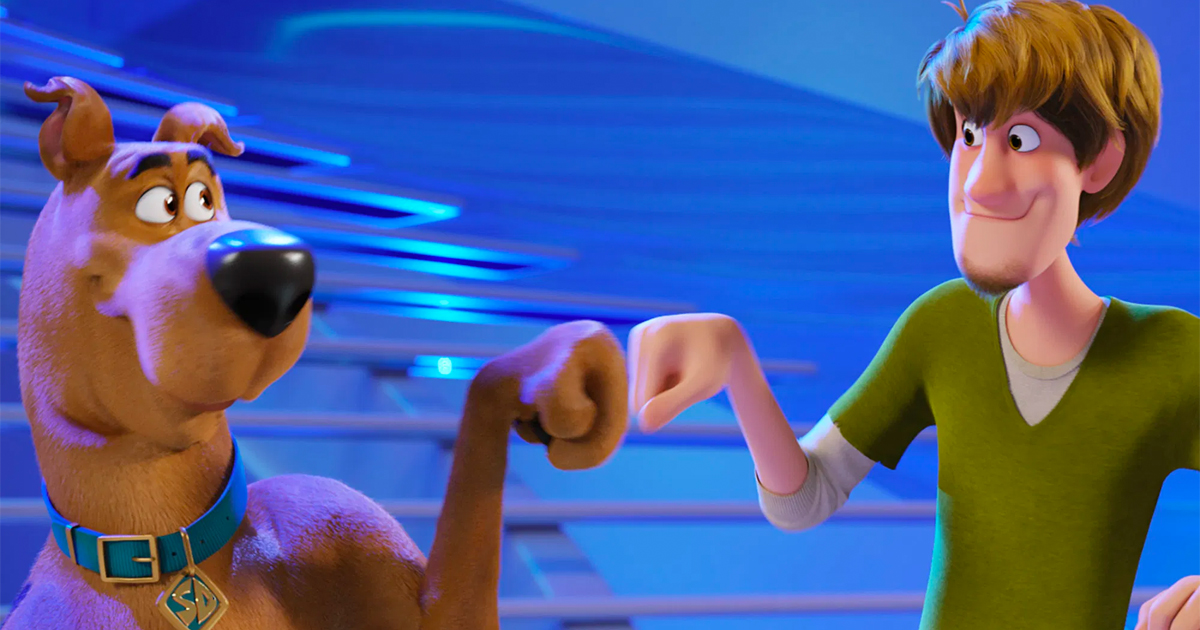 The Scooby-Doo franchise is one of the richest and longest franchises in entertainment. Over the last fifty-one years, the Scooby gang has been featured in 14 animated television series, four animated television films, 33 direct-to-video animated films, two live-action theatrical films, two live-action television films, one live-action direct-to-video live-action film, six direct-to-video animated specials, eight television animated shorts, two direct to video animated shorts, ten crossover episodes and 36 animated web shorts, not to mention 15 comic book series or short-run series, 13 single-issue comic books, 20 video games, five stage plays, and 302 books. Counting each individual episode of the various series and individual comic book issues, that's an astonishing 1,325 opportunities to spend some time with Mystery Inc. "SCOOB!" is number 1,326 and was meant to be Scooby-Doo's theatrical animated debut, but thanks to COVID-19, it has made its way to first-run VOD, which is frankly where it belongs.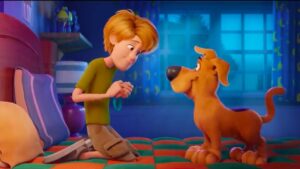 "SCOOB!" is an enjoyable enough outing, but it just can't hold up to other big-screen animated offerings like "Ralph Breaks the Internet," "Incredibles 2," "Minions" and "How to Train Your Dragon,"  to name a few. Warner Bros. has marketed the film as "the never-before-told stories of Scooby-Doo's origins," which is fine unless you count the animated series "A Pup Named Scooby-Doo," or the television special "Those Meddling Kids – Case One: How They Got Started," or the book "Scooby-Doo! Who Are You?" or the live-action film "Scooby-Doo! The Mystery Begins," all of which provide some variation of the origin of Shaggy, Scooby, Fred, Daphne and Velma's friendships and mystery-solving prowess. But that's not a point I will belabor, as it occupies very little screen time and was actually the most enjoyable portion of the film. I wish that they had actually focused the entire film on their childhood days. Watching Shaggy and Scooby's life-long friendship blossom and seeing Mystery Inc. come together was both sweet and funny, and it really captured the essence of Scooby and the gang. Making it the basis of the film would have also avoided my biggest issue with the film (more on that later).
After a fun montage (an homage to the original "Scooby-Doo, Where Are You?" series), we move ahead in time, and the Scooby gang, now young-adults, are trying to obtain funding to repair the famed Mystery Machine. Naturally, they go to the one person you would expect to help finance a van repair- Simon Cowell. Perhaps this was a reference to the series "The New Scooby-Doo Movies," which featured real or fictitious guest stars helping the gang solve mysteries, but it set an odd tone for the film. It also demonstrated one of the glaring flaws with the film, which was the inconsistent character modeling and animation. Simon Cowell has previously appeared as himself in animated form in a bonus feature on the "Shrek 2" DVD, and even though there has been considerable advancement in computer animation since 2004, he doesn't look much better here. Like Simon Cowell, the modeling and animation of Fred, Daphne and Velma, among other characters, were more reminiscent of television CGI work, where studios are under considerably tighter time and budget constraints. It looks as though much more time and consideration were given to more central characters like Shaggy and Scooby, who looked fantastic in CGI.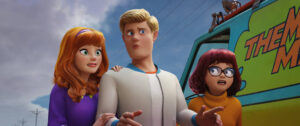 The plot of the film has Scooby and Shaggy teaming up with other classic Hanna-Barbara characters Blue Falcon and Dynomutt to stop an evil plot devised by yet another classic Hanna-Barbara character, Dick Dastardly (this is not the first time the Scooby gang has crossed paths with the superhero team. They were all featured in the animated film "Scooby-Doo: Mask of the Blue Falcon," as well as an episode of "Scooby-Doo: Mystery Incorporated"). Fans of the Blue Falcon and Dynomutt are likely going to be disappointed though. The original "Dynomutt, Dog Wonder" series featured an earnest Batman-like Blue Falcon fighting crime alongside his bumbling mechanical dog Dynomutt. Here, however, we are given Blue Falcon's cowardly yet ego-driven son Brian as the second Blue Falcon (Mark Wahlberg) and a competent and heroic Dynomutt (Ken Jeong), as well as their pilot, Dee Dee Sykes (Kiersey Clemons). The dynamic actual works quite well, but it's a far cry from the source material, which may rub some die-hard fans the wrong way.
Like I stated earlier, "SCOOB!" tries to rise up to other theatrical animated releases, but by doing so, it lost much of what has made the Scooby-Doo franchise successful. There is very little mystery to be had, and what little there is has been pushed to the subplot with Fred, Daphne and Velma. Most of the film focuses on Shaggy and Scooby's escapades with the Blue Falcon and their battle with Dick Dastardly. Scooby-Doo has definitely run the gamut in terms of playing with different genres, so a superhero action film is not completely out of the norm, but mystery-solving has always been at its core, and it seems to be an afterthought here.
My biggest issue with the film, as I alluded to earlier, is the casting. I have nothing against the cast specifically, but as I've mentioned in the past, I am really not a fan of stunt casting, especially when known celebrities are brought in to voice characters that are already voiced by professional voice actors, as was the case here.  The same treatment was given Disney's "Christopher Robin," in which the only voice actor to return to voice their role was Jim Cummings as Winnie the Pooh.
We'll start with Shaggy. Since Casey Kasem's death in 2009, Shaggy has been primarily voiced by Matthew Lillard, who quite convincingly portrayed Shaggy in the live-action film" Scooby-Doo" and its sequel "Scooby-Doo 2: Monsters Unleashed" (Scott Innes, Billy West and Scott Menville have also voiced the character, but Lillard has been Kasem's successor for all intents and purposes). Instead of casting Lillard, who is the voice that most young fans of Scooby-Doo are familiar with, and who has done an admirable job in succeeding Kasem, they cast Will Forte. Don't get me wrong, I really like Will Forte (I like the whole cast, actually), but his take on the character barely comes close the Shaggy that we know.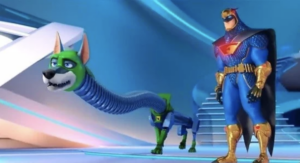 Fred is voiced here by Zac Efron, and while Efron does a respectable job, utilizing his comedic timing to land a few good lines, his casting was just unnecessary. The characterization of Fred was off a bit to begin with, but beyond that, Frank Welker has been voicing him since 1969, and he has somehow managed to still sound the same as he did fifty years ago. No one knows Fred better than Welker, and Welker's voice is so associated with the character that there was no reason to recast him. Zac Efron's name is not bringing Scooby fans to the theater (or in this case, their living rooms).
Velma has been voiced by several different actresses over the years (12 in total), so I'm a bit more forgiving regarding the casting, though Mindy Cohn from "The Facts of Life" had the role from 2002 through 2015, which is the longest run for any actor. I would say she probably knows the character better than anyone else right now. "Dead to Me's" Linda Cardellini has played Velma on screen and voiced her, so she may have been a smart choice as well. Gina Rodriguez portrays Velma in "SCOOB!," and while I had absolutely no issue with Velma being of Puerto Rican descent like Rodriquez, this version of Velma was the least 'Velma' that we've ever seen. The writers considerably downplayed her 'smart quirkiness,' which is the real heart of the character.
Like Velma, Daphne has been voiced by a handful of different actresses, but as Grey DeLisle has voiced her in over fifty Scooby projects since 2001, she would have been my first choice to play her. Instead, we have Amanda Seyfried, who is a wonderful actress, but neither she nor the writers had anything to contribute to the role. Daphne has probably been the most inconsistently written character in the franchise's history, with some creative teams playing up her clumsiness more, with others focusing on her self-defense skills, but here she is written and portrayed as a relatively generic teenage girl, which is a real shame.
If the producers did one thing right, it was to bring back Frank Welker as Scooby-Doo. After the great Don Messick passed away in 1996, a few different actors took on the role (most significantly being Scott Innes), but Welker took over primary Scooby duties in 2002, and he has become the actor most associated with the role since Messick. Since Scooby and Shaggy are the main focus of the film, Scooby is actually given considerably more dialogue than we've seen in the past, which is a bit out of character, but understandable.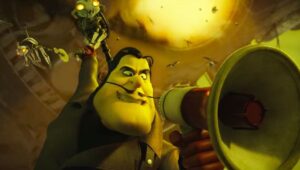 There were a few other bright spots in the cast. Jason Issacs' Dick Dastardly was menacing and quite fun, and Mark Wahlberg, sounding every bit like Ryan Reynolds, played Blue Falcon's 'arrogant idiot' angle quite nicely. Tracy Morgan pops up in a cameo playing a welcomed classic Hanna-Barbara character (I won't spoil it if you don't know), but while it was a pleasure to both hear Morgan and see the character (OK, a small hint at a spoiler), Morgan is no Mel Blanc.
There is a reasonable amount of funny jokes throughout the film, though many are aimed at an older audience, unless young audiences are well acquainted with Gérard Depardieu, but I doubt that's the case. There are also a quite of bit of classic Hanna-Barbera Easter eggs, but again, they may go over younger viewers' heads. Overall, "SCOOB!" is a fun movie, but its effort to keep up with other theatrical animated films of its kind resulted in the least Scooby-like outing in the franchise's history. The core of what has made the Scooby franchise successful for the last five decades has been watered down to produce a big-screen comedy action film, and although it by enlarge succeeds its efforts, it's not the big screen Scooby-Doo we were hoping for.
While most video-on-demand films cost somewhere around $5.99 to rent, these films originally intended for a theatrical release are averaging $19.99 (or $24.99 to own), which is a steal if you compare that with taking a family of four to the movie theater. However, you may want to hold off on renting "SCOOB!" for a couple of months until that price goes down, or it lands on a streaming service. Although, $20 is a small price to pay to keep a quarantined child (or adult) occupied for an hour and a half I suppose.
Quick Scan
Entertaining though ultimately watered down Scooby-Doo outing, with enough laughs, but questionable casting.