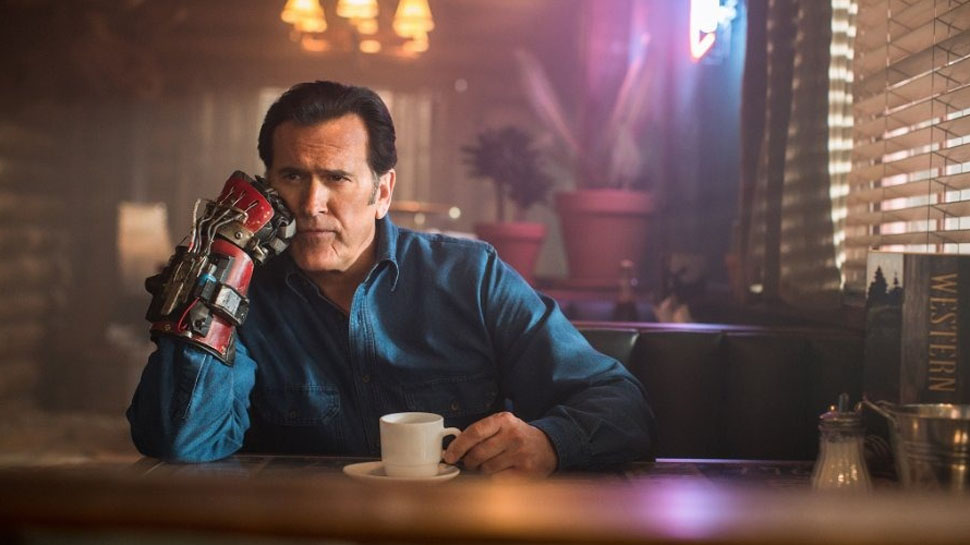 It looks like Ash may have just lost the battle with the Deadites. After three seasons on STARZ, the network has pulled the plug on the horror/comedy series "Ash vs Evil Dead."
The award winning series won huge accolades  when it premiered, and it excited a huge fanbase that had been hoping for the return of the classic franchise. Instead of another film in the series, fans were treated to an over-the-top bloodbath of a TV show. STARZ had a not iof confidence in the series, renewing it for a second season prior to the premiere of the first.
Despite the hype, the ratings for the show has steadily dropped. The first season averaged a 0.21 rating in the 18-49 demographic with 414,000 viewers, while the second season averaged a 0.16 rating in the 18-49 demographic with 308,000 viewers. The ratings have dropped even further in season three, dropping as low as 136,000 viewers.
Star Bruce Campbell has this to say about the cancelation in a Facebook post:
"Ash Vs Evil Dead has been the ride of a lifetime. Ash Williams was the role of a lifetime.

I will always be grateful to Starz, Sam Raimi, Rob Tapert and our tireless fans for the opportunity to revisit the franchise that launched our careers. Thank you!"
The season finale on April 29th will now serve as the series finale.
We were lucky enough to attend the red carpet premiere, and we have interviewed most of the cast, including Bruce Campbell. Below you can find our coverage of the red carpet, and here you can find  links to our interviews and coverage. 
Sources: TV Ratings Finale,  JoBlo