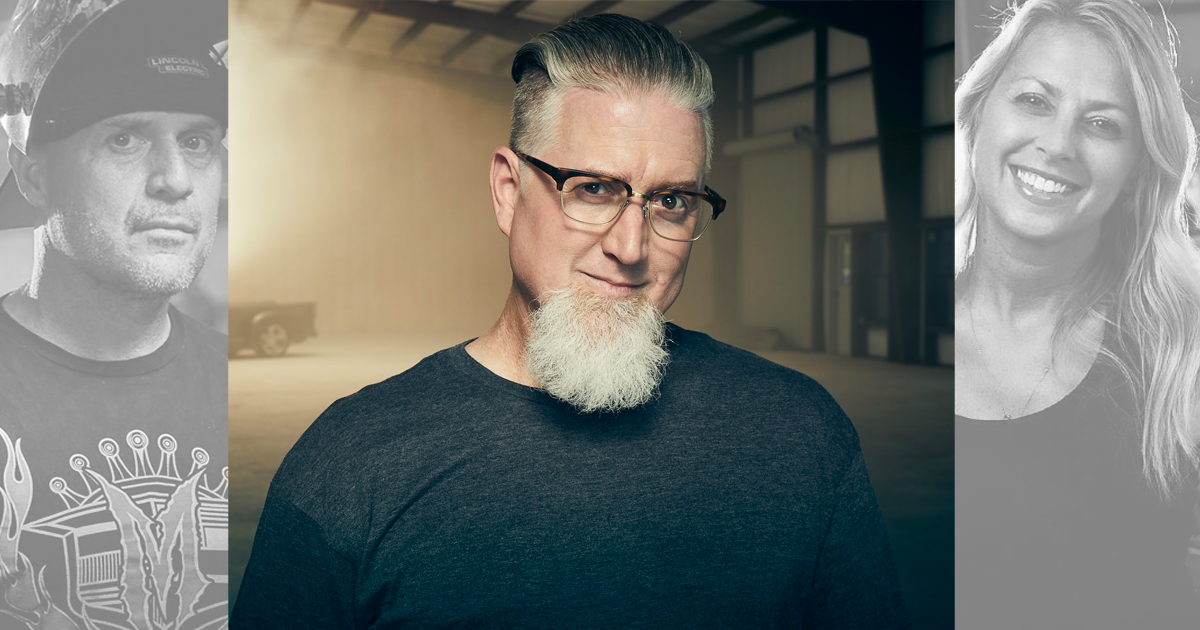 MotorTrend TV's IRON RESURRECTION takes viewers inside Martin Bros Customs where Joe Martin, his wife Amanda, his best friend Jayson "Shag" Arrington, and a team of top-notch craftsmen restore rusted out roadsters and torn up trucks of all makes, models, shapes and sizes.
In every episode, Amanda and Shag roam the Texas countryside for lackluster vehicles (or clients bring vehicles into the shop) that they can transform into masterpieces of four-wheeled metal. Amanda has an eye to spot potential deals and knows where to find the good stuff while Shag, dubbed "the fastest mouth in the south", has the skills to haggle car or motorcycle owners for the best possible price. Once they secure a vehicle it goes back to the shop where Joe and his team use their customization, fabrication, mechanical and painting skills to make Joe's automotive vision into reality. 
We recently had the opportunity to speak with Shag Arrington about the show's success, growing up in Texas and gangs of mini bike riders. 
Congratulations on the success of the show. You've gotten quite a bit of buzz over the four seasons. 
Thanks. We've done really well this season, but we won't find out if we're coming back for a fifth season until three weeks after the finale on Wednesday. 
It's an Evergreen format that doesn't really get dated. It seems that show with this kind of formula could go on for a long time. 
I hope so. I enjoy it and I have a lot of fun doing what I do and offering my contribution, so hopefully we'll get to do it for a while. 
The show seems considerably less contrived than other shows like it. I don't feel that we're being manipulated by editing or prompts by producers. It seems much more sincere and natural. 
It's 100% natural. Joe has a history of doing TV with the biker build offs and he was great about offering up advice. He said, "Always stay true to yourself. They're going to ask you to do stuff that seems way out of character, and if isn't really honest then just don't do it. You have the right to refuse stuff." It was really cool having someone like Joe as a friend and a mentor because he's been there and done that. I can see how this lifestyle could get to people's heads, but in the beginning, Joe made it clear that this all goes away. We still have to get groceries at the store and take our kids to school. Joe said, "The number one advice that I can give you is don't ever be in a situation where people look at you and go "Well there's that jerk from TV." That stuck with me. We are all lucky and blessed to be in this situation. We don't feel entitled to it, so part of that is knowing that it is going to live on TV forever and is accessible. I try to take that into consideration and how I act and how I put myself out there. I try to stay true to who I am and make decisions based on what I would do with or without cameras or surrounding me.
What's the shooting schedule like for the show? 
It really depends. We don't have a strict schedule. We try to at the beginning of the season, but then you get into the build you uncover certain things and you realize "OK we're going to spend more days doing this and less time doing that." so that helps dictate the schedule. You don't want to have a camera crew there when we're spending two or three days just sanding. That's super boring and it's not good TV. Joe works very closely with production and lays out the builds he says "OK, we're going to be fabricating on this day." He worked closely to make sure that they're shooting interesting things that are TV friendly.
A lot of your screen time is with Joe's wife, Mandy. 
Yeah, the idea for the format of the show was that Joe and Mike [Zabonik] and the guys would work in the garage, while Mandy and I are out wheeling and dealing, finding parts, meeting buyers and future customers. Mandy and I make a great team because I love meeting people and making deals and she has an eagles eye for hidden treasures and is very conscience of the budget. I think they realized that she needed to go out on the road so that I didn't spend too much money. It's worked out well. We have a real brother and sister relationship.
All of you guys go to a lot of car shows and swap meets. How has the interaction with the fans been?
Oh, it's been great. The people we've spoken with have been great. I love swap meets and I love car shows, and the times we get to shoot at them are even cooler because now we get to capture some of the cool stuff on camera.
How has the notoriety affected working with potential clients or buying parts? 
It's funny because I'm known to be a negotiator, and I think it hurts a little bit because there is a misperception that if you're on TV you're rich and famous. I'm waiting for the rich part to happen. I get recognized, but nothing has changed financially so I think it hurts now. Season One was fine. No one knew us. I was just a group of guys shooting his TV show that no has heard of. But now that's it's known, people are like "Wait a minute, I'm not going to let this guy take advantage of me. These guys have money they can spend it." So, I think there's this misperception. But I think on the flip side, it's all in how we treat people and how we approach the situation. We just try to be real and try to be honest. But I do feel that is a show gets more popular and more seasons come out, it's going to hurt those negotiations.
Most of your builds are client-based. Have you noticed a change in the dynamic of the business itself?
Since the biker build days, Joe's been able to keep a handful of clients, but now with the show and the exposure, the waiting list has increased. The show definitely showcases the talent of the shop. There's a much longer list of people that want to have stuff built
You were a car fan growing up, but you have a sales and marketing background. IRON RESURRECTION seems to be a pretty nice fit for you.
It was a unique situation because I grew up like every Texas kid. On the weekends I would hang out with my dad. If he didn't have to work on Saturday. It was him and I in his garage we were tinkering on the car. We were going to swap meets and helping people out with their cars. We always had a project. I grew up with that. I love certain cars and I definitely absorbed some of his opinions and education and direction, but I never considered myself a mechanic. At the end of the day, I could work in my car, but I was never the guy that a neighbor could call up and ask to figure out what was wrong with their car. I know what's wrong with my car, so I know how to fix it. A mechanic could tell you exactly what's wrong with the car. I just know it's wrong with mine because I broke it. As I was getting older, I was getting into marketing and events. Then opportunities presented themselves. I don't have a marketing degree but, I was able to work for some pretty amazing global brands, which is what connected me to Joe and Joe's brother Jason. Over the years we developed a friendship. I've been able to help him with his brand and his company, as well as be part of this awesome show.
Tell me a little about your business, Your Biker Gang.
My business partner Ryan Turner and I started Your Biker Gang in 2017. He had outsourced the build of these little custom electric mini bikes and originally came to me asking for my help to help to create a sales program for them. He was completely unaware of the show at the time. He was my son's soccer coach and he knew I had a marketing background. I took a couple of the mini bikes home with me, and I told him that if we can let people test drive them, then boom, they're sold. By the end of our conversation, we came up with the idea of doing a tour company. The premise of YourBikerGang.com is that we provide the bikes, you provide the gang. After we conceived of it, I walked away thinking I was just helping a friend. When Ryan called me the next day, he asked me about a partnership. I wasn't in a position where I could put any money into the idea, which is a typical investment or partnership, but he said "Your eighteen years of marketing is all the currency you need! We've been going strong ever since.
Thanks to Shag Arrington for taking the time to speak with us.
The season four finale of IRON RESURRECTION airs Wednesday, April 8th at 9 PM ET/PT on MotorTrend TV.