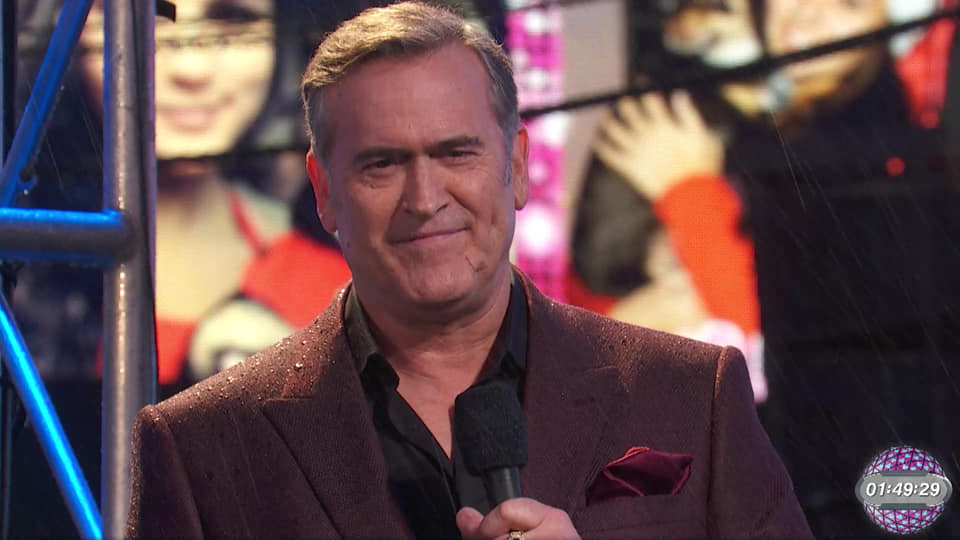 Bruce Campbell is returning to TV as the host of an updated version of "Ripley's Believe It or Not!" on the Travel Channel. Campbell announced his new gig in Times Square on New Years' Eve. In a press release on the Travel Channel website, Campbell had this to say:
"As an actor, I've always been drawn toward material that is more 'fantastic' in nature, so I was eager and excited to partner with Travel Channel and Ripley's Believe It or Not! on this new show," said Campbell. "And because amazing things happen all around the world, we should have no shortage of unbelievable stories to share with a fresh new audience."
The network's general manager, Jane Latman, discussed the new take on Ripley's long history of curiosities:
"Travel Channel fans have an insatiable curiosity about the world and sharing this wonderful and weird series with the next generation of fans is a thrill.  This entirely new version of Ripley's is a fresh contemporary approach to the odd and unusual and will be jam-packed with larger-than-life characters, cool facts, history and science."
Campbell is no stranger to television, starring in (and directing numerous episodes) of "Xena: Warrior Princess," as well as starring in "Jack of All Trades" (both produced by his old buddy Sam Raimi) and the cult FOX series "The Adventures of Brisco County Jr." Campbell had a smaller role during Ellen Degeneres' famed "coming out" season of her sitcom "Ellen," and was featured in shows like "The X-Files" and "Homicide: Life on the Streets." Campbell also starred in a series of Disney films for ABC, including an updated "Herbie the Lovebug" (pre-Lindsay Lohan). More recently, Campbell had a co-starring role on the long-running USA series "Burn Notice," and of course starred in the titular role on STARZ's "Ash vs Evil Dead," which was recently cancelled after three seasons.
For those not familiar, "Ripley's Believe It or Not!" is based on the adventures and discoveries of famed amatuer anthroplogist Robert Ripley, who reported on oddities found around the world via a daily newspaper comic in the early part of the twentieth century. Ripley also hosted a radio show based on his finds, a series of short films for Warner Bros., and  a short-lived television series in 1949 (Ripley's hosting duties were cut short when he passed away). Two "Ripley's Believe It or Not!" TV series would follow, one from 1982-1986 hosted by Jack Palance and the other, hosted by Dean Cain, running from 2002-2003. An animated series also aired on Fox Kids in 1999, and there have been numerous "Ripley's" books published, as well as a chain of  museums and attractions around the world, including Ripley's Aquarium, Ripley's Believe it or Not! Museums, Ripley's Haunted Adventure, Ripley's Mini-Golf and Arcade, Ripley's Moving Theater, Ripley's Sightseeing Trains, Guinness World Records Attractions, and Louis Tussaud's wax Museums.
10 one-hour episodes of "Ripley's Believe It or Not!" are currently in production in the famed Ripley Warehouse in Orlando, Fl. The series is slated to premiere in summer 2019.
It's official! @GroovyBruce will be the host of the all-new Ripley's Believe It or Not! show coming to @travelchannel in 2019! pic.twitter.com/kXRIZQu9ng

— Believe It or Not! (@Ripleys) January 1, 2019
https://www.youtube.com/watch?v=ZiEJIOp_NJ0